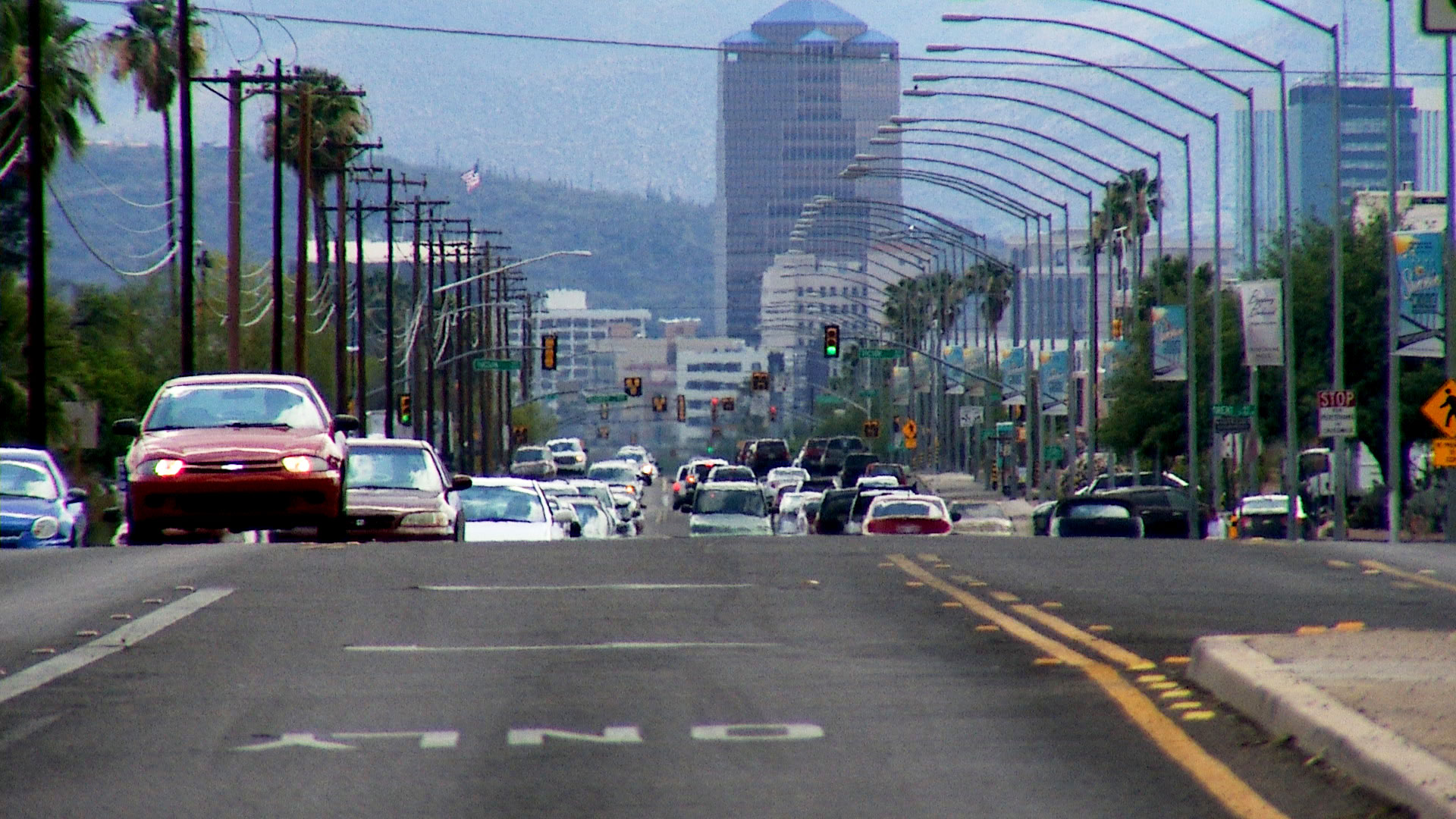 Downtown Tucson is seen in the distance from the intersection of Broadway Boulevard and Country Club Road.
AZPM Staff
The American Society of Civil Engineers has issued a new report card for Arizona's infrastructure, and the state's roads don't make the grade.
The engineers gave Arizona's roads a D+, citing the many rugged stretches of asphalt across the state approaching the end of their operational lives. The state's roads have received the same poor marks since 2015, and, according to the report, the reason comes down to one thing: money.
"More money could be allocated to infrastructure by raising the gas tax and voting in favor of transportation initiatives," the report says. "For Arizonans, the repair costs attributed to poorly maintained roads and bridges is reported to be more than three times what the cost of an increased gas tax would be."
The report points out the state hasn't increased its 18-cents-per-gallon gas tax — which pays for road improvements — since 1991. Since then, millions of people have moved to the state, and they brought their cars with them.
"Arizonans are highly dependent on motor vehicles. Data shows 89.2% of people drive alone or carpool to get to work," the report says. "Driving on poorly maintained roads costs Arizona drivers $3 billion a year in extra vehicle repairs and operating costs."
Some local governments have come up with alternative funding solutions. Pima County voters approved the Regional Transportation Authority in 2006, which is funded by a half-cent sales tax. That measure still has six years of funding left. Most of that money has gone toward expanding existing roadways, such as the widening of Broadway Boulevard.
The engineers issued five recommendations to get the state's roads back in shape:
Raise the gas tax
Pass bonds or additional sales tax measures
Prioritize maintenance of existing public roads
Increase public and political awareness of the importance of maintaining the existing road system.
Encourage and expand public transportation, which can transport more people per vehicle and causes less wear and tear on roads.