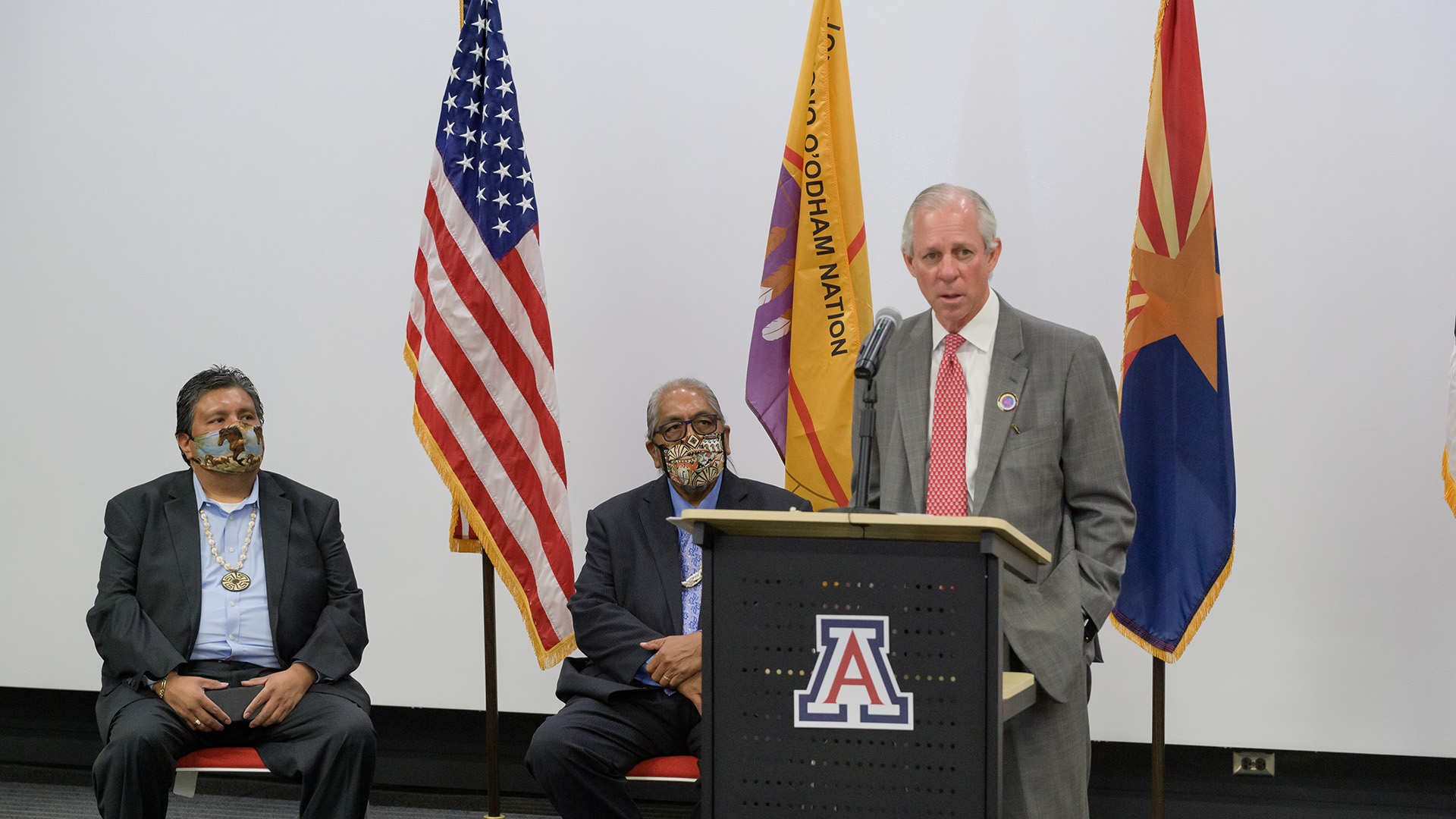 Tohono O'odham Nation Legislative Council Chairman Timothy Joaquin, Tohono O'odham Nation Chairman Ned Norris Jr., and University of Arizona President Robert Robbins at the press conference announcing the nation's donations to the UA and Arizona State University to further COVID-19 research Oct. 19, 2020.
Courtesy of the University of Arizona
The Tohono O'odham Nation announced it's donating $1 million to the University of Arizona and another million to Arizona State University to further COVID-19 research.
Tohono O'odham Nation Chairman Ned Norris Jr., Tohono O'odham Nation Legislative Council Chairman Timothy Joaquin and the presidents of the two universities made the announcement Monday at ASU. Norris said while tribal members are still in "great need," a donation to further the research of these institutions will help decrease the impacts of the disease.
"The reason is simple: There is no moving forward, for our safety, our health and our economy until we get this pandemic under control," Norris said.
The number of COVID-19 cases among Tohono O'odham members has peaked a handful of times since June. According to the latest leadership report from the tribal government, 555 enrolled members have contracted the disease and 28 have died, as of Oct. 14. The majority of those cases are among members living in the reservation. The report states there was a 5% positivity among the tests administered in the preceding week.
"The crisis has also intensified the existing disparities in health care and economic opportunity for Native Americans and other communities of color who have been among the hardest hit," Norris said. "For the Tohono O'odham Nation the safety measures we have implemented and the dedication of our tribal citizens has, so far, prevented a major outbreak."
Legislative Council Chairman Joaquin said that, according to the Arizona Department of Health Services, 11% of Arizonans who die due to COVID-19 complications are Native American, yet the U.S. Census Bureau reports that they represent only 5% of the population.
Norris said the donations are a portion of the tribal net gaming revenues the Tohono O'odham Nation is required by law to give to local governments for community services or public safety.
While at the press conference, UA President Robert Robbins mentioned two new COVID-19 tests the universities are developing, both expected to be ready in the first part of 2021.

Robbins said the UA test would utilize cell phone video technology to "read the gradient of which [a saliva and buffer solution mixture] moved" across a piece of paper. He said someone would then get a positive or negative diagnosis on the cell phone.
He said he's hoping this UA COVID test allows people to get tested every day.
"This virus is showing no signs of letting up, and until we have better testing, treatment and a vaccine, our communities remain at risk and our economy will continue to falter," Norris said.