Cases 232,937 | Deaths 5,837
On Tuesday, Oct. 20, the state reported 1,040 new cases of COVID-19 and 7 additional deaths. This marks the second time in a week that daily case numbers have been above 1,000, according to the Associated Press.
---
Arizona again reports more than 1,000 additional COVID cases
AP
PHOENIX — Arizona on Tuesday reported over 1,000 additional known coronavirus cases for the second time in a week as the state's seven-day rolling average of new cases continues to increase.
State health officials reported 1,040 additional cases and seven additional deaths, increasing the statewide totals to 232,937 cases and 5,837 deaths. The state's rolling average of daily new cases rose over the past two weeks from 508.6 new cases on Oct. 5 to 835.3 on Oct. 19.
According to the data from Johns Hopkins University, the rolling average of daily deaths during that period dropped from 12 per day to 10.
---
Tohono O'odham Nation donating $1 million to UA for COVID-19 research
AZPM
The Tohono O'odham Nation announced it's donating $1 million to the University of Arizona and another million to Arizona State University to further COVID-19 research.
Tohono O'odham Nation Chairman Ned Norris Jr., Tohono O'odham Nation Legislative Council Chairman Timothy Joaquin and the presidents of the two universities made the announcement Monday at ASU. Norris said while tribal members are still in "great need," a donation to further the research of these institutions will help decrease the impacts of the disease.
"The reason is simple: There is no moving forward, for our safety, our health and our economy until we get this pandemic under control," Norris said.
---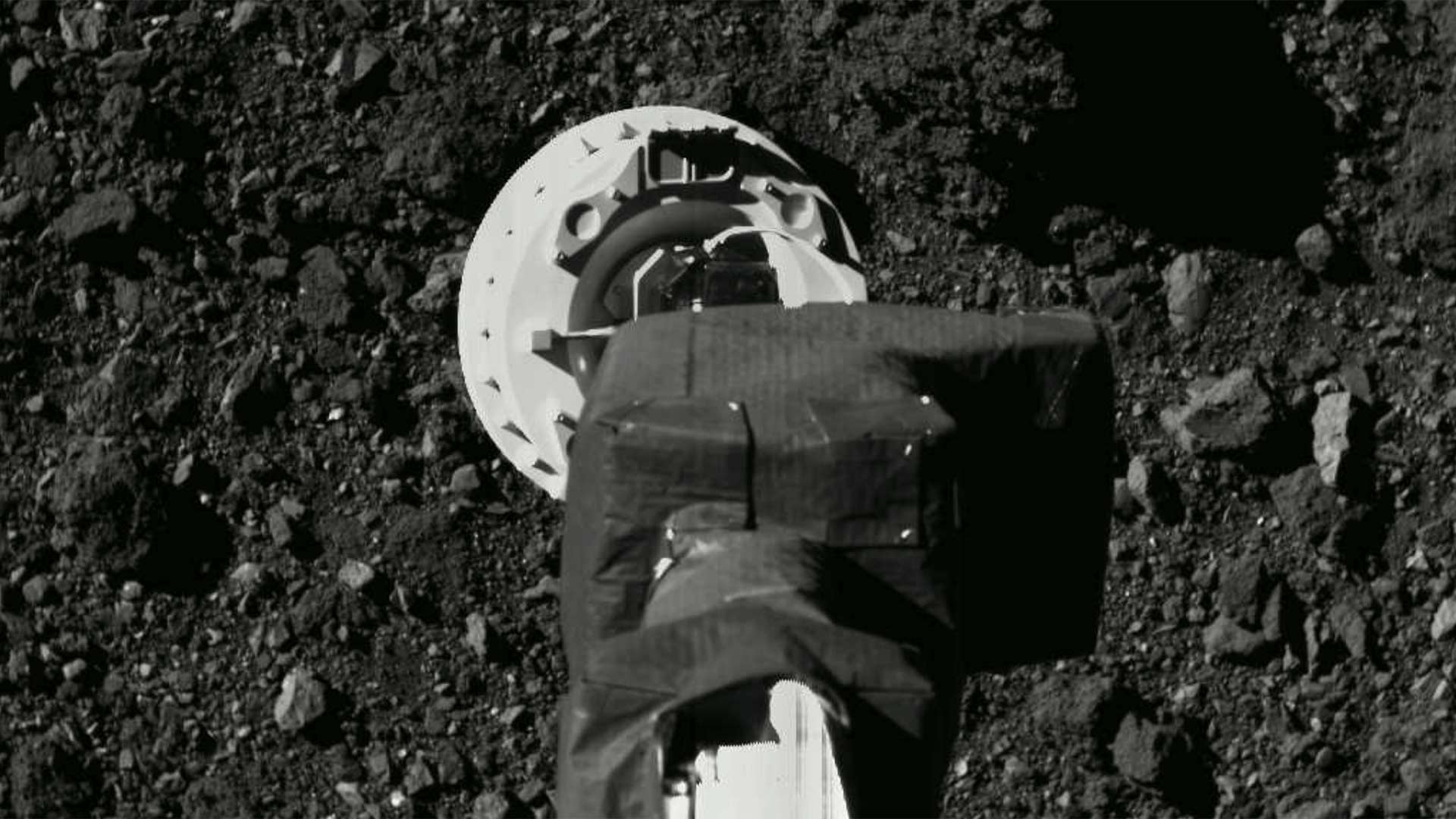 Still image from the Aug. 11, second rehearsal of the OSIRIS-REx mission's sample collection event at the asteroid Bennu.
OSIRIS-REx
US spacecraft touches asteroid for rare rubble grab
AP
CAPE CANAVERAL, Fla. — A NASA spacecraft has descended to an asteroid and momentarily touched the surface to collect a handful of cosmic rubble for return to Earth. It was a first for the U.S. — only Japan has scored asteroid samples.
The OSIRIS-REx spacecraft sent back confirmation Tuesday of its contact with asteroid Bennu 200 million miles away. But it could be a week before scientists know how much, if anything, was grabbed and whether another try will be needed. If successful, OSIRIS-REx will return the samples in 2023.
---
SCOTUS To Hear Border Wall And Asylum Seeker Suits
Fronteras Desk
The Supreme Court has decided to take up a two-year legal battle between rights groups and the Trump administration over the funding for segments of the border wall.
President Donald Trump vowed to complete 450 miles of new border wall. Customs and Border Protection has diligently tracked the progress and says now 371 miles have gone up since Monday.
Recently the 9th U.S. Circuit court of appeals ruled the administration was illegally using military funds to pay for 11 segments of the wall. But construction has continued and the court won't hear the case until next year. At that point, the border wall will likely be complete.
Dror Ladin heads the ACLU's lawsuit against the Trump administration over the matter and says the fight won't end there.
---
Amid Widespread Drought, Sonora Offers Credit to Cattle Ranchers
Fronteras Desk
In response to widespread drought in Sonora, the state government is offering ranchers in impacted areas credit so that they can have liquidity as they face the crisis, according to a release. Qualifying ranchers could get up to roughly $100 per head of cattle, with limitations on the total number.
"In all my life as a rancher, it's the most critical year," said Cuauhtemoc Mendez, a rancher for decades in the municipio of Pitiquito in northwestern Sonora.
He also said that the support from the government pales in comparison to the level of need during the drought.
The most recent federal drought data show that more than 90 percent of Sonora's municipios have at least some level of drought. Nearly 50 percent are reporting at least severe drought.
Sonora is a major exporter of cattle to the United States.
---
Mexico Wants An Aztec Headdress Back — And Controversy Follows
Fronteras Desk
MEXICO CITY — For years, many Mexicans have longed for the return of a 16th century Aztec feathered crown that lies in a European museum. The Mexican president's wife, Beatriz Gutiérrez-Muller, went on a mission to try to get it borrowed — but the visit reignited a debate about its significance.
The headdress once belonged to King Motecuhzoma Xocoyotzin (Moctezuma the Second) of the Mexica, or Aztecs, who gave it as a gift to Spanish conquistador Hernán Cortés. Cortés later sent it as a tribute to the Spanish crown and it is currently housed at Vienna's Museum of Ethnology.
Now, President Andrés Manuel López Obrador wants it back in Mexico for the bicentennial celebrations of independence next year.
Nationalist followers support the president, but experts express concern that it's too delicate to travel. Critics of the president say this is another populist move from the president.
---
76-year-old inmate at Pima County Jail found dead in cell
AP
Authorities say a 76-year-old inmate at the Pima County Jail in Tucson has died.
County Sheriff's officials say corrections officers doing their rounds at 10 a.m. Monday found Ricardo Pascual unresponsive in his cell. Staff immediately entered the cell and began administering emergency life saving measures while they waited for Tucson Fire Department personnel to arrive. After attempting to resuscitate the inmate, medical personnel pronounced him dead at the jail.
Sheriff's officials say detectives responded to the jail and found no suspicious circumstances in Pascual's death, but the investigation is continuing. It was unclear what sentence Pasqual was serving or how long he had been in jail.
---
Arizona counties can start counting early ballots now
AP
PHOENIX — Arizona counties can now start tabulating early ballots in a year that's already producing massive turnout.
The Maricopa County Recorder's Office says it will start counting 645,000 ballots that it's received either by mail, drop box or in-person early voting. That's roughly 75% more ballots the county had to count during the same timeframe in the 2016 general election.
Arizona is a battleground state where the race for the Senate could flip to Democrats this year.
Maricopa County, where a majority of the state's population lives, is expecting record turnout and has 2.6 million eligible voters.
---
Navajo Nation reports 14 new COVID-19 cases and 1 more death
AP
WINDOW ROCK — Navajo Nation health officials are confirming 14 new cases of COVID-19 and one additional death. The figures released Monday night bring the total number of cases to 10,969. The known death toll now is 574.
Tribal health officials say 116,676 people on the vast reservation that covers parts of Arizona, New Mexico and Utah have been tested for COVID-19 since the pandemic started and 7,396 have recovered. A shelter-in-place order, mask mandate, daily curfews and weekend lockdowns remain in effect on the Navajo Nation.
Most people experience mild or moderate symptoms with the coronavirus, such as fever and cough that clear up in two to three weeks.
---
Crews work to protect homes in evacuated Arizona community
AP
CROWN KING — Firefighters have installed sprinklers and cleared open spaces to protect homes in the evacuated small community of Crown King from a wildfire burning in the Prescott National Forest in north-central Arizona. The fire remained at about 14.3 square miles with containment reported around 21% of its perimeter as of Tuesday.
The fire started Thursday and its cause remained under investigation. Aircraft are being used to help ground crews fight the fire. It was burning in rugged wooded terrain about 7 miles northwest of Crown King and 18 miles south of Prescott.
---
Committee highlights diversity in NAU presidential search
AP
FLAGSTAFF — Diversity was the subject of the first meeting of the committee looking for Northern Arizona University's next president. The group called for someone who will collaborate with and support diverse populations, including the Native American community.
The Arizona Daily Sun reported Tuesday that the 14-member committee discussed its vision for the Flagstaff-based campus and the future president during the Friday meeting. The search consultant will use the information to recruit candidates after current President Rita Cheng announced last month that she would not seek an extension of her contract that expires in 2022.
---
Republicans see bright spot in 2020 voter registration push
AP
The Republican Party has cut into Democrats' advantage in voter registration tallies across some critical presidential battleground states, a fact they point to as evidence of steady — and overlooked — enthusiasm for President Donald Trump and his party.
Even as Trump trails in national polls and struggles with fundraising, Republicans see their progress signing up voters in Florida, Pennsylvania, Arizona and other states as a rare bright spot.
Democrats appear to have been set back by their decision to curb in-person voter registration drives during much of the coronavirus pandemic.