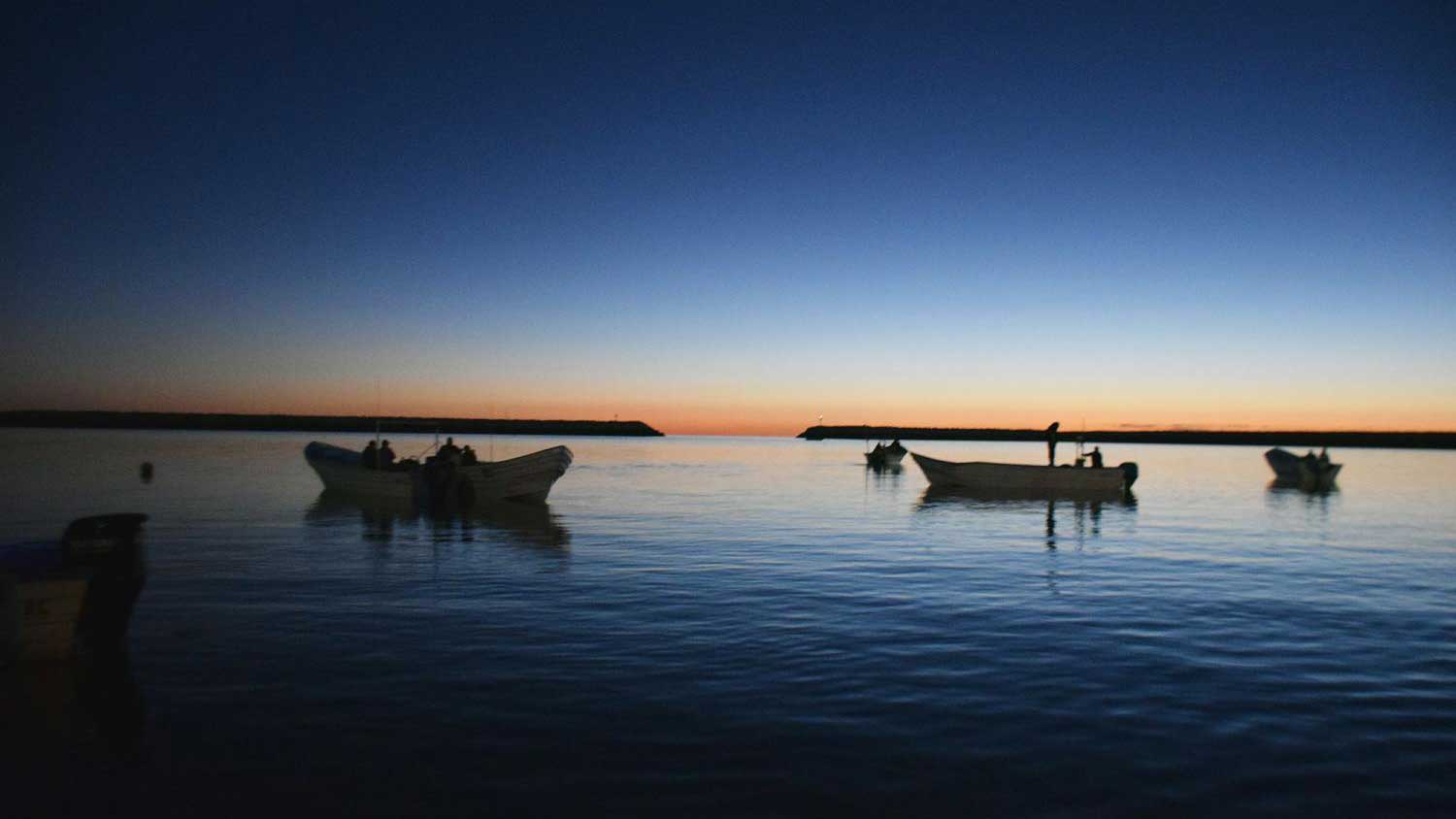 VIEW LARGER Fishing boats float on the Sea of Cortez outside the little town of San Felipe, Baja California, in October 2018.

Kendal Blust/Fronteras Desk
In an effort to protect the nearly extinct vaquita marina porpoise, Mexico has implemented increasingly restrictive fishing bans in the uppermost part of the Sea of Cortez, called the Upper Gulf of California. In September, new restrictions would make even the possession of prohibited nets illegal starting in late November. At the same time, payments meant to ease the burden on fishermen stopped two years ago when President Andrés Manuel López Obrador took office.
Now, Baja California Gov. Jaime Bonillas has said he'll help fishermen become taxi drivers as a work alternative, adding that fishermen would only have to pass a drug test and pay about $650 in fees to access the needed permits.
But Lorenzo Garcia says there's no market for hundreds of new taxi drivers in a small town like San Felipe, where he heads a local fishermen's federation.
"They're going to give us 600 taxis in San Felipe," he said with a laugh. "I don't see that as a real option."
Instead, he said, fishermen in the upper gulf will continue using their nets, unless government officials can provide a reasonable alternative. Fishermen in this region, he said, have repeatedly agreed to consider alternative options to the gillnets they currently use to catch shrimp and other fish. But the options the government has put forward would decrease their catch too substantially to be economically viable.
Now, with the threat that authorities could start confiscating nets and fining owners if they don't turn them over, he said fishermen are girding themselves for a fight.
"It's something we don't want to happen," he said, adding that they are working with lawyers now to look for some legal relief. "But we are not going to turn over out nets."
Anyway, he said, while fishermen in this region are invested in protecting the vaquita marina, they don't see the government's actions as a good faith effort to address the situation, while poachers frequent the area unhindered, using large nets to catch a huge endangered fish called the totoaba. The nets poachers use to catch totoaba are widely regarded as the leading threat to the vaquita marina among conservationists. There are currently only an estimated 10 vaquita remaining.
"And the government isn't doing anything about it. Illegal boats are out there all the time," Garcia said. "And don't get us confused with illegal fishermen."

Fronteras Desk
is a
KJZZ
project covering important stories in an expanse stretching from Northern Arizona deep into northwestern Mexico.