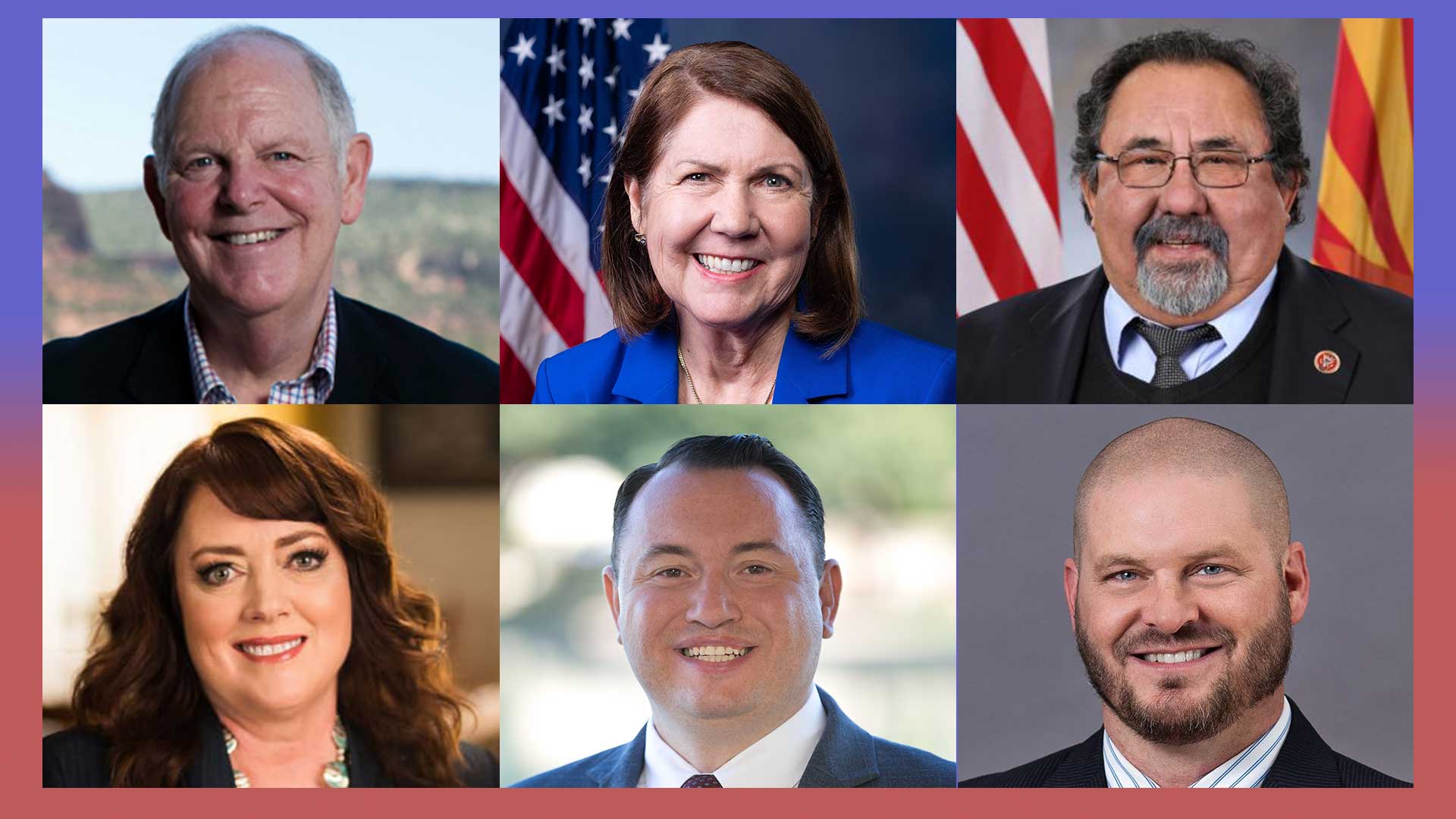 Left to right, 1st Congressional District candidates Tom O'Halleran (D, incumbent) and Tiffany Shedd (R). 2nd Congressional District candidates Ann Kirkpatrick (D, incumbent) and Brandon Martin (R). 3rd Congressional District candidates Raúl Grijalva (D, incumbent) and Daniel Wood (R).
Campaign, government images
Unless otherwise noted, results for races are preliminary and unofficial. Check back here as results continue to update.
Loading...
The 1st Congressional District, Arizona's largest, includes all or part of 11 counties, including parts of the Tucson and Phoenix metro areas and the entire Flagstaff region.
It has frequently flipped between parties, electing seven Republicans and five Democrats since the district was created in 1940.

Tom O'Halleran served in the state Legislature for eight years as a Republican. After switching his affiliation to Democrat he was was elected to the seat in 2016. He is a member of the House's Blue Dog Coalition, comprising Democrats who identify as fiscally conservative and pro-national defense.
Republican challenger Tiffany Shedd is a farmer, lawyer and small-business owner based in Eloy. This is the second time she's run for Congress from the 1st District. Her website describes her as a "constitutional conservative."

Loading...
Ann Kirkpatrick handily beat a challenge to her seat in the 2nd Congressional District in Arizona.
Kirkpatrick has represented the 1st and 2nd Congressional Districts in Arizona for five previous terms. She faced Republican Brandon Martin, who ran in the Republican primary for Arizona's 2nd Congressional District in 2018 and lost.
Kirkpatrick said she has plans for what a new Congress will need to tackle come January: comprehensive immigration reform and a national pandemic response.
Martin served 11 years in the Army Reserves in an intelligence unit and one tour in Afghanistan. During his campaign he said his platform included prioritizing the economy, jobs, and helping small businesses.
Arizona's 2nd Congressional District covers eastern Pima County and all of Cochise County. For nearly a decade, the district was regarded as one of the most competitive in the nation because voter registration was split nearly evenly between Republicans, Democrats and voters with no party affiliation. That changed in recent years as Democrats have gained a nearly 4-point advantage and voters with no party affiliation now make up barely 30% of CD 2 voters.
Loading...
Raúl Grijalva has won reelection to the 3rd Congressional District, according to the Associated Press, a seat long held by the Southern Arizona Democrat.
Grijalva was first elected to Congress in 2002 and has won every election since. He won at least 50% of the vote every time and ran unopposed in 2016. Grijalva says he wants to continue his record of leadership in the House. Grijalva is the chair of the House Committee on Natural Resources.
This year his Republican challenger was a former U.S. Marine and private security officer named Daniel Wood. Wood, a staunch Donald Trump supporter, said he chose to run because he was concerned about the state of the country, given the civil unrest in many parts of the nation. He cast doubt on the severity of the COVID-19 pandemic. In a televised debate, he repeated a widely debunked claim that only 6% of the deaths attributed to the coronavirus were actually caused by the virus.