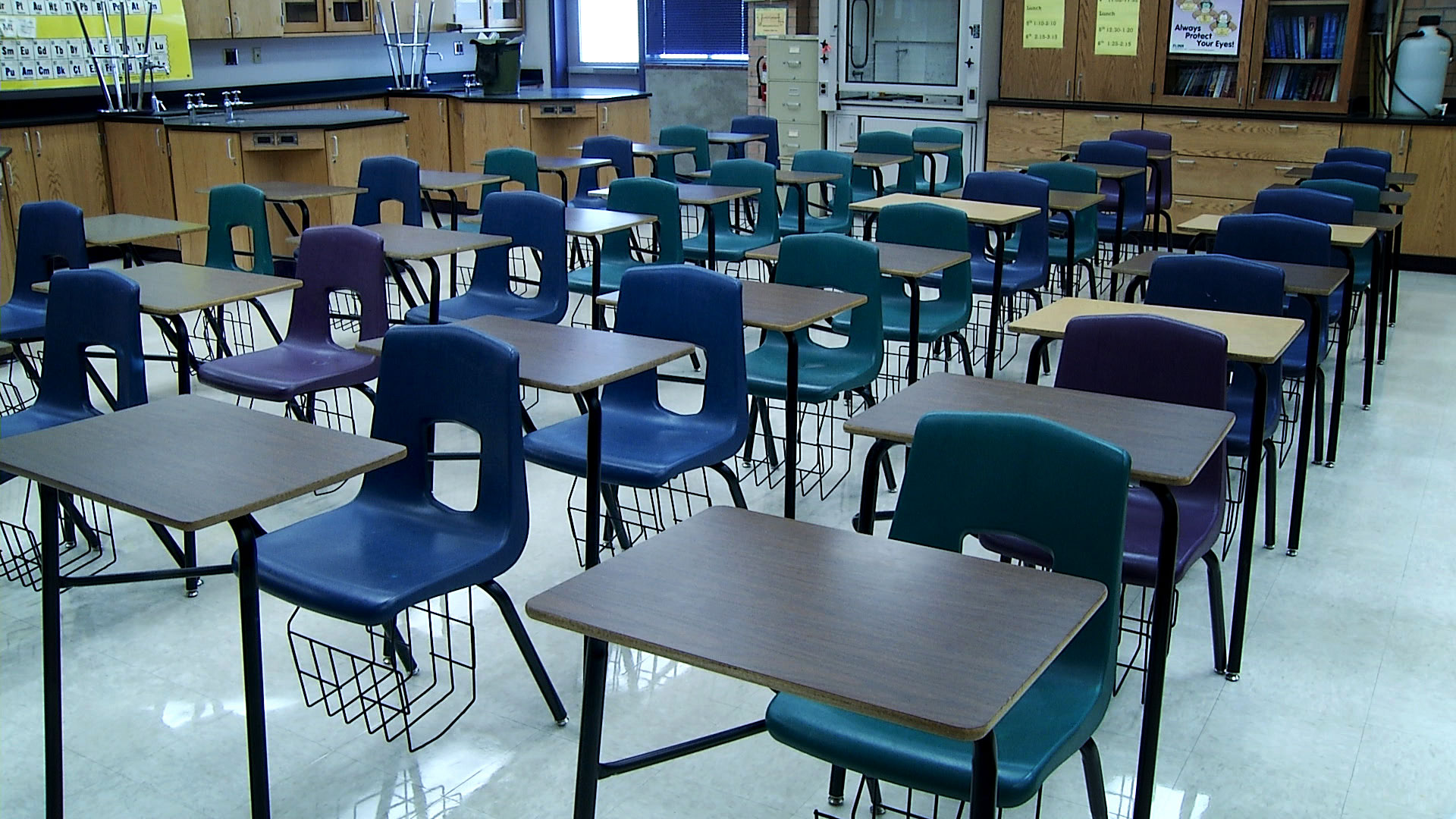 File image of an empty classroom at Sabino High School in Tucson.
AZPM Staff
The pandemic in Arizona continues to worsen, with the state reporting over 4,000 new COVID-19 cases two days in a row this week. Arizona had not had a day with 4,000 new cases since July.
Given these numbers, full-time, in-person classes are not likely to return soon.
The Tucson Unified School District has announced that hybrid classes, where students attend class on campus for part of the school day, will not begin until Pima County is securely in a state of moderate virus transmission or better.
Sunnyside Unified School District, which began hybrid classes in mid-October, will switch to fully remote learning after the Thanksgiving break and not return to hybrid classes until January at the earliest.
Some parents looking to balance safety and schooling have turned away from traditional public schools. In some cases, this means educating kids solely at home. Homeschooling has greatly increased this year, according to Pima County Schools Superintendent Dustin Williams.
The pandemic has led to a decline in enrollment in public schools. TUSD, the largest school district in Tucson, saw a 5.7% decline in enrollment, as of late October.
However, not all students who no longer attend public schools have been accounted for. The Arizona Daily Star found that at least 1,000 students are missing from school districts in Tucson. It's left to school administrators, teachers and staff to find out where these children have gone.
Meanwhile, at the University of Arizona, enrollment increased this school year, the Arizona Republic reports. This week, UA made progress on a deal that would further expand its student body: acquiring a for-profit, online college.
---
Arizona expands mask requirement to school buses, campuses
AZPM
Masks will now be required of everyone on all school campuses, school buses and for school-related activities in Arizona.
The state health department issued an emergency order to that effect on Thursday, expanding upon the governor's executive order in July requiring masks for all staff and students. In a press conference Wednesday during which he refused to implement a statewide mask mandate, Gov. Doug Ducey emphasized he wants to keep kids in school despite rapidly rising COVID-19 cases.
Earlier this week the state's largest teachers union sent a letter to the governor describing current pandemic school guidelines as "insufficient" and expressing concern that teachers and students remain at increased risk.
---
More students switch to homeschooling amid school enrollment woes
Arizona 360
Ami Bunch, a teacher and parent in Tucson, discusses how she's holding up teaching her students online as her children also learn from home.
Pima County Schools Superintendent Dustin Williams said about 4,600 students are being homeschooled this year, almost 1,500 more students than previous years. Gabriel Trujillo, the superintendent for Tucson Unified School District, said kids leaving the district means less funding from the state.
Watch the full video here.
---
Update from Sunnyside: Academics and resiliency
Arizona 360
Pam Betten, the chief academic officer at Sunnyside Unified School District, talks about how the pandemic has impacted enrollment, student performance, and student-teacher communication.
Watch the full video here.
---
Hundreds of Tucson students missing from class unaccounted for
Arizona Daily Star
Over 1,000 Tucson students are missing from classes or have highly irregular attendance this year, the Arizona Daily Star reports. The Tucson Unified School District, the largest in the city, has not provided a number for how many of its students are unaccounted for.
While there is no official network dedicated to tracking down these students, school administrators, teachers and staff have taken up the task.
---
Schools stuck between parent and teacher interests
Arizona Republic
As COVID-19 cases rise in Arizona and across the country, local education officials must try to balance the concerns of parents with the worries of teachers and staff members. Parents generally push for classroom learning, while citing the negative academic and emotional effects of distance learning on their children, while teachers fear for their own health, the Arizona Republic reports.
Meanwhile school district leaders report feeling they have not received much guidance from state officials on how to proceed during these tense times.
---
School accountability measures up in the air amid pandemic
AP
PHOENIX — The coronavirus has prompted the Arizona Legislature to cancel statewide standard tests and skip grading schools for the 2019-2020 school year and the federal government waived its own school accountability requirements. But KJZZ reports it's not yet clear whether it will be possible in the current school year to grade schools' academic performance as was done before the pandemic.
Bullhead City Elementary School District Superintendent Carolyn Stewart and others hope the state Board of Education will support continuing the suspensions of the testing and grading.
The board expects to take a position on the issue but state and federal lawmakers will have the final say.
---
Education funding measure to be challenged in court
Arizona Republic
A Phoenix area business owner and a former Maricopa County judge announced plans Friday to challenge Proposition 208 in court, questioning its constitutionality. The law group arguing the case will scrutinize the ability of ballot measures to avoid going through the state Legislature to set income taxes, the Arizona Republic Reports.
Proposition 208, or the Invest in Education Act, passed after nearly 52% of the vote. It aimed to increase funding for teachers and school support staff by upping taxes for Arizona's highest earners, including small businesses in some cases.
---
Arizona winter high school sports delayed to January
AP
PHOENIX — The Arizona Interscholastic Association Executive Board has delayed the start of winter high school sports until January as coronavirus cases surge across the state.
The board voted Thursday that winter sports seasons will be allowed to start Jan. 5 and must end by Feb. 19. Teams must practice for at least 14 days before starting competition.
The maximum number of games for basketball and soccer will remain at 20. But the board approved two extra wrestling matches, increasing the maximum allowed from 12 to 14.
The board also said no fans will be allowed until further notice and no invites, regional tournaments or out-of-state competition will be allowed.
---
UA deal to purchase for-profit Ashford University approved by accreditor
AZPM
The University of Arizona is about to close a controversial deal to purchase a for-profit university and convert it into a separate entity dubbed University of Arizona Global Campus.
The Western Association of Schools and Colleges (WASC) approved the deal to purchase Ashford University with conditions, the UA announced Monday. But some UA faculty feel shut out of the process and question the new venture's merit.
The UA announced in August the plan to purchase the online university with over 35,000 students from its parent company Chandler-based Zovio for $1. The deal is expected to close in December.
---
UA crime stats show increase in sexual assault reports
AZPM
The University of Arizona's annual on-campus crime report showed a marked increase in the number of sexual assaults.
According to the report, sexual assaults in 2019 increased from 14 the year before to 40. University officials said the sudden jump in the numbers is due to an increase in reporting, not necessarily an increase in the occurrence of the crime.
"I think people are much more comfortable reporting these days regardless, and we've always encouraged people, please report every crime. If we don't know about it we can't focus in on an area or mitigate it in the future," said Brian Seastone, UAPD police chief.
---
Arizona universities see an increase in enrollment, despite pandemic
Arizona Republic
In a reversal of the national trend, Arizona's public universities collectively saw a 4.5% increase in enrollment this year. The University of Arizona and Arizona State University both saw an increase in enrolled undergraduate and graduate students. Only Northern Arizona University saw enrollment decrease.
Enrollment in online college programs helped boost the positive enrollment trend, the Arizona Republic reports.
Grand Canyon University, a private college in Phoenix, also saw an increase in enrollment.
---
Pandemic pushes steep drop in foreign college students
AP
TOLEDO, Ohio — Colleges in the U.S. have seen a sharp enrollment drop among international students this fall. University administrators say a number of hurdles and new policies brought on by the coronavirus pandemic are to blame.
A new survey out this week shows a 43% drop among new international students enrolled online or in-person. And total international enrollment fell by 16% when including both new and returning students.
Many foreign students were unable to get visas earlier this year when American consulates were closed because of the pandemic. Others were stranded because of travel restrictions or faced financial problems related to the outbreak.