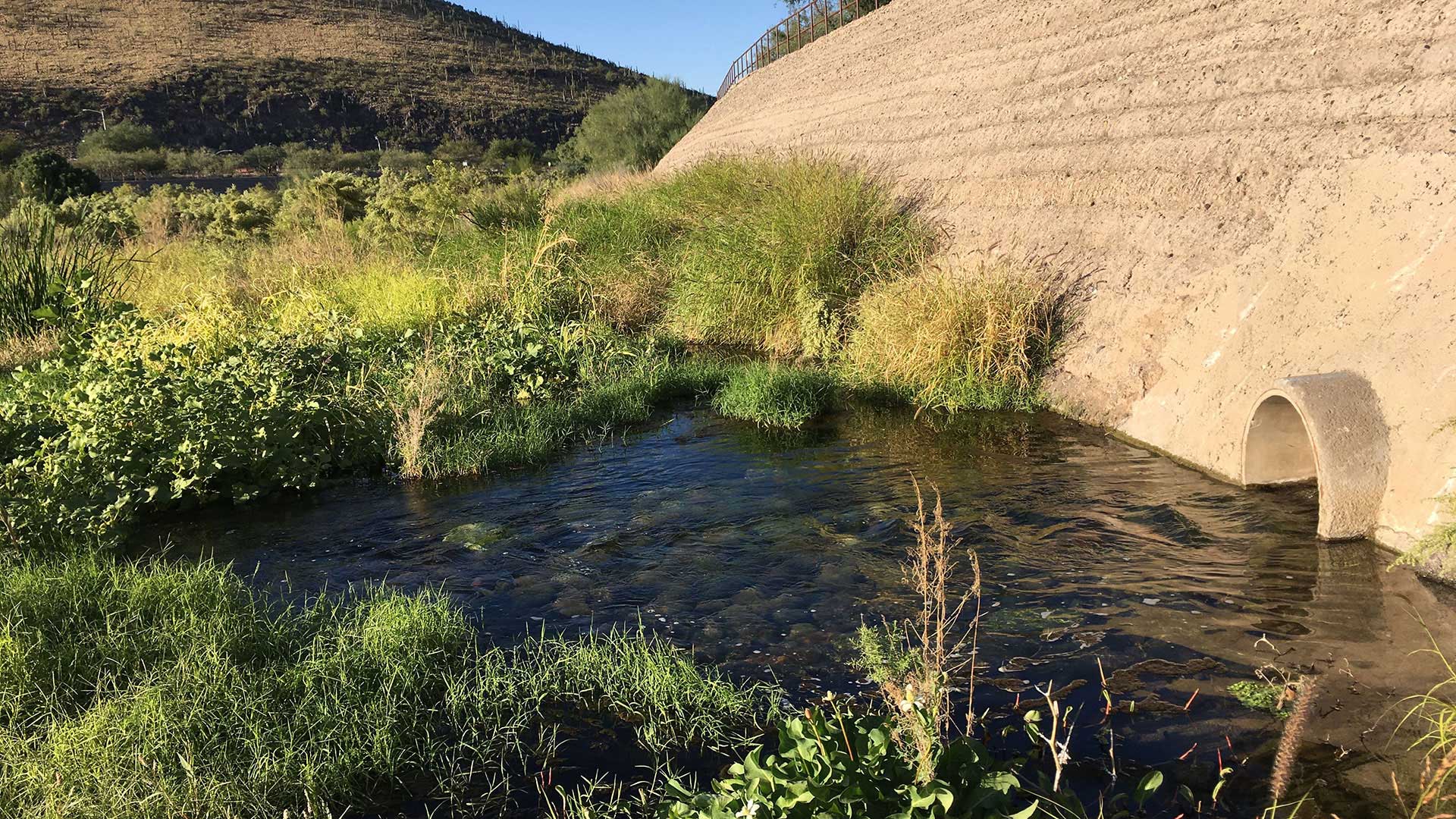 Since late June 2019, Tucson Water has been recharging treated wastewater into the dry channel of the Santa Cruz River, creating a riparian oasis.
Ariana Brocious/AZPM
While much of the Santa Cruz riverbed is dry in metro Tucson, the river flows year-round from northwest Tucson to Marana, thanks to the release of treated wastewater.
Pima County spent more than $600 million to upgrade its wastewater treatment, and since those upgrades were completed in 2013, the water quality in the river has improved dramatically. That's led to improved habitat for aquatic life and other animals, as well as a river people can spend time around and enjoy.
Those findings are compiled in the Living River Report published annually by the Pima County Flood Control District and the Sonoran Institute. Luke Cole is associate director for resilient communities and watersheds with the Sonoran Institute and summarized this year's report.
"We're seeing that the water quality continues to get better," Cole said.
The upgrades have significantly reduced the concentration of ammonia, which can be toxic to fish at high levels. Cole said that makes it easier for riverbed wildlife and vegetation to thrive. Aquatic invertebrate diversity has increased dramatically in recent years.
Evan Canfield is the division manager for watershed studies with Pima County Regional Flood Control District.
He said that many people, including local taxpayers, played a role in the yearslong revitalization of the Santa Cruz. Now the county is looking to further improve the river through a series of projects.
Some of the projects are more aesthetic in nature, like reducing trash in the river, while others are structural. But Canfield said community feedback can really help them understand how to upgrade and prioritize projects before they begin. To that end, Pima County and the Sonoran Institute created a survey where the public can give feedback on the various project ideas.
"We like to think that since we worked with stakeholders, people from the town of Marana, city of Tucson, water providers, landowners, we've got things that people actually want," Canfield said. "But I think there's a lot that can happen between these first days of ideas and what actually materializes on the ground."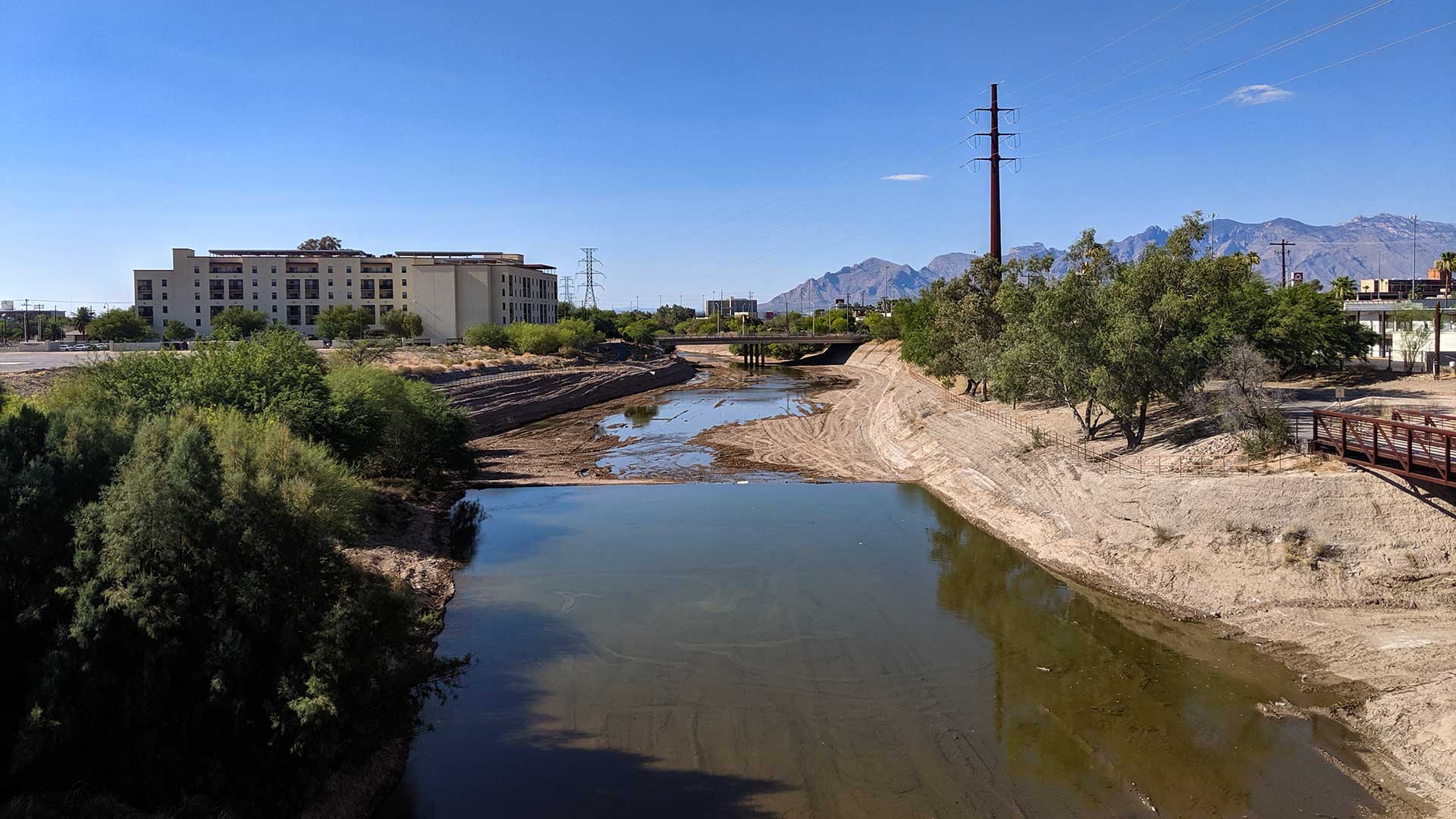 Water flows north of Cushing Street in the Santa Cruz River, midway through the first week of a project aiming to create a perennial flow in a section of the river, June 27, 2019.
Nick O'Gara/AZPM
In June 2019, Tucson Water unveiled the Santa Cruz River Heritage Project, putting treated wastewater into the river at the base of "A" Mountain. Tim Thomure, director of Tucson Water, said the project is running smoothly.
Tucson Water has had to reduce the amount of flow into the river to avoid interfering with a historic landfill. However, Thomure said that problem has been avoided by keeping a buffer zone between the flow and the landfill.
"Until you actually turn on a recharge project like that in nature, you really don't know what it's gonna do," Thomure said.
According to Thomure, the project is fulfilling its initial goals, including recharging the groundwater and maintaining flowing stretches of the river to be enjoyed by riparian wildlife and community members. Tucson Water has plans for more recharge projects in the Santa Cruz or other drainages in the future.

The Buzz
airs Fridays at 8:30 a.m. and 6 p.m. and Saturdays at 3:30 p.m. on NPR 89.1. You can subscribe to our podcast on
iTunes
and NPR One. See more from
The Buzz
.