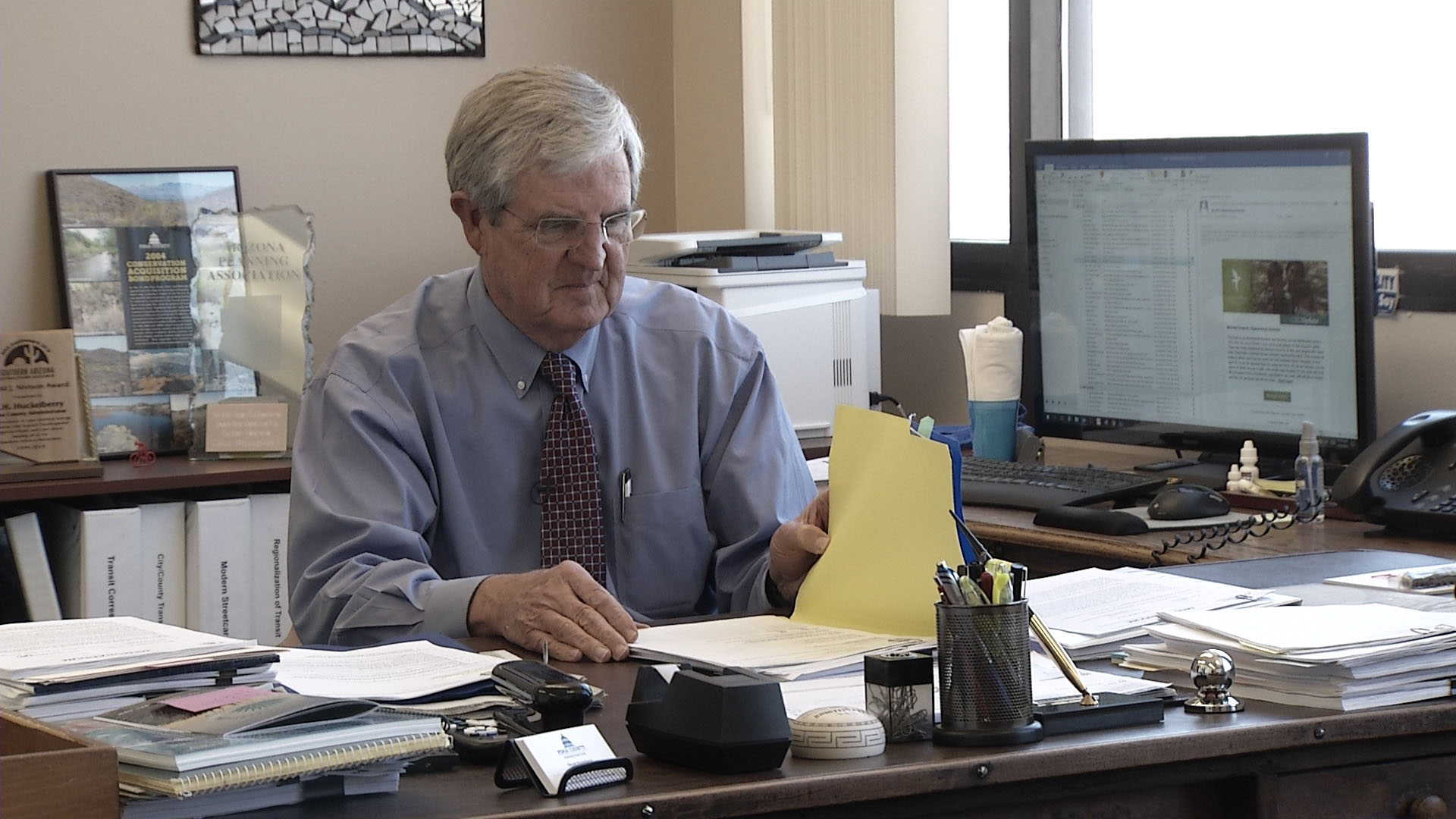 Pima County Administrator Chuck Huckelberry at his desk in 2019.
Nate Huffman/AZPM
Pima County Administrator Chuck Huckelberry has a new four-year contract. But the long-time chief executive didn't get everything he wanted.
Huckelberry brought his contract proposal on January 5, at the first meeting of a board of supervisors that included three new members. The board wasn't ready to make a four-year commitment on the spot, and some didn't like Huckelberry's request for a pay raise.
Two weeks later the board was ready with a counterproposal, with a slight pay cut instead of a raise. Supervisor Rex Scott praised Huckelberry's experience managing county government since 1993. "His extensive knowledge of all aspects of county government and its operations is vast, almost encyclopedic. He also manifests many of the traits of a true servant leader," Scott said.
But Scott also criticized Huckelberry's management style, which he says left some county employees demoralized. "It is very troubling to me that so many of our employees do not see Pima County as a caring supportive and positive place to work. Many of these employees place much of the blame for their feelings and experiences at the feet of Mr. Huckelberry and his team," Scott said.
Republican Steve Christy cast the only no vote, saying it was time to bring in some new blood. "As they say in the theater, all good actors know when it's time to leave the stage. Today should have been that exit," Christy said.
The new contract gives Huckelberry pay and benefits worth $292,000 a year, $9,000 less than he earns now, but still well ahead of any other county administrator in Arizona. Several officials said a pay raise would be unseemly in middle of major public health crisis.