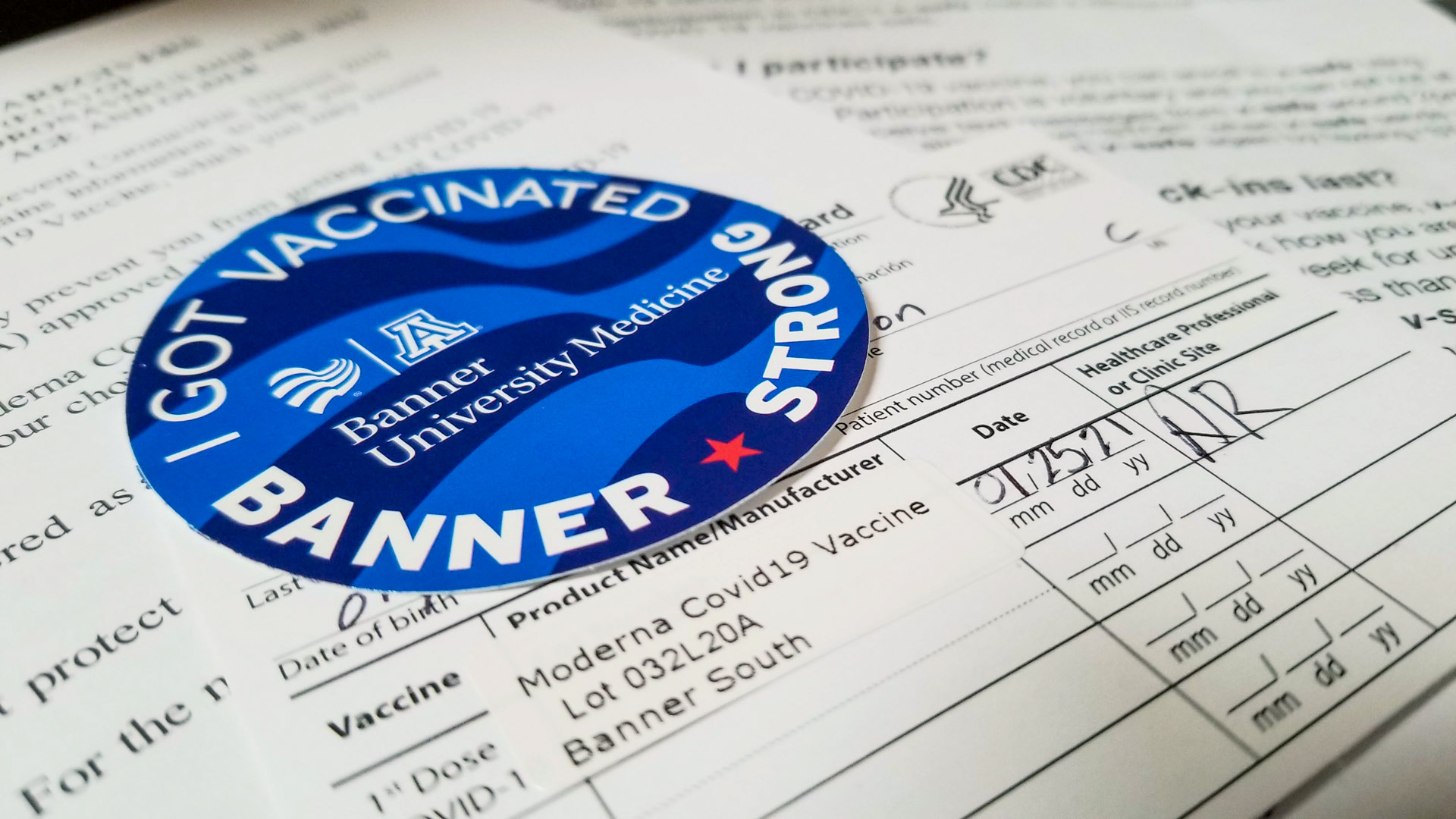 A COVID-19 vaccination record card is received following the administration of the Moderna COVID-19 vaccine at Banner University South.
AC Swedbergh/AZPM
Pima County is ramping up its ability to administer COVID-19 vaccinations, and could run out of its reserve of vaccine early next month if the federal and state governments don't increase their shipments.
County Health Director Dr. Theresa Cullen says the county is already giving out more doses than it's receiving, and could use up the vaccine it has stored in inventory by mid-February:
"We kept getting 29,000 (doses) a week and we were giving 37,000 you can see how we would run out in 2 to 3 weeks," Cullen said on a conference call with news media Monday.
Dr. Cullen says the county's 3 vaccination centers, at the Tucson Convention Center, the University of Arizona, and Kino Sports Complex, are expected to administer 31 thousand vaccinations this week, weather permitting. That number could increase to 35 thousand by next week, with another two thousand doses given by the Walgreens and CVS pharmacy chains at long term care centers.
Meanwhile Cullen says health officials are less concerned about the current supply of hospital beds. The Arizona Department of Health Services reported Monday that COVID-19 patients are now occupying 4,200 beds statewide, down from over 5,000 beds two weeks ago. Pima County's hospitalization numbers peaked at 463 beds in late December.
Dr. Cullen did not appear overly concerned at reports Monday that the Santa Cruz Valley Regional Hospital in Green Valley has closed its six-bed intensive care unit. "There were many times before we had no beds or very low single-digits. In the past couple days we've seen availability of around 10 to 14 beds so I think that we'll be okay in the county," Cullen said.
Santa Cruz Valley Regional Hospital CEO Steve Harris confirmed the hospital has closed its ICU temporarily because it can't find a qualified pulmonologist in the midst of the pandemic. Harris says the ICU typically sees only one or two patients at a time.