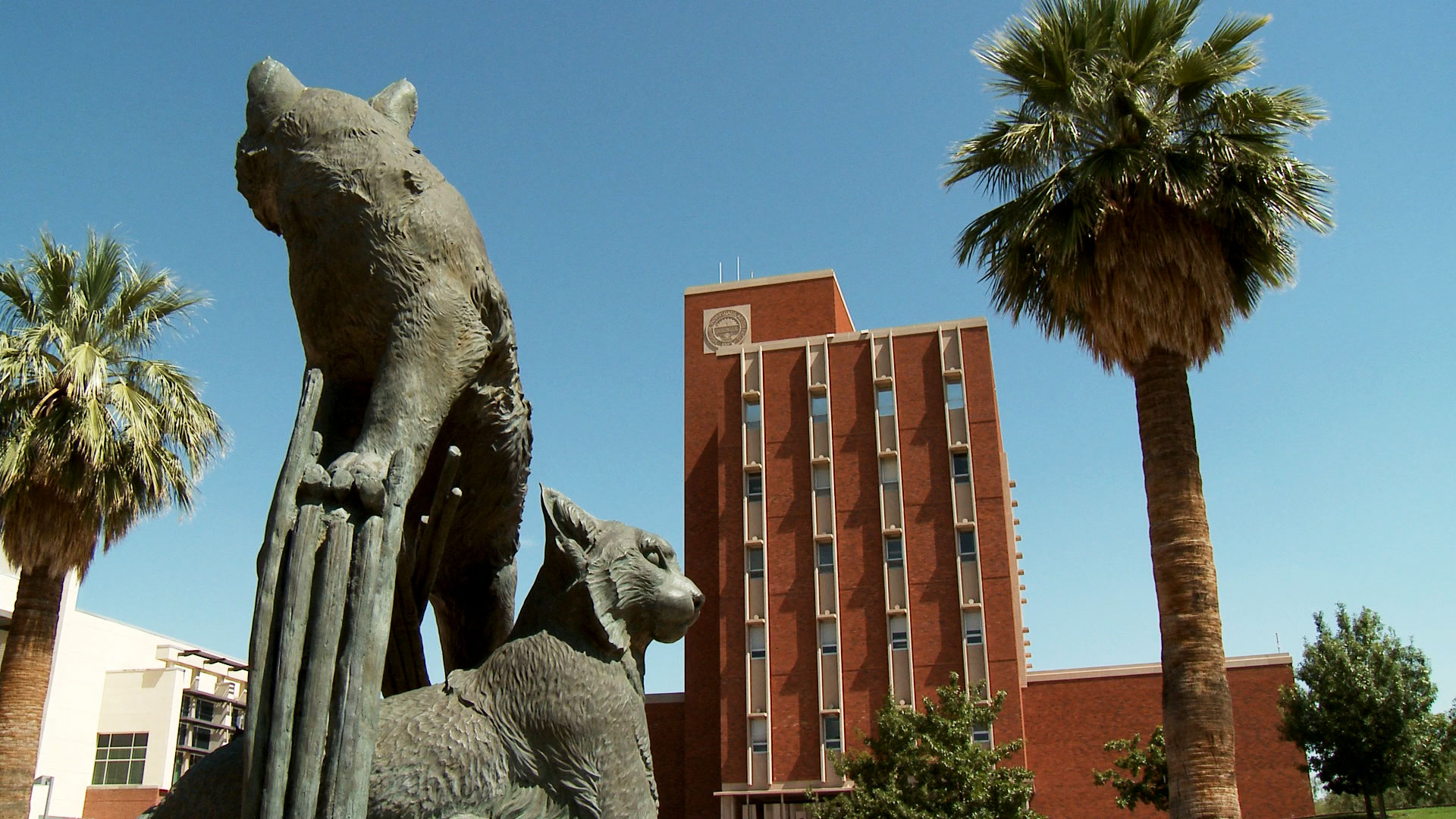 The University of Arizona Administration building.
AZPM Staff
This week saw new and proposed changes in Arizona's higher education system, with tuition in the spotlight.
For undocumented students in Arizona, some tuition relief may be on the way. A proposed Arizona Senate bill would grant in-state tuition to all students who graduated from an Arizona high school and lived in the state for at least two years. That includes undocumented students. The proposed bill passed the Arizona Senate Education Committee and will be considered by the state Senate.
A decade-old state proposition made it so undocumented students cannot access in-state tuition rates or financial aid. Currently, Arizona students in the Deferred Action for Childhood Arrivals program pay 150% of in-state tuition.
In the Arizona House, a proposed bill would give Attorney General Mark Brnovich the right to sue the Arizona Board of Regents over tuition increases, the Associated Press reports.
Brnovich attempted to do so in 2017, arguing that the board had not honored the state constitution's goal of keeping tuition "as free as possible." But the case was dismissed, as a prior Supreme Court case found that an attorney general does not have the right to sue a state agency.
Now that the proposal passed the Arizona House Government and Elections Committee, the state House will consider the bill. The proposal split committee members down party lines, with Republicans in support and Democrats in opposition.
---
Over $100 million in COVID aid coming to Tucson schools
Arizona Daily Star
Tucson-area school districts will receive over $127 million in COVID-19 aid, the Arizona Daily Star reports. The funds can go towards employee pay or other COVID-19 recovery efforts.
Tucson Unified is expected to receive $76.8 million, while Sunnyside Unified will receive $23.5 million in relief funds.
---
Tucson schools offer support to students, staff after COVID deaths
Arizona Daily Star
Local districts, including Tucson Unified, Amphitheater and Vail, have lost teachers and staff members to COVID-19. In one week, four TUSD employees died. Now, districts are offering support teams to help school communities navigate grief, the Arizona Daily Star reports.
---
GOP-led Arizona Senate OKs major school voucher expansion
AP
PHOENIX — The Arizona Senate has approved a major expansion of the state's school voucher program.
All 16 Republicans backed the proposal on Monday over protests from minority Democrats who called the bill a slap in the face of voters who rejected a slightly larger expansion just over two years ago.
Glendale Republican Sen. Paul Boyer's bill would make all children attending schools with a high percentage of low-income families or who qualify for free or reduced-price lunches eligible for the state's voucher program. The program allows parents to take state funding and pay for religious or other private education and education costs.
---
Vail area gets Pima County public library branch
AZPM
The greater Vail area got its first Pima County public library branch Tuesday.
The W. Anne Gibson-Esmond Station Library is near Empire High School and connects to the trailhead at Esmond Station Regional Park.
Karyn Prechtel-Altman is the deputy director of public services and community engagement for the Pima County Public libraries. She said the new library was designed to bring in a sense of community and sports detailed cut-steel scenes of Vail's history.
---
Senate Education Committee approves in-state tuition bill for Arizona Dreamers
AZPM
The Arizona Senate will consider a bill that would give in-state tuition to all students who graduated from an Arizona high school and have lived in the state for at least two years, regardless of immigration status.
Senate Concurrent Resolution 1044 was approved in the Arizona Senate Education Committee Tuesday with a 6-3 vote.
If passed, it would ask voters next year to reverse a portion of Proposition 300, another voter-approved law passed more than a decade ago that blocked undocumented people from accessing in-state tuition and financial aid. The ban later included recipients of the Obama administration's Deferred Action for Childhood Arrivals program, or DACA.
---
UA worried party could become COVID-19 super spreader
AZPM
Hundreds of people went to a Super Bowl party next to the campus of the University of Arizona, and that has UA officials worried.
"We had a 200-person party at one of the high rises, the police were called, they came and then they moved across the street to another high rise ," said Robert Robbins, President, University of Arizona.
Robbins said students at the party were referred to the Dean of Students office for student conduct code violations. Students at parties during COVID-19 pandemic can face suspension or even expulsion from the university.
---
State registration open for UA COVID-19 vaccines
AZPM
On Thursday, the University of Arizona's vaccination site will switch to a state-run, mass vaccination site.
Registering for vaccinations at the site can now be made through the state' registration portal.
People who have already registered through the state for first or second doses of the COVID-19 vaccine at UA will still get their inoculations at the university.
The university site is run by the state which means in addition to educators, first responders, and medical workers, people aged 65 and over are eligible to get vaccines. The vaccine sites run by Pima County do not take anyone under the age of 70.
---
Legislature tries to give AG right to sue over tuition
AP
PHOENIX — A proposal in the Arizona House would revive a lawsuit filed by Attorney General Mark Brnovich against the board that oversees state universities over what he calls overly high tuition.
The measure is needed because the Arizona Supreme Court ruled last year that Brnovich had no right to sue. He is backing the proposal from Republican Rep. Jacqueline Parker that was approved by a House committee Thursday with no Democratic support.
Brnovich sued the Arizona Board of Regents in 2017, saying they were violating a state constitutional provision that tuition be "as nearly free as possible."
---
Regents select new president of Northern Arizona University
AP
FLAGSTAFF — The Arizona Board of Regents plans to appoint Jose Luis Cruz, executive vice chancellor and university provost of The City University of New York, as the next president of Northern Arizona University.
The board announced Thursday night that Cruz had "accepted the opportunity to be the next president of NAU" and that the regents would approve contract terms and formally appoint Cruz at a subsequent meeting.
The regents previously announced interview invitations to Cruz and Bret Danilowicz, provost and vice president for academic affairs at Florida Atlantic University. The NAU presidency opened up last fall when current President Rita Cheng announced she would not seek a contract extension.
---
New Northern Arizona University president addresses campus
AP
FLAGSTAFF — The newly appointed president of Northern Arizona University has addressed the campus community following a visit to Flagstaff, citing plans to develop programs and build initiatives that improve the university's access, success and community engagement.
The Arizona Board of Regents announced on Thursday that Jose Luis Cruz had accepted the position.
Cruz said he decided to leave his position as executive vice chancellor and university provost of The City University of New York in favor of NAU because he wanted to return to a more community-integrated university. He will become the 17th president of NAU.
---
UA to help digitize Native American oral histories
AP
The University of Arizona will join six other schools to help digitize the oral histories of Native Americans collected during the 1960s and 1970s. The Arizona Daily Star reported that the project aims to make the histories more accessible to Native communities, tribal colleges and the public.
The universities will use a $1.35 million grant from the Doris Duke Charitable Foundation to translate and index the recordings.
The foundation says the recordings and materials span 150 Indigenous cultures and include more than 6,500 recordings of people reflecting on their traditions and experiences living on reservations and attending Native American schools.
---
Sonoran Teachers Create Videos To Help Special Education Students During Pandemic
Fronteras Desk
EspecialSon is a teacher-led effort in Sonora, Mexico, that Alicia Valle calls a "virtual learning community" that emerged from special education teachers' efforts to make distance learning work for their students.
During the pandemic, teachers are communicating with families through email and phone messaging platforms. But some wanted better ways to share activities and resources. So they started making videos.
Each video is about five to 15 minutes long, depending on the age group. And they're created to supplement a national curriculum called Aprende en Casa.