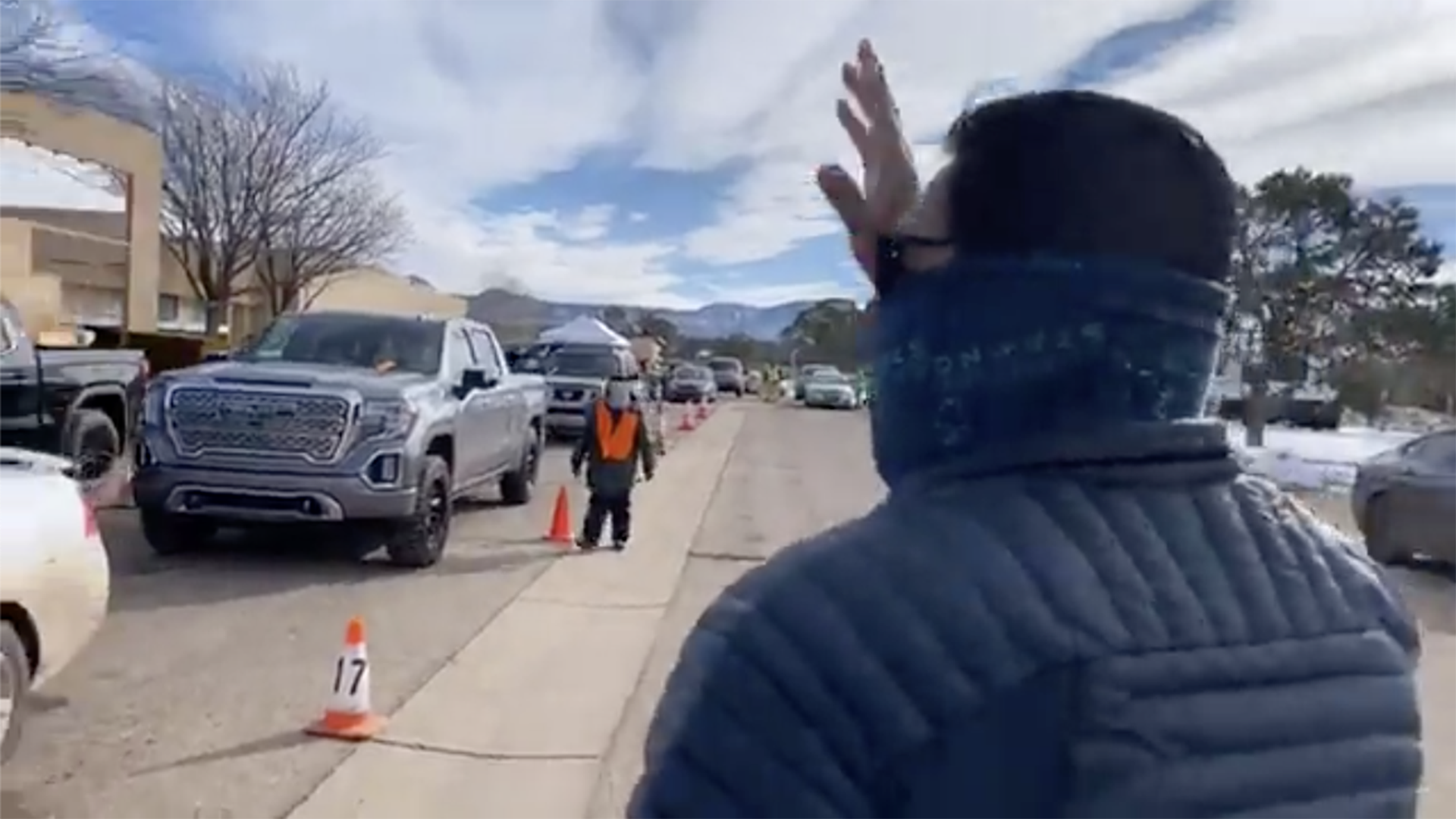 During a Facebook Live video Feb. 20, 2021, Navajo Nation President Jonathan Nez greeted patients who had just received a COVID-19 vaccine dose at Tsaile Indian Health Center.
Screenshot from the "Navajo Nation President Jonathan Nez and Vice President Myron Lizer" Facebook page.
The Navajo Nation exceeded its goal to administer 100,000 COVID-19 vaccine doses by the end of February. Now it's aiming for 120,000 by the end of the month.
Tribal officials reported Thursday that 104,974 doses had been administered. Since then, they have continued to advertise vaccination events across the reservation that is the size of West Virginia.
Dr. Chris Percy, the Community Health Director of the Northern Navajo Medical Center, was helping with the vaccine rollout at Shiprock High School Saturday in Shiprock, New Mexico. He said 84% of elders over the age of 65 have been vaccinated, along with 37% of people over the age of 16. The Navajo Department of Health reports it's vaccinating people in Phase 1B now.
"We're really excited so many people have come out and got it. Many, many of our families have been affected by COVID," Percy said. "We've lost so many people, and so many people have suffered all year, and now we can finally do something about it."
According to Navajo Nation Tourism Department, the Navajo Nation has 332,129 enrolled citizens, 47% of whom live in the Navajo Nation.
Navajo Nation President Jonathan Nez said in a virtual town hall Thursday that about 1 in 3 Navajo Nation citizens living in the nation are getting vaccinated, and some citizens are traveling back to the Navajo Nation from nearby metropolitan areas or other states to get a COVID-19 vaccination.
"We have Navajo citizens coming back from all over — I guess everywhere," Nez said. "I visited with one couple who came from South Dakota this past Saturday to get a shot in Shiprock."
Locally, the Tohono O'odham Nation reported Wednesday it's administered 5,413 doses. It's working on vaccinating people in Phase 1C. The tribe has approximately 35,000 enrolled citizens and 2,000 members live in Mexico.