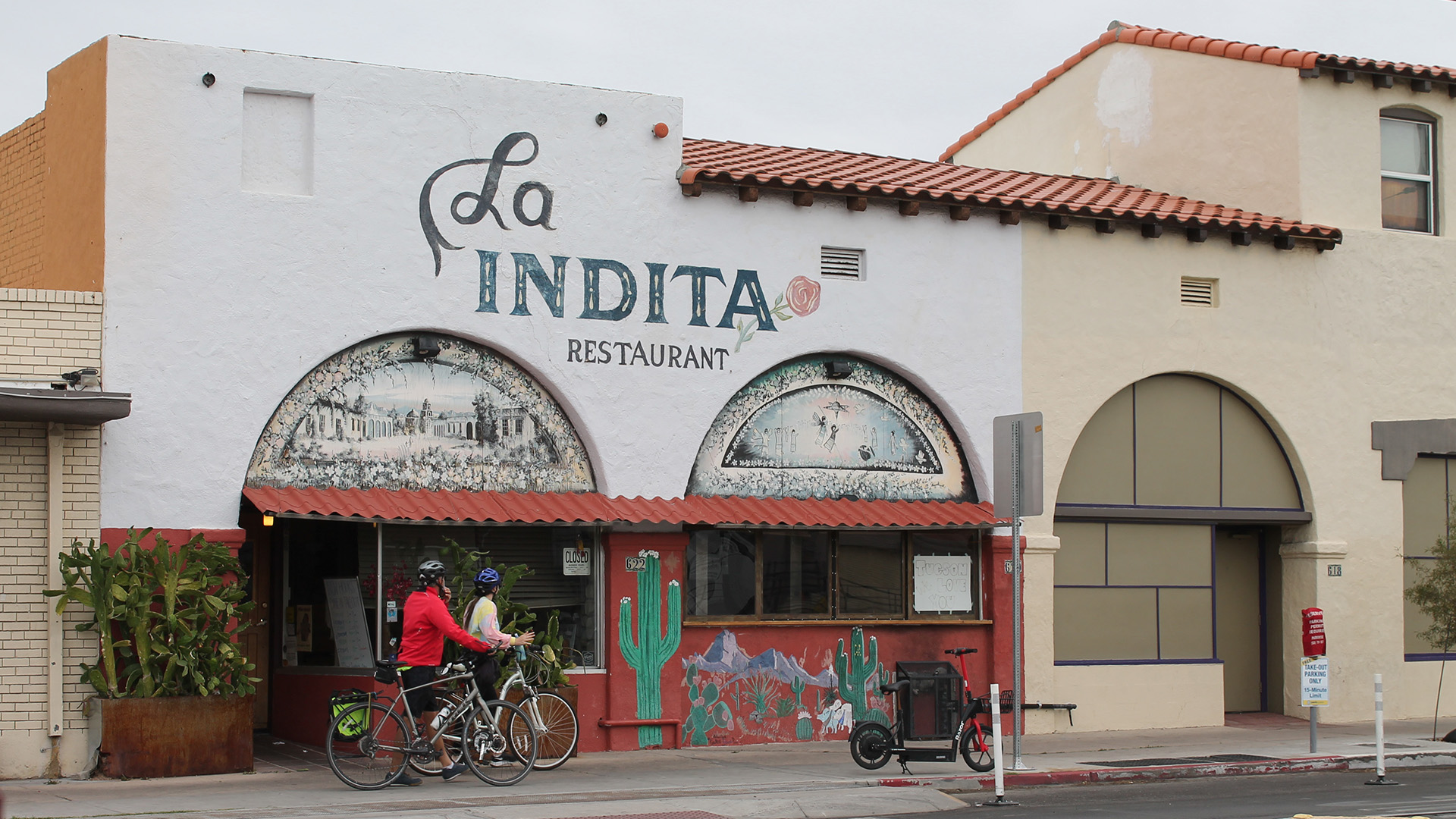 La Indita moved to the 622 N. Fourth Ave. location in 1985.
Emma Gibson/AZPM
As La Indita prepares to leave its longstanding home on Fourth Avenue, the family launched a GoFundMe account this week to help fund the move and one day buy their own building.
Denise Schafer, the owner's daughter who helps run the restaurant, said they're talking about renting the former B-Line location across the street, but the landlord would like to see more income.
"We have some saved of course, because we've stayed open this entire time, and we've been trying to save, but because of the pandemic it's been very difficult," Schafer said.
She emphasized that the deal isn't official yet, but if all goes to plan, they'll be serving up their Tohono O'odham-Tarascan dishes at the new location within weeks of closing their doors in late April.
"It's made me sad to see several businesses close, and I think that knowing that something gets to stay here that you love is like, 'Wow! Good. They're staying.' It's like hope," Schafer said.
Schafer said they have to move because IBT's Bar is expanding — their buildings are connected and IBT's owns both.
As of 3 p.m. Thursday, Schafer had raised $18,742 towards her $100,000 GoFundMe goal. She said she's excited about the idea of a larger kitchen and the opportunities the B-Line holds. If that goal isn't met but they do sign the lease, she says it won't affect the move, but it will impact their dreams to own their own building.
"We want to have an Indigenous kitchen and oven outside, because we want to be able to show our Indigenous ways more — not re-invent ourselves, but really look back to our past, in order to teach everyone and be more authentic of who we are," Schafer said.
She said she'd like to add some different dishes to their menu that reflect their Indigenous heritage.
Maria Garcia, Schafer's 91-year-old mother, founded La Indita in the early 1980s and she moved the restaurant into the 622 N. Fourth Ave. location in 1985. She's originally from Michoacán, Mexico, and her daughter describes her as a "tiny woman…but she has a force behind her" that everyone loves.
Schafer said Garcia still supports a school and clinic for Tohono O'odham in Mexico. Garcia's husband, Joseph Garcia, is a former lieutenant governor for the tribe in Mexico.