The Bighorn Fire burns in the Pusch Ridge Wilderness near Oro Valley on Saturday, June 6, 2020. The fire was caused by lightning on the evening of June 5, 2020.
Christopher Conover/AZPM
The National Weather Service said in an interview in January that Tucson saw just over 4 inches of rain in 2020 — that is 6 - 8 inches below average. According to NWS forecaster Ken Drozd, that made 2020 the driest year on record.
Drozd said the 2020 monsoon didn't help much at all.
"We started out OK early in the year, but then we ended up with the second driest monsoon on record," Drozd said.
He said all over the Southwest, states have been experiencing dry conditions, but there is some hope. The Climate Prediction Center's reported that Arizona's monsoon season could be wetter than average, said Drozd.
How is drought impacting SE AZ? Let's take a look from space. Images taken around April 1st, 2020 and 2021. Some pretty drastic differences, especially with San Carlos Reservoir. Check out the link to slide the image for comparison. #azwx #drought #climate https://t.co/8NNzqGV5MR pic.twitter.com/ol6i8nsAPM

— NWS Tucson (@NWSTucson) April 2, 2021
This dryness isn't something new. Bill Smith is an assistant professor at the University of Arizona's School of Natural Resources and the Environment.
Smith and his colleagues looked at 50 years of data and found that periods of drought across the West are getting longer.

"We actually saw changes that were significant across the full Western U.S., but for the Southwest, in particular, we saw dry days increase by roughly 50%," Smith said.
Smith and his team found that the extremes of precipitation events are also increasing.
"The probability of a really dry year or even a really wet year is becoming more frequent, so essentially ecosystems are having to deal with more extreme conditions," Smith said.
Westerners know hot, dry weather can be a recipe for hot and fast mega-fires.
Heidi Schewel is the spokesperson for the Coronado National Forest. She said "fire season" is no longer an accurate term.
"We, for years, have been calling it 'fire year' and that's a term that's starting to catch on now because 'fire season' is growing longer in other places as well," Schewel said.
She said they've been seeing more intense fire behavior, like fires actively burning overnight, earlier in the year.
While the snow in March may help reduce the risk of wildland fire, the Coronado National Forest is still preparing for months full of fire.
Some of the larger aircraft that help fight fires are called tankers. They drop lines of fire retardant to help protect homes and steer the fires.
Some of the largest belong to Albuquerque-based 10 Tanker Air Carrier. The orange and white McDonnell Douglas DC 10s are becoming synonymous with large fires in the West. The jetliners dropped nearly 450,000 gallons of the bright red fire retardant around the Bighorn and Tortolita fires near Tucson in summer 2020.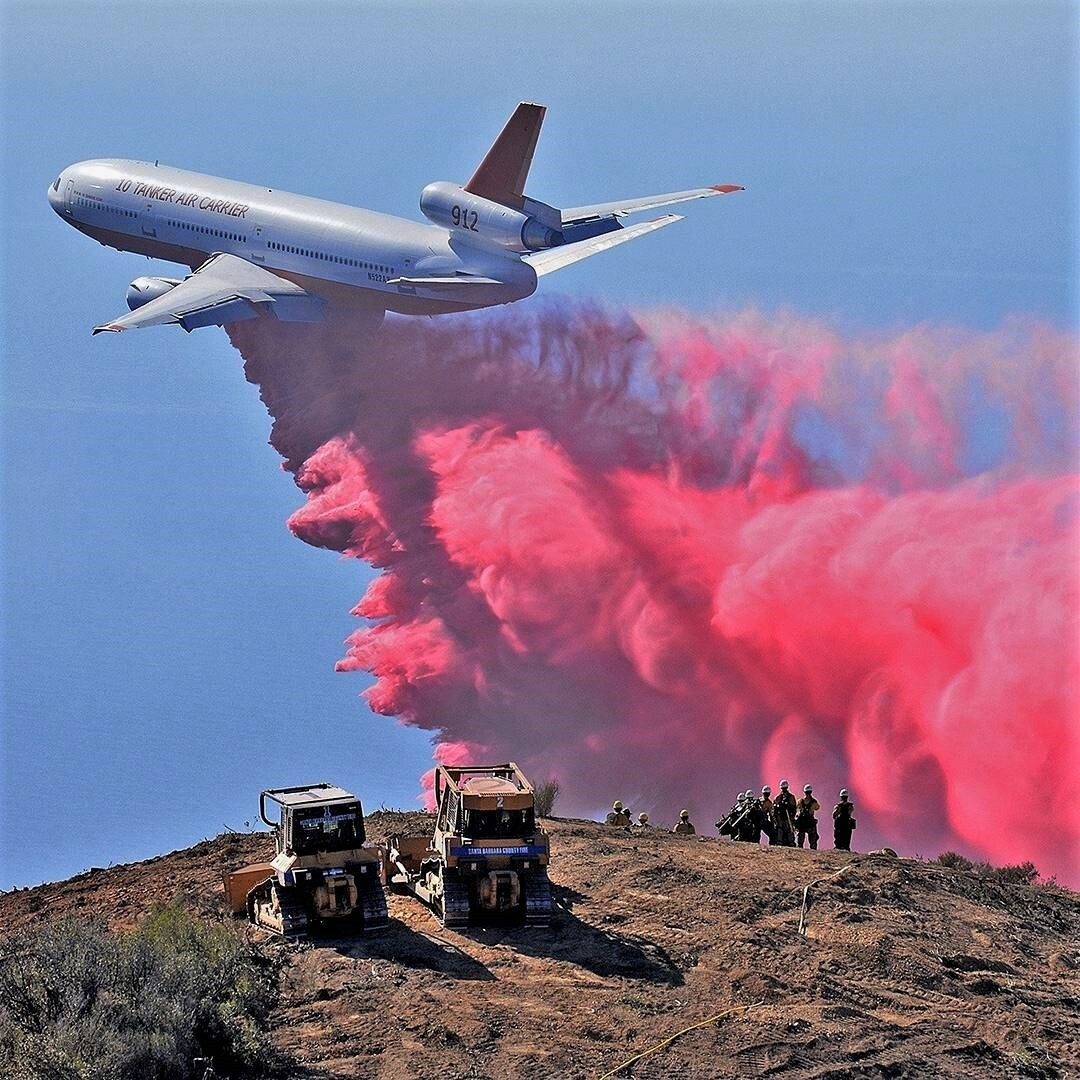 Each 10 Tanker DC-10 carries 9,400 gallons of fire retardant and can spray a mile-long line.
10 Tanker Air Carrier
John Gould is 10 Tanker's president. He said in 2006 when the company got their first contract, they were not what fire managers were used to when it came to air attack since they were so large.
Each of their DC-10s holds 9,400 gallons of fire retardant, Gould said, three times as much as an average-sized plane. He said that can make a big difference when trying to put out a fire as quickly as possible.
"Time is money," Gould said. "If you need 10,000 gallons or 20,000 gallons on the fire, we can bring it in two loads. We can get that done in a couple hours."
During the off-season, 10 Tanker also fights fires in Mexico, South America, and Australia.
Thursday one of their tankers flew to the the Margo Fire near Dudleyville in Pinal County.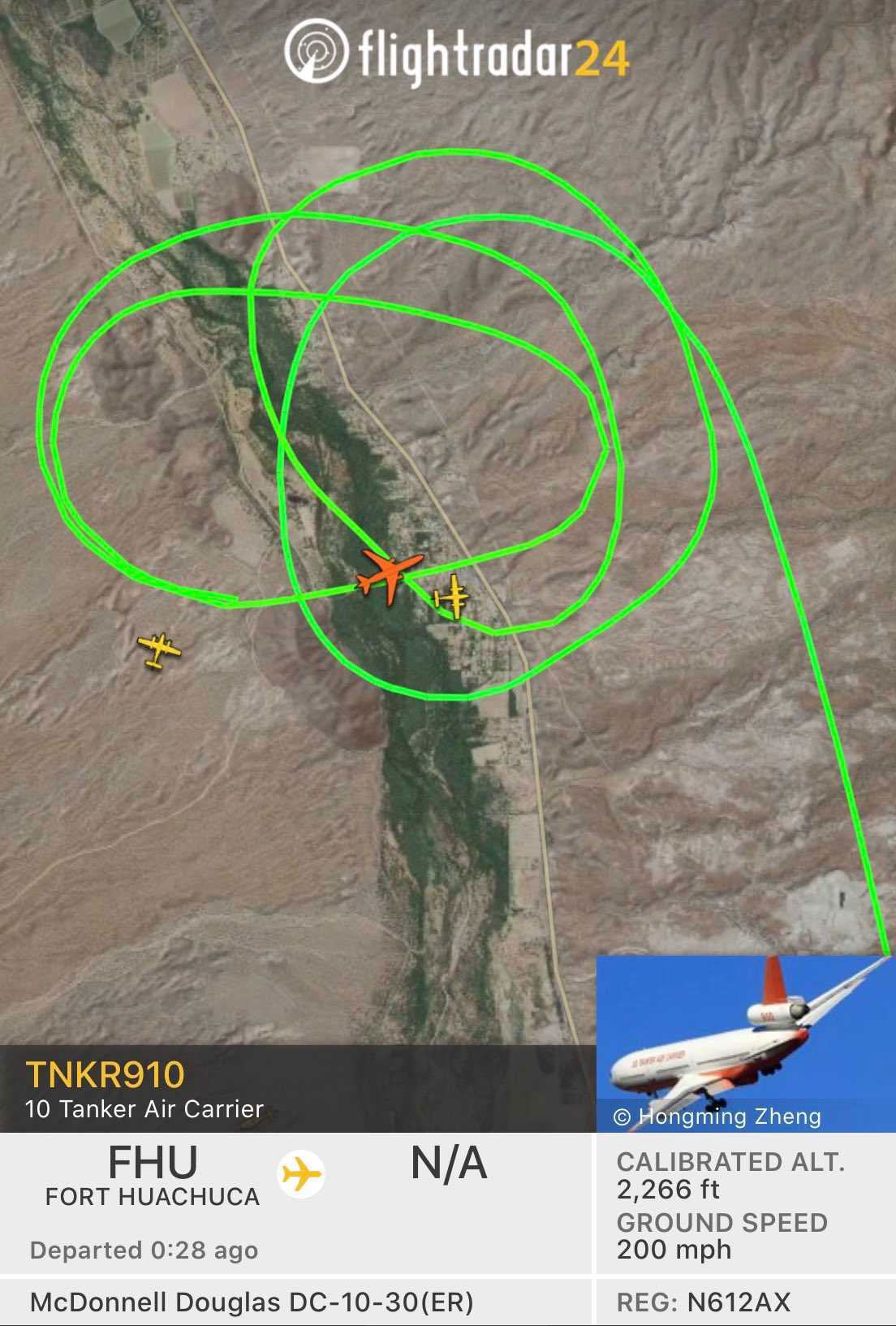 VIEW LARGER The radar track of Tanker 910 from 10 Tanker Air Carrier as it helps fight the Margo Fire in Pinal County on April 8, 2021

Courtesy FlightRadar24 website
The tanker flew to the fire four times and was able to spread more than 37,000 gallons of retardant.

The Buzz
airs Fridays at 8:30 a.m. and 6 p.m. and Saturdays at 3:30 p.m. on NPR 89.1. You can subscribe to our podcast on
iTunes
and NPR One. See more from
The Buzz
.