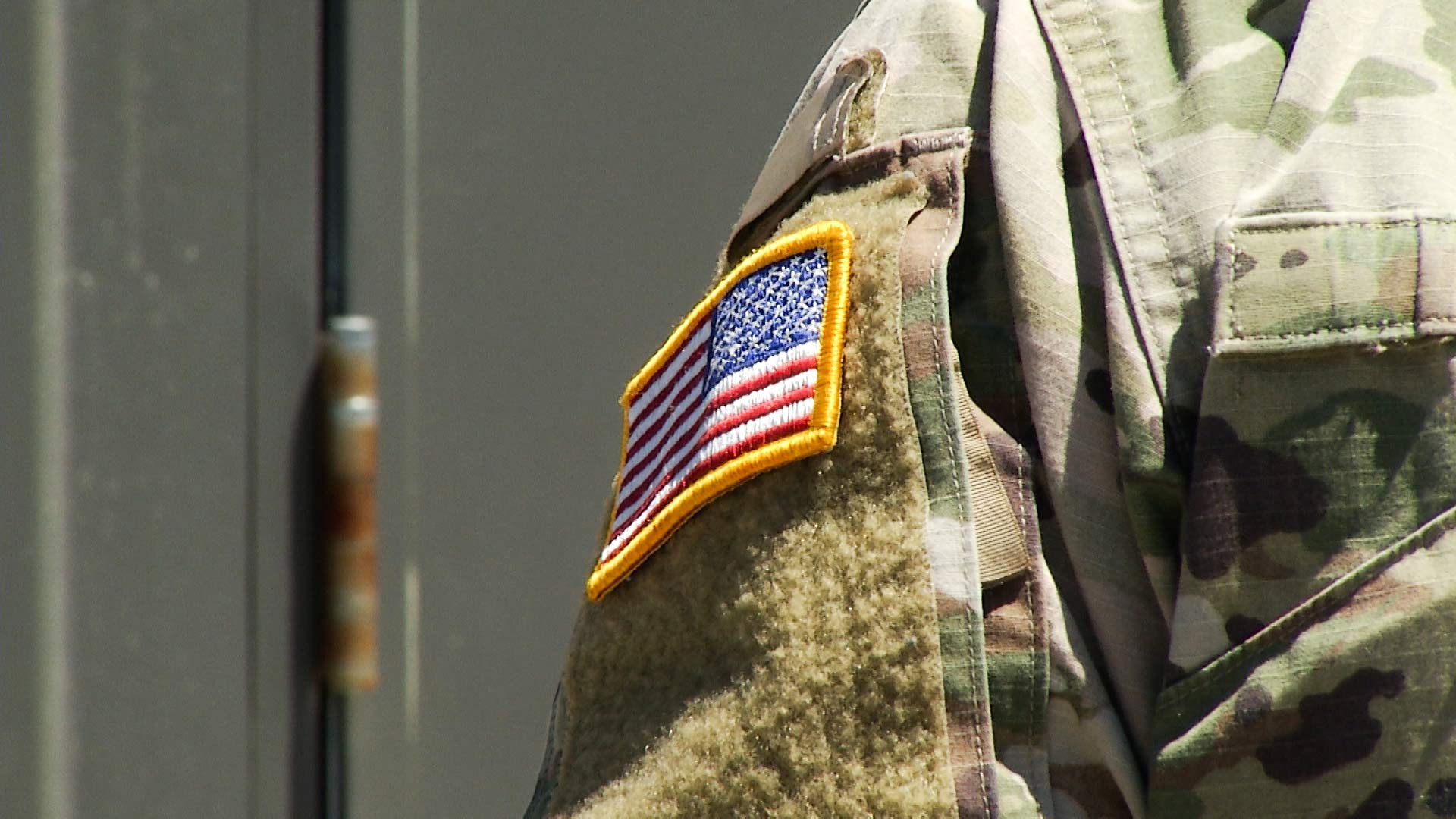 A U.S. flag on the uniform of a member of the National Guard.
AZPM
Governor Doug Ducey declared an emergency in Pima and Arizona's other border counties along with Pinal and Maricopa Counties, on Tuesday.
The emergency declaration says since January 20, 2021, the day President Joe Biden was sworn in as president, "foreign nationals began entering the United State at substantially higher rates through both legal and illegal means."
The declaration allows Ducey to send 250 Arizona National Guard troops to those counties.
"The U.S. Border Patrol is overwhelmed. Local law enforcement and mayors are calling out for help," Ducey said in a video he released with the declaration.
Ducey has hinted at the move for weeks beginning with a news conference he held at the border in Cochise County with Republican members of the legislature, Republican border county sheriffs, and Rick Scott, the Republican U.S. Senator from Florida who is in charge of recruiting Republican senate candidates.
"I said last month that the Biden administration is totally divorced from reality. Now, it seems like they fully understand the reality and they are putting their heads in the sand and trying to ignore it anyway," Ducey said in his video.
"It's very disappointing that Governor Ducey is playing politics with the National Guard," Tucson Mayor Regina Romero said after hearing about the emergency declaration.
When the U.S. Supreme Court struck down much of Arizona's SB 1070, the strictest state anti-illegal immigration law in the country, it made it clear that the federal government held sole responsibility and control of border enforcement. Since the federal government has not invited the Arizona National Guard to help U.S. Customs and Immigration Enforcement or the Border Patrol with border enforcement or detention, that limits what it can do while deployed as part of the emergency declaration.
"The Guard will support by assisting with medical operations in detention centers, installing and maintaining border cameras, monitoring and collecting data from our cameras, and analyzing satellite imagery for current trends in smuggling corridors," Ducey explained.
The number of legal asylum seekers coming to the U.S.-Mexico border, including in Arizona, is rising. Many of those who try to cross in southern Arizona end up in Tucson for a day or two in the care of Casa Alitas run by Catholic Community Services of Southern Arizona.
The City of Tucson and Casas Alitas partnered during the asylum surge in 2019.
Romero said she has not spoken to Ducey or his office about the increase in legal asylum seekers. She said Tucson, Pima County, and local charities can handle the load and don't need the National Guard.
"We're coordinated. We're working with CBP (Customs and Border Protection), we're working with the federal government so we can invoice the federal government on any expenses that we do for the usage of asylum seekers," Romero said.
Ducey has repeatedly said Arizona's border was in crisis, and some law enforcement officers have agreed. Republican sheriffs Mark Dannels of Cochise County and Leon Wilmot of Yuma County welcomed the deployment announcement Monday. But not all border law enforcement felt the same.
When Santa Cruz County Sheriff David Hathaway said he heard from the National Guard a few weeks ago about a possible deployment to deal with what they called a migrant crisis, he told them that's just not what his county is seeing.
"Yeah we're not seeing like a migrant crisis here in Santa Cruz County," he said. "We're seeing an economic crisis because the tourist visa holders have not been allowed to cross for 13 months now."
Hathaway said binational tourism has been hit hard by border closures during the pandemic. He estimates 90% of businesses along the main thoroughfare in Nogales, Arizona have closed, and the state has lost out on hundreds of thousands of dollars in revenue that normally comes from travelers.
But asylum seekers are not being dropped off in Santa Cruz County right now. Hathaway said a robust network of aid groups are ready to step in when they are. That's why he declined to sponsor National Guard troops in his county, and he said without a local sponsor like his office or a police department, it's unlikely troops will be deployed there.
Pima County Sheriff Chris Nanos said despite having jurisdiction over a large swath of the Arizona border, he hasn't been in touch with Ducey since taking office and wasn't told about the deployment. But he said asylum processing is a federal issue.
"Let the federal government, let Border Patrol and Customs work with local law enforcement officials on that border," he said. "They don't need the national guard."
Most migrants who make it into Arizona are unaccompanied children and families seeking asylum. Nanos said aid groups are already coordinating with Border Patrol, and he doesn't see how the adding National Guard would fit in.
Where are the criminal acts that are occurring on the border that would even make you suggest putting the national guard there," he said. "They have a lot of families coming across the border, coming because there is strife in their homelands. They are suffering and nobody seems to care about that, what they want to do is politicize it."
There were still a lot of questions for asylum seekers even before the deployment news. Dora Rodriguez is an aid worker who has spent weeks traveling to border towns in Arizona to help migrants. She said many have waited years to claim asylum.
"There is no crisis at our borders, I mean there are no people flooding the streets," she said. "The crisis that we see is the crisis of each person and their lives in those shelters."
Rodriguez said instead of deploying the National Guard, if Arizona lawmakers want to spend money to help the situation, they should give it to groups already working on the ground.