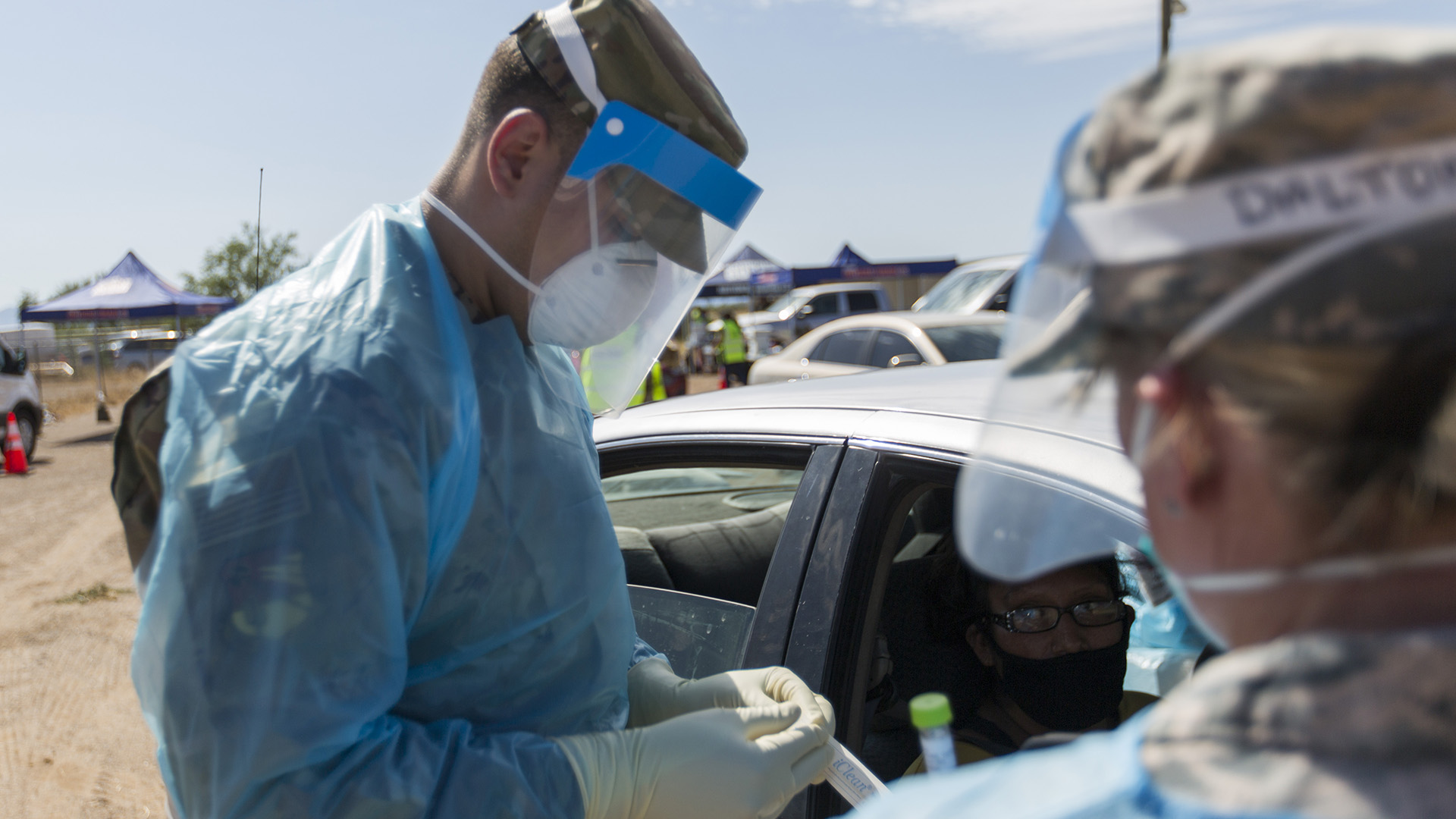 Arizona National Guard service members at a COVID-19 drive-thru testing site in the Tohono O'odham Nation in Sells, Arizona, July 6, 2020.
Courtesy of the Arizona National Guard
Tohono O'odham Nation Chairman Ned Norris Jr. issued an executive order Tuesday that removed the section on the reservation's curfew from the latest COVID-19 mitigation guidelines, and amended a rule around funerals and wakes.
Chairman Norris issued his latest comprehensive COVID-19 response executive order in December 2020, but now with temperatures increasing, some of its sections are being reworked.
"The chairman and vice chairwoman are aware that as we approach the summer and as the temperatures increase the nation will face new challenges, and it is the chairman's intent to remove any barriers when it is safe to do so," according to the new order signed by Norris. "It is important that we all remain vigilant."
The 8 p.m to 6 a.m. curfew section has been removed completely, banning civil citations for violating the curfew.
In the original order, funerals and wakes could at maximum last six hours and needed to be completed in one calendar day during daylight hours.
The new order allows people to have these services before sunrise and after sunset, if they follow the other preventative COVID-19 guidelines. For example, a service could be held from midnight to 6 a.m. or 4 p.m. to 10 p.m.
Mourners will still have to have at least one person responsible for COVID-19 guideline compliance, such as social distancing and mask wearing.
According to Tohono O'odham Nation Health Care as of April 14, the nation recorded 1,758 COVID-19 cases among members and 76 people throughout the community — tribal and non-tribal — have died.
"We are extremely hopeful for the Nation as the number of positive COVID-19 cases have drastically decreased and remained low for the past four weeks," wrote Chairman Norris and Vice Chairwoman Wavalene Saunders in a memo.