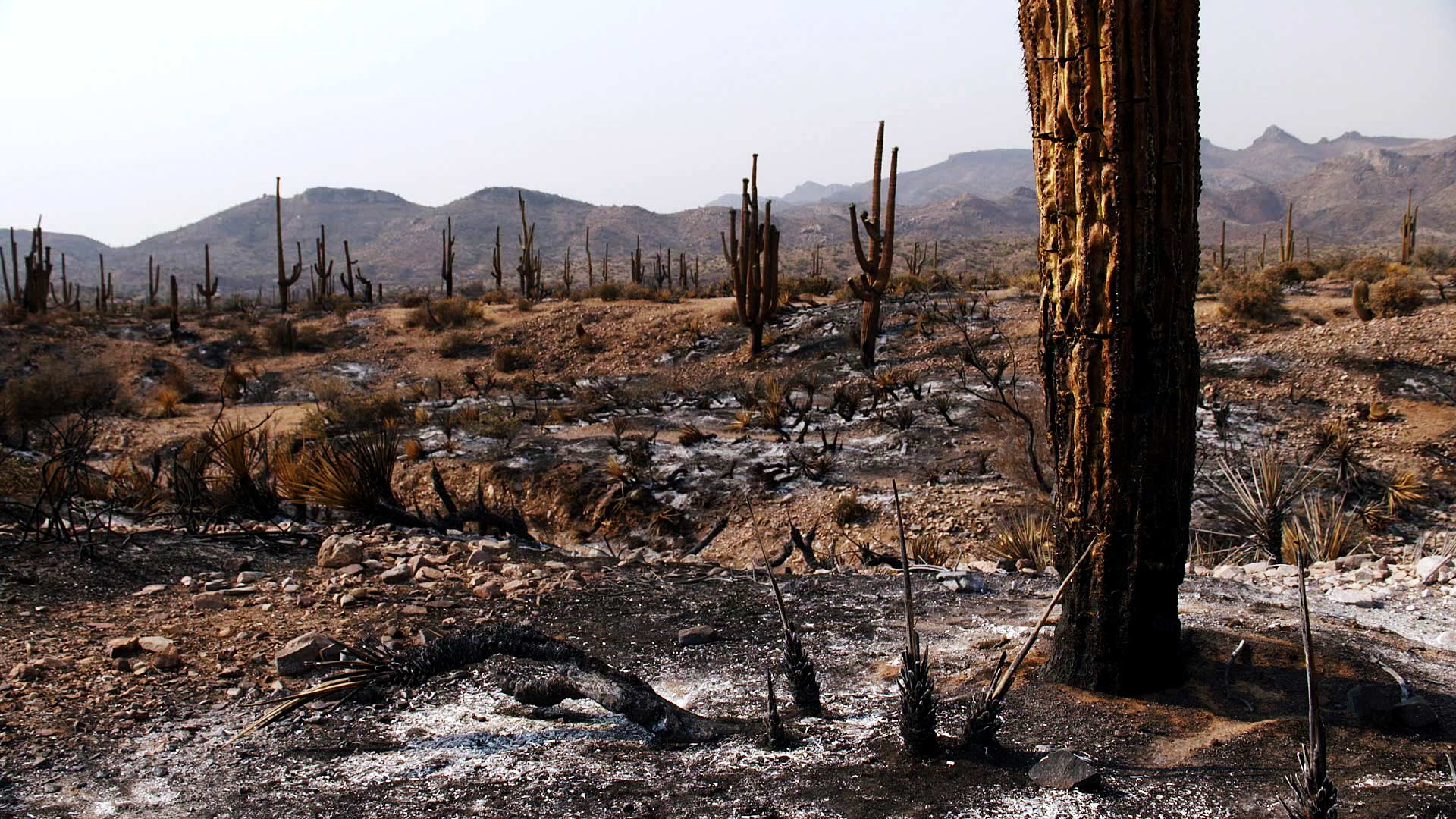 Scorched saguaros and desert landscape from the Telegraph Fire that started June 4, 2021 and spread across areas of Pinal and Gila counties. June 2021.
Nate Huffman/AZPM Staff
Governors from eight western states were invited to take part in the White House Zoom call with President Biden and other administration officials to hear about western wildfires. The White House confirmed to AZPM that Governor Doug Ducey was one of three western governors not invited.
"The President is looking forward to meeting with Governors of several of the states impacted by wildfires — as well as private sector partners — who will bring a range of perspectives to best inform the discussion about federal-state partnerships on addressing wildfires and strengthening prevention, preparedness and response efforts. We invited Governors from a range of states, representing a wide range of both constituents and topography," said a White House official in a released statement when asked why Ducey was left off the list.
The lack of invitation confused Arizona officials.
"He was not invited and that is unfortunate because given our recent experience we feel we could've added to the discussion," said CJ Karamargin, Ducey's Communications Director.
In 2021, more than 1,000 wildland fires have started in the state and are responsible for burning 522,936 acres as of Tuesday morning.
Fire officials said Arizona no longer has a fire season instead, it has a "fire year."
In 2020, Arizona had one of its worst wildland fire seasons in a decade and saw 900,000 acres burned, a number that could be surpassed this year.
Inciweb, a website that provides information about wildfires across the United States, showed that Arizona had more fires than any of the states invited to the meeting.
Karamargin said that Arizona is not waiting on federal guidance when it comes to dealing with wildland fires. He pointed to the recent special session of the legislature sending money to help fight wildfires and Ducey's Healthy Forest Initiative that will train inmates to clear fire-prone areas and fight wildfires.
In recent months, Ducey has leveled strong criticism at the White House over border issues. It should be noted, however, that he attended President Biden's inauguration and the President made a virtual visit to the state mass COVID-19 vaccination site at State Farm Stadium in Phoenix earlier this year. The White House wildland fire meeting took place just hours before First Lady Jill Biden and Second Gentleman Douglas Emhoff visited a vaccination site in Phoenix.
The wildfire meeting at the White House came on the eighth anniversary of the death of 19 Granite Mountain Hotshots working on the Yarnell Hill Fire in Yavapai County.