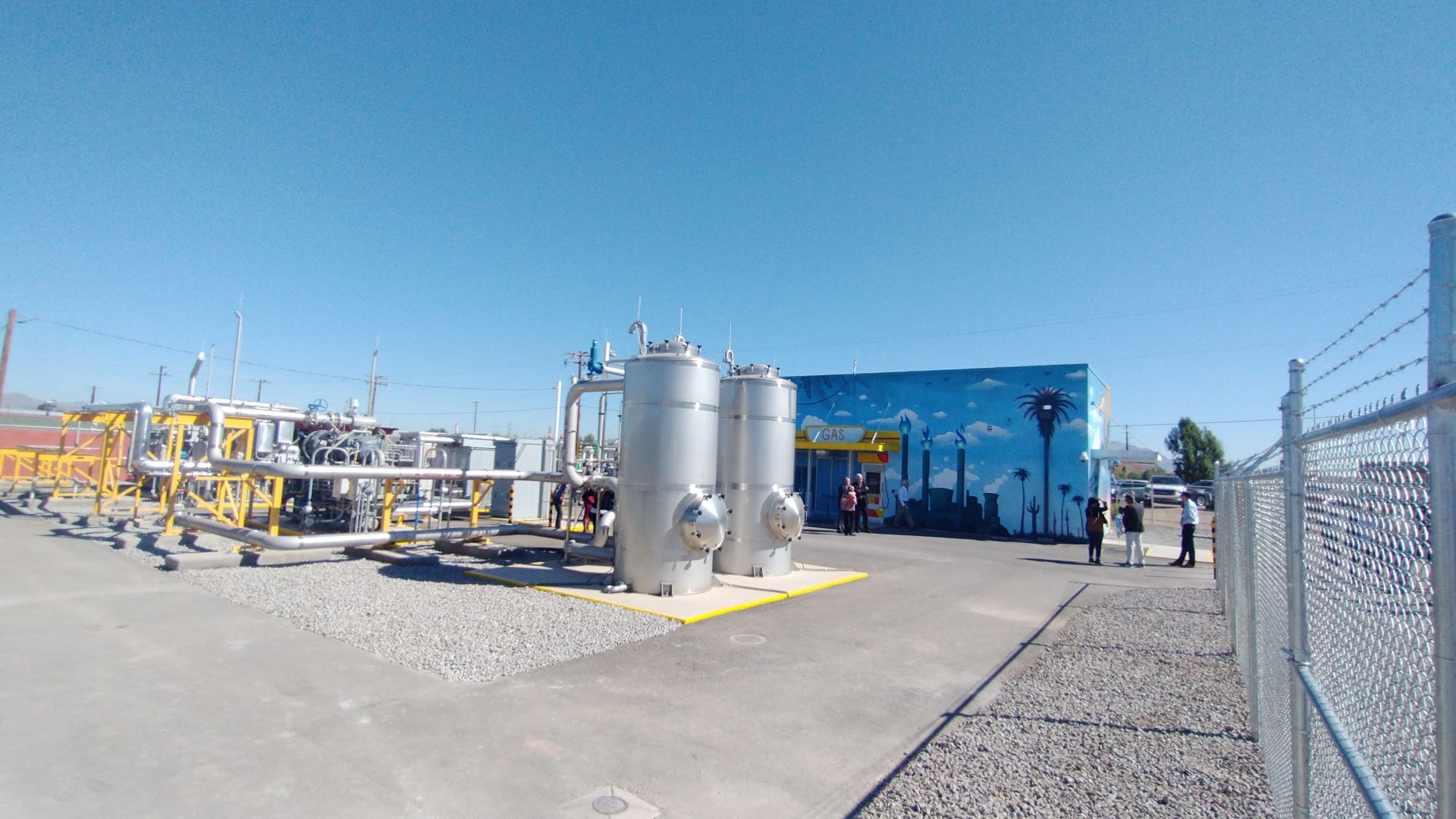 County officials and media tour a biogas refining plant at the Tres Rios Water Reclamation Facility, Oct. 21, 2021. The newly-dedicated plant will supply renewable natural gas, or RNG, to Southwest Gas, reducing the utility's demand for fossil-fuel based gas.
Steve Jess/AZPM
Pima County has started turning the methane gas from a sewage treatment plant into home heating fuel, and money.

Sewage treatment involves microbes, which make methane gas. At the Tres Rios Water Reclamation Facility, the county's main treatment plant near Ina Road and I-10, the county used to burn the gas to generate electricity for the plant. Changing regulations made that system uneconomical, so the county built a $10 million plant to clean up the methane, and sell it to Southwest Gas.

County wastewater reclamation director Jackson Jenkins says the gas sales will pay for the plant in three to five years.
"Right now, with the market for renewable energy credits where it is, we expect to get around a $3 million (annual) revenue stream by selling this gas, so it has a fairly quick payback, a return on investment for this effort," Jenkins said.
He says the gas utility came forward when the county was looking for a customer for the plant's waste gas.
"Southwest Gas came to the front of the line and we hit it off with some excellent concepts and they were just tremendous partners and helped us get this project going," he said.
Southwest Gas president John Hester says the county plant will produce enough RNG, or renewable natural gas, to supply about 5,500 homes. It's a small share of the company's total market, but it represents fuel that doesn't have to be pumped out of the ground, making it carbon-neutral.
An equipment building at the facility features a mural titled "Evolution to Clean Energy" by local artist Ignacio Garcia, incorporating images of dinosaurs, gas wells, a gasoline station and a refinery.