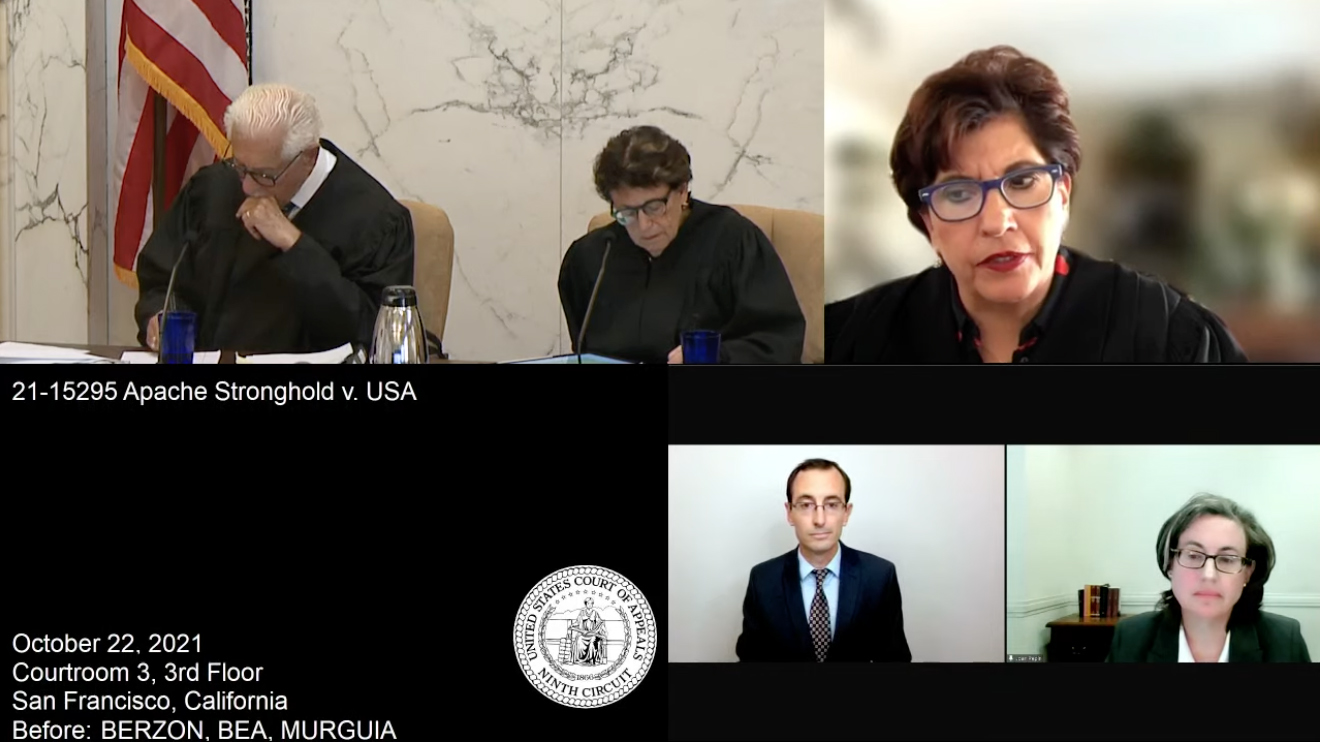 Attorneys in Apache Stronghold v USA arguing their cases in front of U.S. Court of Appeals for the 9th Circuit October 22, 2021.
Screenshot of U.S. Court of Appeals for the 9th Circuit hearing on Youtube
After a week-long journey to the U.S. Court of Appeals for the 9th Circuit in California, a San Carlos Apache led-effort to "save Oak Flat" argued its case against the U.S. government on Friday.
Over the last several months, advocates for the preservation of the Apache sacred site, Oak Flat or Chí'chil Biłdagoteel in Apache communities, have been going to court and Congress to stave off a proposed copper mine.
Oak Flat lies within the Tonto National Forest, and it is a part of a land swap approved by congress in 2014 between the federal government and Resolution Copper. If mined, the project is expected to turn the sacred site into almost 2-mile-wide crater.
Stay tuned for a #live statement from @LukeWGoodrich and Dr. Wendsler Nosie, Sr. of @ProtectOakFlat pic.twitter.com/tIEjXgz63G

— BECKET (@BECKETlaw) October 22, 2021
The attorney for the nonprofit Apache Stronghold said in the hearing their appeal of a previously denied preliminary injunction is based on a treaty claim, the Religious Freedom Restoration Act and the right to exercise one's religion freely.
"We're talking about the survival of Apaches as a people," said Apache Stronghold Attorney Luke Goodrich. "And the ceremonies that they pass on, from generation to generation at Oak Flat, is a key aspect on what keeps them in existence as a people. The government's position here is not just that it can destroy Oak Flat and end those religious practices forever, it's that ending those religious practices forever isn't even a burden."
"Burden" here refers to the Religious Freedom Restoration Act. The judges asked Attorney Joan Pepin, representing the Biden administration, several questions about what the federal government believes constitutes a substantial burden on Western Apache religious rights at Oak Flat, including transferring the land, fencing and the destruction of Oak Flat.
Apache Stronghold's attorneys predict the court will rule on the case sometime next year.