Tucson is known as a bicycle-friendly community, but when it comes to being the best in the nation, the city still falls short, at least according to one survey.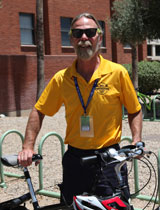 Steve Wilson is a Bike Ambassador for Pima County Department of Transportation. (PHOTO: Robert Rappaport)
While the League of American Bicyclists still gives Tucson "gold" status, it did not upgrade our community to top-level "platinum" in its latest study. The league cites two areas in which the city is deficient - safety and ridership numbers.
"It's really tough compared to some of the places that have it ... If you go to each of those places, you definitely see a little more, or a lot more, engrained bike culture," says Steve Wilson, a bike ambassador with the Pima County Department of Transportation.
"The big advantage that Tucson has, obviously, is that the weather is good all year round, there's an awful lot of striped shoulders on the streets, but the number of...people that go on errands to the store or people that actually commute to work is relatively low here, compared to the other platinum cities."

Michael McKisson, an avid Tucson bike rider who operates the biking website TucsonVelo.com, agrees with Wilson that the city has some problems that keep it from attaining platinum status, but the news isn't all bad.
"Tucson has the distinction of having the most on-street bike lanes of any community in the country. It's up somewhere around 600 miles of bike lanes and bike routes," McKisson says.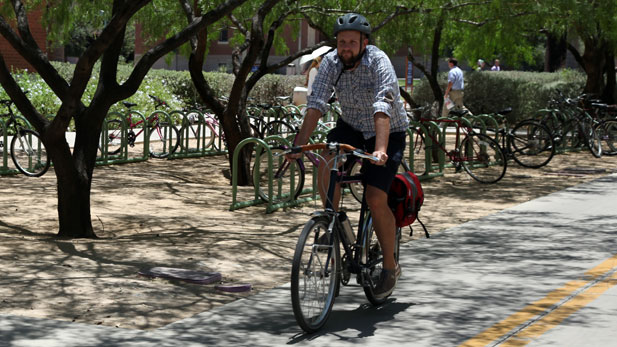 Michael McKisson is an avid Tucson bike rider and also operates TucsonVelo.com

Robert Rappaport
McKisson commutes about five miles to the University of Arizona where he works as an instructor in the School of Journalism.