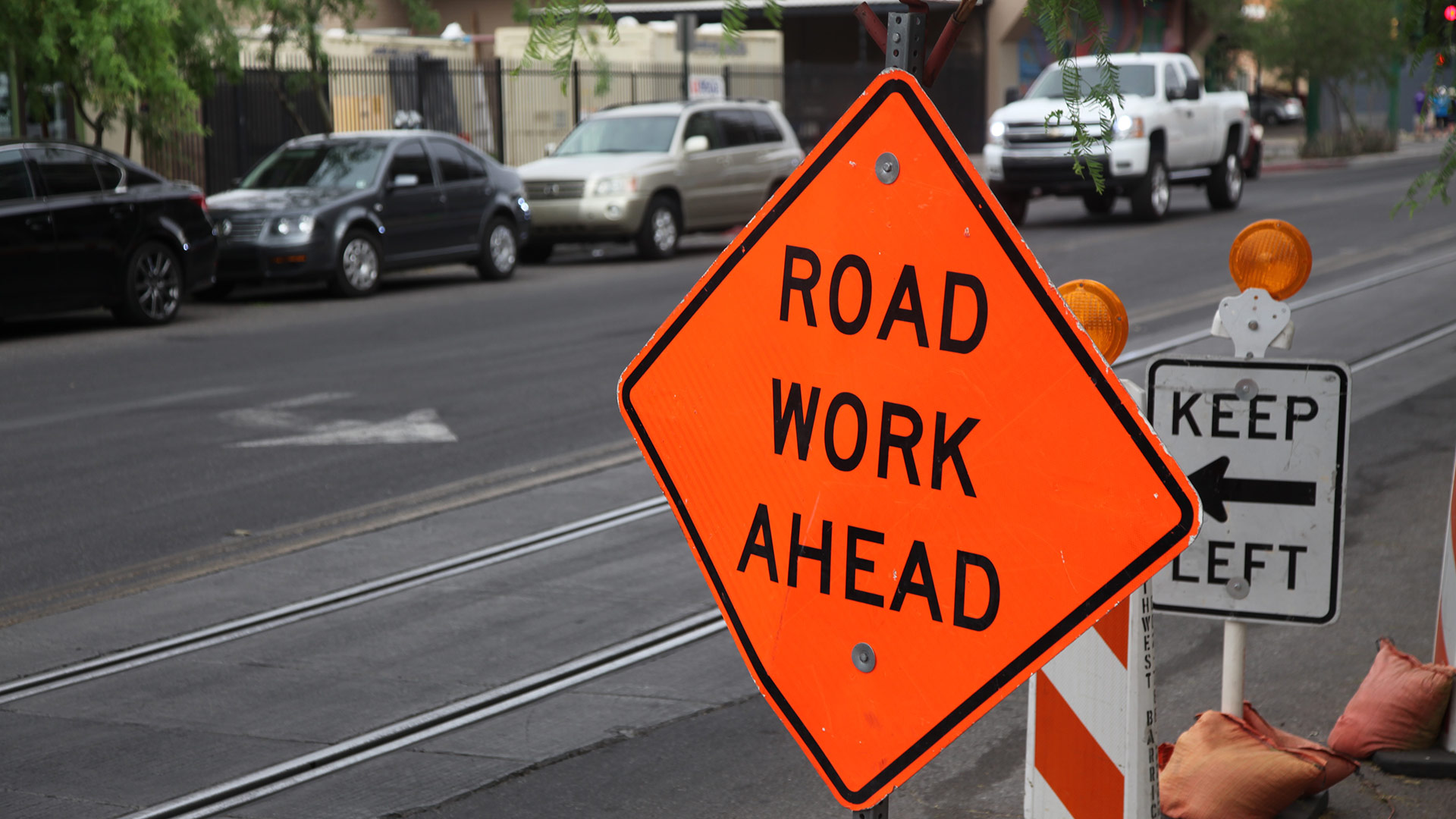 Nick O'Gara, AZPM
Ballots are going in the mail this week for Tucson's Proposition 411, which aims to fund repairs to every neighborhood street in the city. But while measure has widespread community support, that does not make it a sure thing to pass in next month's election.
Tucson's local roads are in bad shape.
By one measure, 85% of the local streets in the city are in poor, very poor or failed condition.

Proposition 411 asks voters to continue a one-half percent sales tax increase that was first approved five years ago, and is due to expire soon.

Proposition 411 would keep the tax in place for another ten years, raising an estimated $740 million.
Eighty percent of the money raised would fund street improvements.
City officials claim every neighborhood street in the city would get some improvement from this measure.

The remaining 20% would pay for other "mobility" improvements, such as walkways, bicycle paths and street lighting.
An independent commission will choose projects and oversee the spending.
Who's for it?

In the city election pamphlet, "yes" arguments came from groups as diverse as the Tucson Metro Chamber of Commerce and the Sierra Club.

Yes, the Sierra Club supports a measure to fund hundreds of millions of dollars of asphalt and concrete.

The key, according to Oscar Medina, chair of the club's Grand Canyon chapter, is that those improvements all go toward existing streets, not growth or urban sprawl.
"We're not in favor of new streets, new roads or highways. This proposition focuses on repairing existing roads," he said.
Moreover, Medina points to the $150 million targeted for alternatives to driving.
"Mobility -- primarily pedestrian mobility -- is key. Improving walkability in neighborhoods," he said. "And so we believe that this is an important issue specifically for marginalized communities, communities that have been historically under invested. This type of infrastructure improves walkability but also bikeability. So anything that keeps carbon in the ground, we're in favor of, and if that means having safer bike lanes, we've taken stands on supporting any local initiatives like that."
Other supporters of Proposition 411 include Visit Tucson.

The group's president, Felipe Garcia, said the proposition aligns with a 10 year tourism master plan his group produced, that said transportation improvements were vital to drawing visitors and giving them a good experience.
"One of the areas that they talked about was road infrastructure. It says we need to improve our streets, our roads and that's an important asset for visitors coming from other places to our community," he said.
And as Garcia pointed out, the more tourists visit, the more they buy. The more sales tax is collected, the better our roads become.
The Voter Guide contains no arguments against 411 because, according to the city clerk, none were submitted.
But that doesn't mean it's guaranteed to pass.

Five years ago, Proposition 101 received slight opposition, mainly from Republican officials who said the city should finance street repairs without raising taxes.

There was no organized campaign to defeat it, yet 40% of Tucson voters still voted no.

Special elections like this typically see low turnout, so it does not take many votes to change the result.
If this year's Proposition 411 is defeated, the average person in Tucson could see an extra $150 a year in their pocket.
But that money would come at a cost - the cost of neighborhood streets that continue to decay.