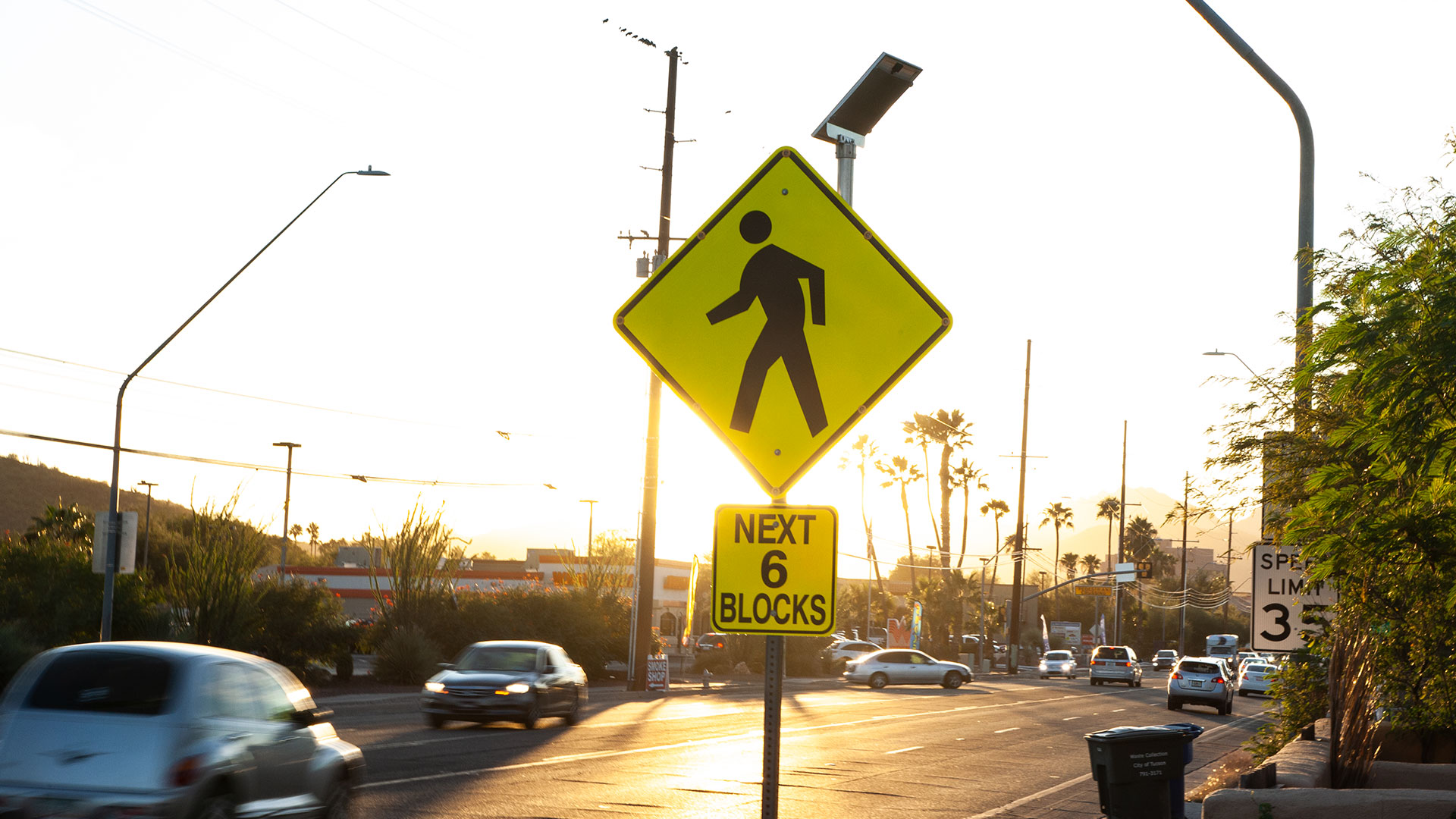 A sign warning drivers of high pedestrian traffic on West St. Mary's Road in Tucson on a late October afternoon.
Nick O'Gara/AZPM
Tucson is one of the most dangerous places in the United States to be a pedestrian, according to an annual report released this week.
The group Smart Growth America found the Tucson metropolitan area has the 13th highest rate of pedestrian fatalities in the country, based on data from 2016 through 2020.
The report's authors say partial data from more recent years show pedestrian fatalities have continued to increase even as fewer people commuted into offices during the COVID-19 pandemic. That is in part because less rush hour traffic allowed drivers to go even faster, said Beth Osborne, vice president for transportation and thriving communities at Smart Growth America.
"Some of that is speeding. Some of that is people going too fast. But some of that is that we permit speeds that are too high to be safe," she said.
Meanwhile, cities including Tucson have seen an increase in pedestrian traffic during the pandemic.
Cities that are among the deadliest for pedestrians were largely developed after the rise of the automobile and highways, she noted. Daytona Beach, Florida and Albuquerque, New Mexico lead the list, for example.
The report argues that city leaders should rethink how streets are designed to better protect pedestrians.
"If we want our drivers to behave safely, let's design for the behavior we want. Let's narrow those roads. Let's indicate to the driver where to look for people. Let's give the pedestrian a place to be. Let's not make them walk a half a mile out of their way to cross the street," she said.
Osborne said Tucson has adopted one of the best Complete Streets policies in the country.
But she added: "It's not just about what you're doing right. It's whether or not you're doing things wrong at the same time."
"We're dealing with 70 years of highway era design we have to reverse," she said.
Tucson officials point to the newly passed Prop 411 which will raise $150 million over the next decade to help improve safety for pedestrians.
Read the full report here.