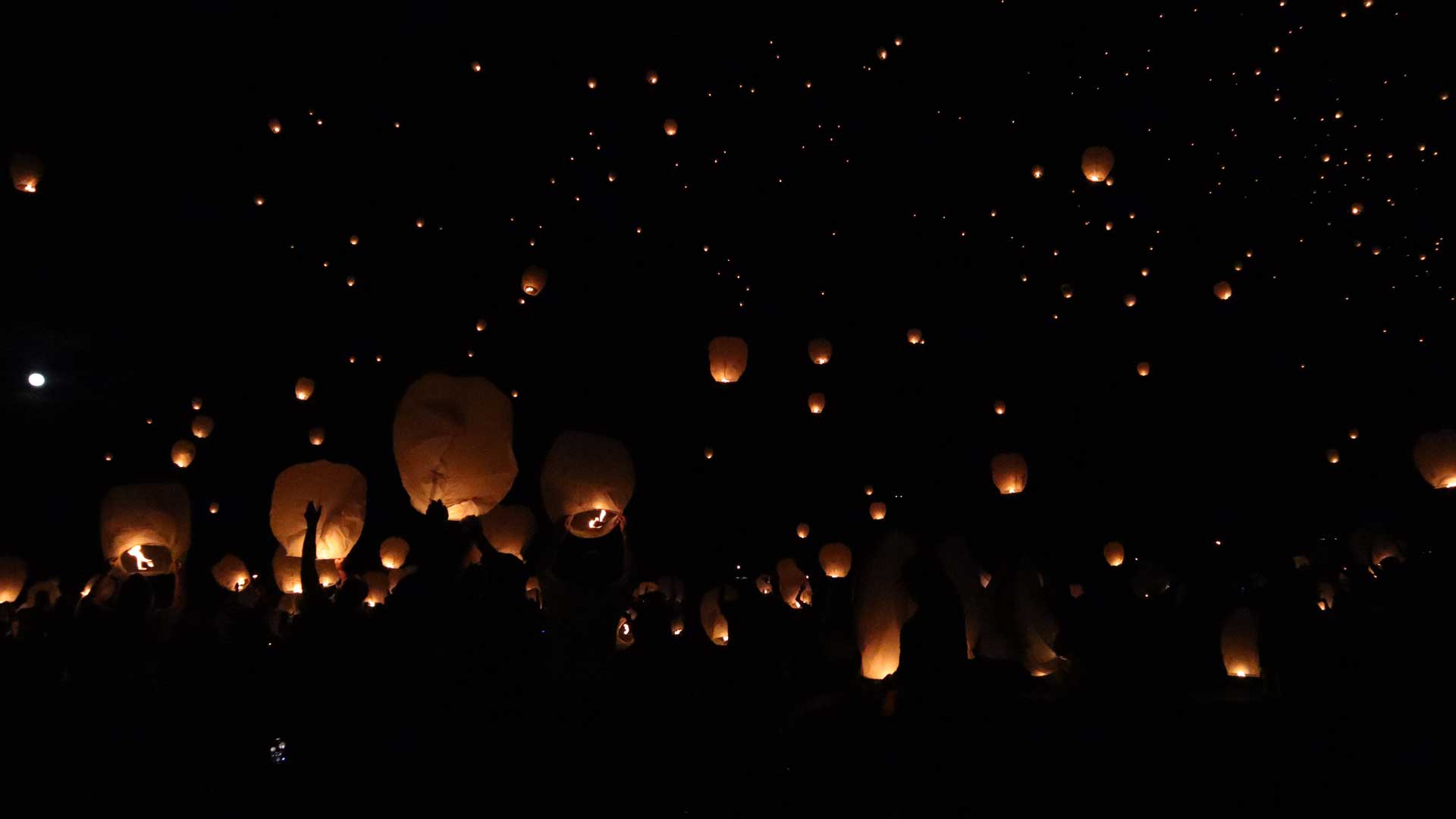 Lanterns light the sky at the annual Benson Lantern Festival. Sept. 2022
Summer Hom/AZPM
"When the time is right, we light the sky with our highest hopes, deepest desires, and fondest memories, mark milestones, set goals, or celebrate the life of a loved one in heaven."
Those are the words of Benson City Manager and founder of the annual Benson Lantern Festival Vicki Vivian. Every year, folks from all around the county gather to enjoy a shared moment of awe and release as hundreds of paper lanterns illuminate the skies — and with them — hundreds of stories, messages, hopes, and dreams to the world above the clouds.
For the hundreds who attended the event last Saturday, it was a sight to behold as the vastness of the dark sky was illuminated with the warm, golden glow of the lanterns against the full moon.
What each lantern symbolizes is up to the individual. Vivian said that often, these lanterns symbolize a milestone.
"I think that people can celebrate anything," said Vivian. "You know, people of all walks of life can celebrate something that they've recently accomplished, or setting a goal or like that to mark a milestone, to celebrate the life of a loved one."
She said for many attendees, it provides the closure that they needed.
"I cannot tell you the number of comments we got after our first Lantern Festival with people who gained closure who were able to decorate these lanterns and send a message up to someone," Vivian said. "So it was just really a really beautiful, heartfelt evening, and when everybody lit their lanterns that first night, everybody got quiet. It was just a collective sigh as everybody just watched these lanterns. And to have that many people all together immediately become quiet and just view what was happening was just amazing."
For Dawn Doss, it's about creating memories.
"Well, I had a son who died of cancer a long time ago," said Doss as she wrote on and decorated her lantern with colorful markers. "Ever since I found out that my son [Robby] had cancer and they thought that he was going to die, we always did what I call memories. You know, 'let's make a memory today.' One time, it poured down rain and we were supposed to go camping. So, we pitched a tent in the living room. We ate s'mores off of a hibachi grill inside. So, this is a memory. It's just going to be a memory for me now because he's not here. But it will be a memory for me and I want to pass on to my daughters."
In Vivian's case, it's personal.
"When my son first passed away, every Christmas, I would pick a boy off the angel tree that was his age at that time," Vivian said. "And so, when he was 10, I picked a ten-year-old, The next year, I picked an eleven-year-old the next year. And that just kind of helped me feel better. Don't know if I can really explain it, but just doing something for somebody else, it just made a difference."
While the lanterns are the main attraction, the event actually begins in the afternoon with more than 40 vendors for food, drinks, gifts, and a free kids' "Fun Zone" that includes rock climbing and face-painting.
"We encourage people to bring tailgating-type games, badminton, cornhole — things like that — chairs, blankets, pop-ups," said Vivian. "We have a great DJ who provides entertainment all afternoon. We do a free Kid Zone with rock wall climbing, face painting, things like that. So it's just a great day all in all."
Out on the rolling hills of the San Pedro Golf Course, the atmosphere is similar to that of a backyard picnic. Even amidst the beauty of the release, safety is still a top priority out in the dry Arizona landscape.
"These lanterns burn for about two minutes," said Vivian. "So, we have our fire department on standby. We're always very aware of this, we always go out and gather the lanterns. They are supposed to burn out before they come down, which is what's happened every year that we've held it, and then we go out and pick up the lanterns the following day."
Vivian, who started the Lantern Festival in 2018, said that her inspiration came from attending a similar event in Lake Pleasant.
"We went up there and saw just what a beautiful event it was," said Vivian. "And I thought this is something that we could bring to Benson so that more people could enjoy the experience."
For those two minutes, some exhaled, some cried and others giggled with joy watching the soft wind carry so many messages to loved ones as Louie Armstrong's "What a Wonderful World" serenaded the moment.