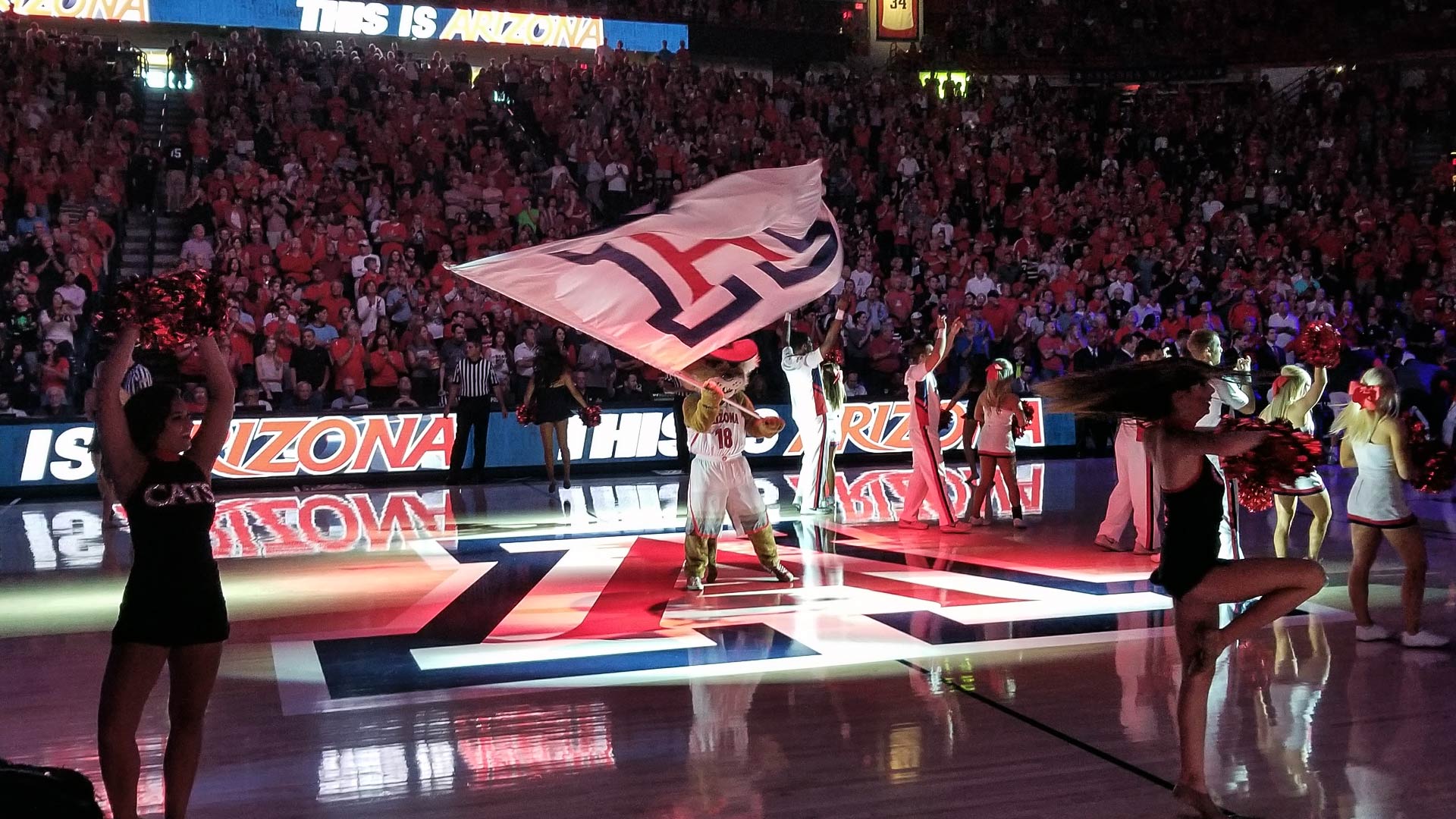 Wilbur the Wildcat waves a UA "Block A" flag before an exhibition match between the University of Arizona men's basketball team and Chico State on Nov 5, 2017.
AC Swedbergh / AZPM
The University of Arizona Men's Basketball program will receive further recruiting sanctions for past NCAA violations, but will avoid harsher penalties.
The Independent Accountability Resolution Process released its final decision on violations committed by former assistant coaches at the university on Wednesday.
The decision notes that most penalties for the past infractions were self-imposed. Penalties that go beyond what the university already specified include a two-day reduction in recruiting visits and a seven week recruiting communication ban for this academic year.
Some of the program's self-imposed sanctions have already been completed, including a one-year postseason ban in 2021, a two-week ban on campus visits in March 2022, a ten percent reduction in official visits and a 15-day reduction in recruiting for the 2021-22 academic year.
The report does not state if other self-imposed penalties, which include a fine of $5,000 plus one percent of the average program budget and a loss of a scholarship spot for one academic year, have already been completed.
The team has 12 scholarship athletes this season, one shy of the NCAA limit.
"While many of these allegations predated current athletics staff, we are appreciative of this process coming to an end after five years," Director of Athletics Dave Heeke said in a statement issued by the university. "Our athletics department will continue to maintain a culture of compliance as we live the Wildcat Way and develop academic, athletic and life champions."
The IARP report said former assistant coach Emanuel "Book" Richardson was given a 10-year show-cause penalty that could limit his ability to be employed by another program after he "solicited and accepted $20,000 in cash bribes and paid $40,000 for a fraudulent academic transcript."
Another former assistant coach, Mark Phelps, was given a two-year show cause after he provided "an impermissible benefit to a student-athlete and then directed the student-athlete to conceal the violation."
Sean Miller, who was the team's head coach at the time, did not receive any punishment.
Miller was fired by the university on April 7, 2021. He was hired to coach at his former employer, Xavier University, March 19, 2022.
Arizona was originally accused of nine counts of misconduct, including five Level I violations, in a Notice of Allegations sent by the NCAA in October 2020. The violations included a lack of institutional control and failure to monitor by the university, and lack of head coach control by Miller.
But the IARP report was much more lenient on Miller in its report.
Richardson was fired by the university and later pleaded guilty to accepting $20,000 in bribes. He was sentenced to three months in prison in 2019.
The IARP report notes that investigators also found issues in Arizona's swimming and diving program during the course of the investigation. It received penalties including one-week suspensions of recruiting, recruiting communications and official visits to be served during this academic year, as well as a one percent budget reduction for this academic year.
Associated Press wire copy contributed to this story