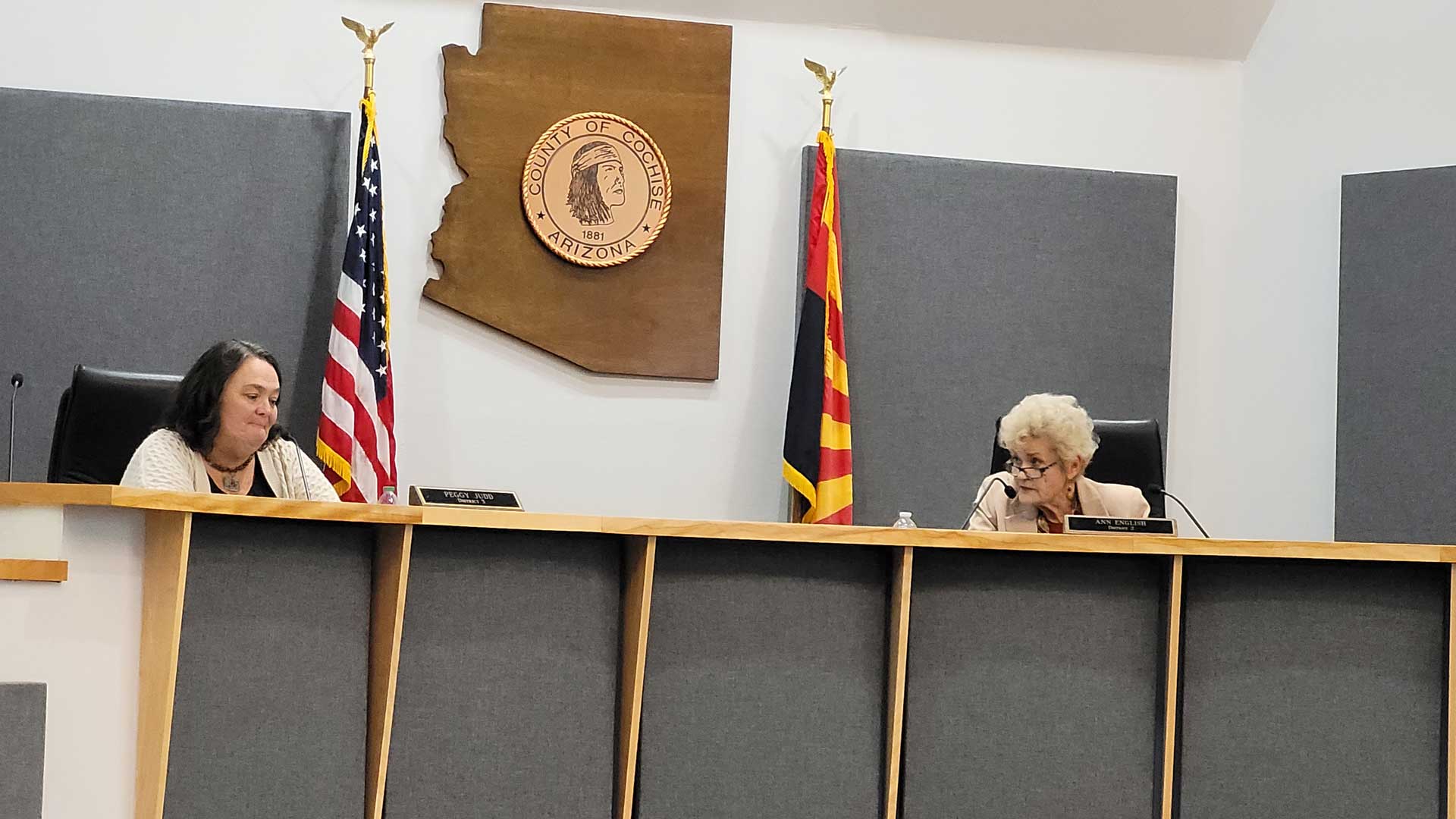 Cochise County Supervisors Peggy Judd and Ann English vote to certify the November 2022 election. December 1, 2022
Summer Hom, AZPM
A Republican member of the Cochise County board of supervisors called for a change to the chair, appointing Republican vice chair Peggy Judd to the chairmanship. However, Judd declined the appointment.
This is the second time Cochise County Supervisor Tom Crosby has tried to appoint his Republican colleague Peggy Judd to the chair position. But like last time, Judd echoed her concerns about her husband's poor health and said that she is unable to take the position at this time.
"I am so honored to have this opportunity, but I have to wait again," said Judd during Tuesday's meeting. "I know how to lead … I listen to my constituents and I love this county. So, I would love to serve but I cannot right now. And I will submit when I am ready when I know that the health of my husband is not at stake, and I will submit an agenda item for the vice chair and the chairperson at that time."
In the agenda, Crosby wrote that Democratic Supervisor Ann English has been chair of the board for two years and that he feels it's time to rotate the duty.
However, not all were pleased with the prospect of a Judd chairmanship. Two members of the public — including one from Judd's district — spoke in opposition to the appointment citing Judd and Crosby's violation of election law in their repeated efforts to delay the certification of the county's election results.
Joy Banks, who lives in an unincorporated area in Judd's district, said, "Those are things, dear Mrs. Judd, that I cannot forgive you for. Ever, as a constituent. You are a danger to this county."
Alison Morris of Portal, AZ, called on Judd and Crosby to resign.
"It was only after two lawsuits and a court order that Supervisor Judd agreed to fulfill an important requirement of her job by certifying our election results while Supervisor Crosby was notably absent," said Morris. "With all due respect Mr. Crosby, rather than request a new appointment to board chair, the honorable action is for you and Mrs. Judd to submit your resignations as county supervisors since you both acted illegally in your elected, paid positions."
The board voted to remove the motion to make Judd chair at her request. Supervisor English will remain chair of the Cochise County Board of Supervisors.