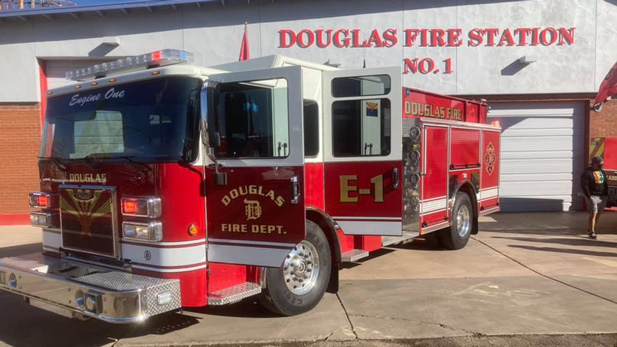 Fire truck, Douglas Fire Department.

Douglas Fire Dept. Facebook
Two churches in Douglas caught fire Monday morning, with the Saint Stephen's Episcopal suffering significant damage.
Douglas Fire Department Captain Matt King said Saint Stephen's Episcopal Church suffered a major structural collapse and caught fire around 11 am Monday morning.
The roof of the Episcopal Church has since completely burned and collapsed in.
The blaze quickly moved to the neighboring First Presbyterian Church. Both churches are located on D Avenue in Douglas; the Episcopal Church is located on the corner of 11 St. and D Avenue, and the Presbyterian Church is located on the corner of East 10th St. and D Avenue.
"Our searches revealed no one inside either building and no one is reported missing," said King in an email. "None of our staff was hurt, so we don't believe there were (any) injuries or fatalities."
Douglas Fire Department was still on the scene through 9 p.m. Monday night addressing hot spot areas.
"We also received and handled (two) 911 calls for medical emergencies during the fire," King added. "A second fire was also reported during this time and our neighboring departments Sunnyside Volunteer Fire Department and Pirtleville Fire Department responded to that."
He says that while Presbyterian Church did suffer damage, it was not as severe as the Episcopal Church.
At the height of the blaze, 22 fire personnel, 3 engines, a ladder truck, 3 ambulances, and a few auxiliary vehicles responded from Douglas Fire Department.
Agents from the Bureau of Alcohol, Tobacco, Firearms and Explosives (ATF) are in Douglas to assist with the investigation.