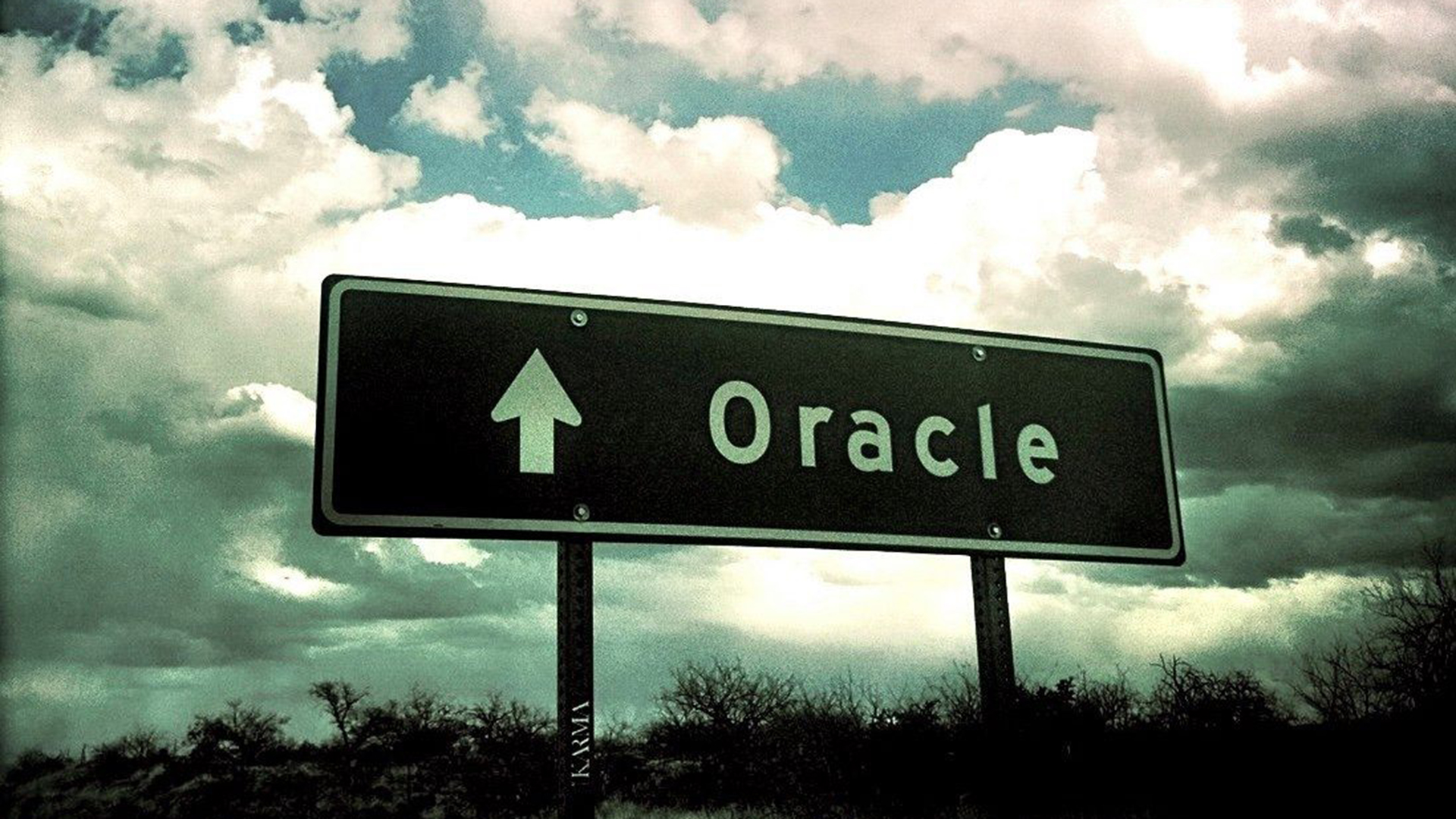 Visit Oracle
The Buzz's new summer series will head out each month and explore small communities in our listening area. As we tour the Copper Corridor, our first stop is Oracle.
Ask most Tucsonans what they know about Oracle, and you will hear that it's about 10 degrees cooler than its large neighbor to the south and you take Oracle Road to get there.
But the community has been known for a variety of reasons over the past 200 years, ranging from its start as a place for miners and ranchers to its current resurgence as an eclectic community.
In between, it was a refuge for tuberculosis patients, home to wild west legend Buffalo Bill Cody, a hotspot for dude ranches, and a community for people working at the San Manuel Mine.
All of that history is being documented by members of the Oracle Historical Society at its museum at the Acadia Ranch, starting with the establishment of the area's second post office at the ranch.
Its predecessor in the boomtown of American Flag was gone by the 1890s, just as Oracle was growing due to some national acclaim.
"There was a visit by a famous doctor, and he put in a national article that he thought this was the perfect area for the coolness, the clear air, for tuberculosis patients to come," said Kevin Arnbrust, a board member with the historical society.
That led some residents, such as Edwin Dodge, to convert property to places where tuberculosis patients could spend time. Dodge's Acadia Ranch began catering to such people.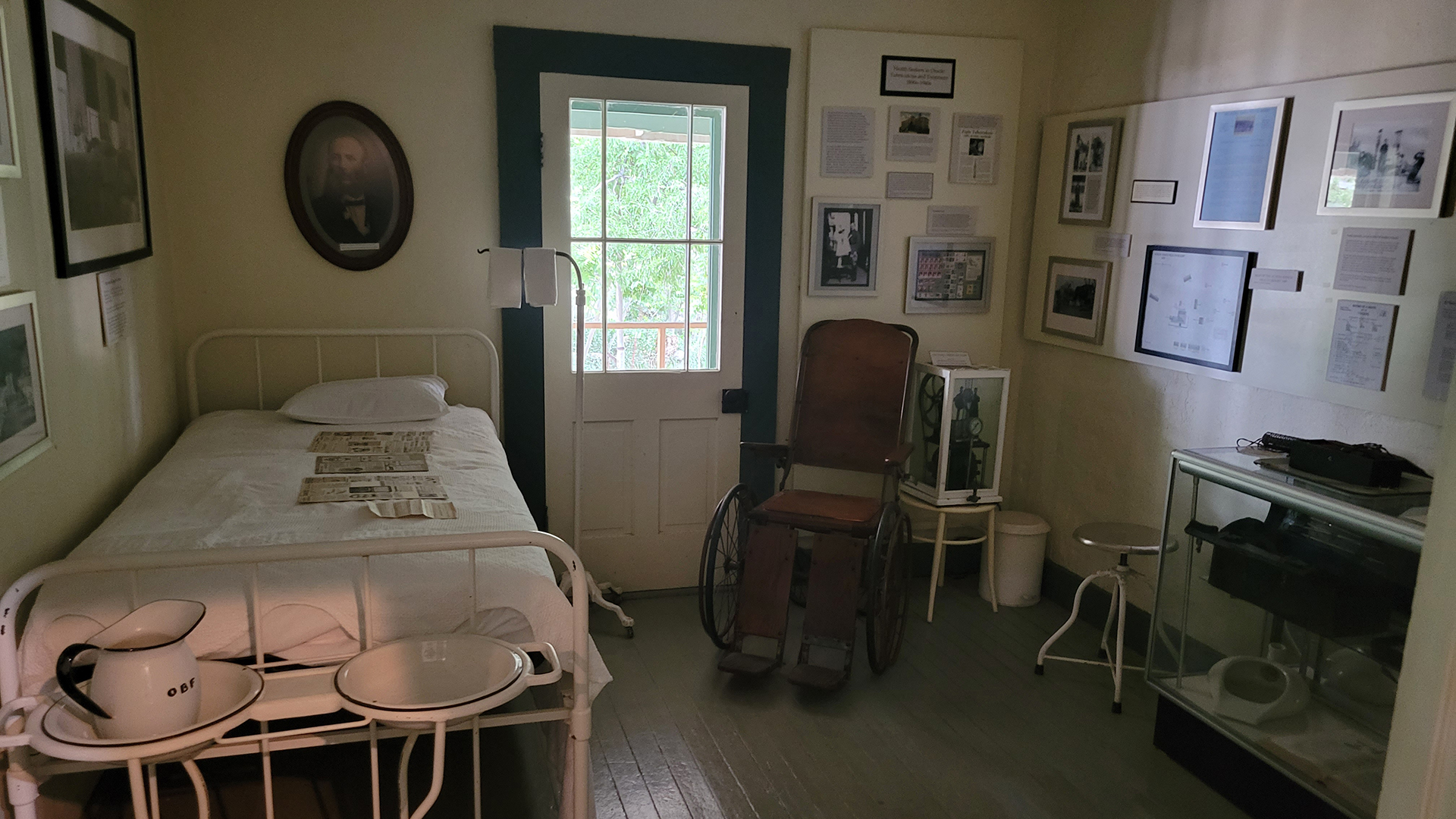 This room at the Oracle Historical Society is set up to show what the Acadia Ranch looked like when it was a place for people with tuberculosis to rest and recover.
Zac Ziegler
Arnburst said that the ranch could tend to 20-30 guests at its height, housing them in the building, in nearby cabins or in tent houses designed to help in a common treatment for tuberculosis.
"A simple way to describe [the houses] is they were built on skids, not unlike a giant pallet. They had a wooden floor and up about 3-4 feet they had wooden sides. From there, they had a framework of timber and canvas walls that could be rolled up or dropped down. Pat of the treatment for tuberculosis, even in the winter, was to sleep outdoors with your face exposed and your entire body covered with clothing or quilts that would keep you warm but allow you to survive when it occasionally dipped below zero [degrees]."
As tuberculosis faded, Oracle found itself in another boom, America's early-20th century fascination with westerns and cowboys.
Rancho Linda Vista was a well-known dude ranch in the area, and served as the lodging location when the 1924 movie The Mine With the Iron Door was filmed in the area near Oracle.
A number of other dude ranches sprouted up, remaining a popular attraction until World War II.
From that time on, the nearby San Manuel Mine became the backbone of the community.
Copper and other minerals were a longstanding industry for the area. It even brought Oracle its most well-known resident.
"[Buffalo Bill Cody] tried his luck at gold mining out near Campo Bonito," said Arnbrust. "There's a lot of stories going around, but apparently when he bought the mines, they were making it look like there was more gold than there was. All he ever got out of it was tungsten."
Mines were what brought Sue Parra's family to the area when she was a teenager. Her father was a tramp miner who relocated from Bakersfield, Calif. In 1970.
"We moved every three years, growing up," she said. "We got here, and I never left. I met my husband, he was born and raised here, and we started our store in 1985."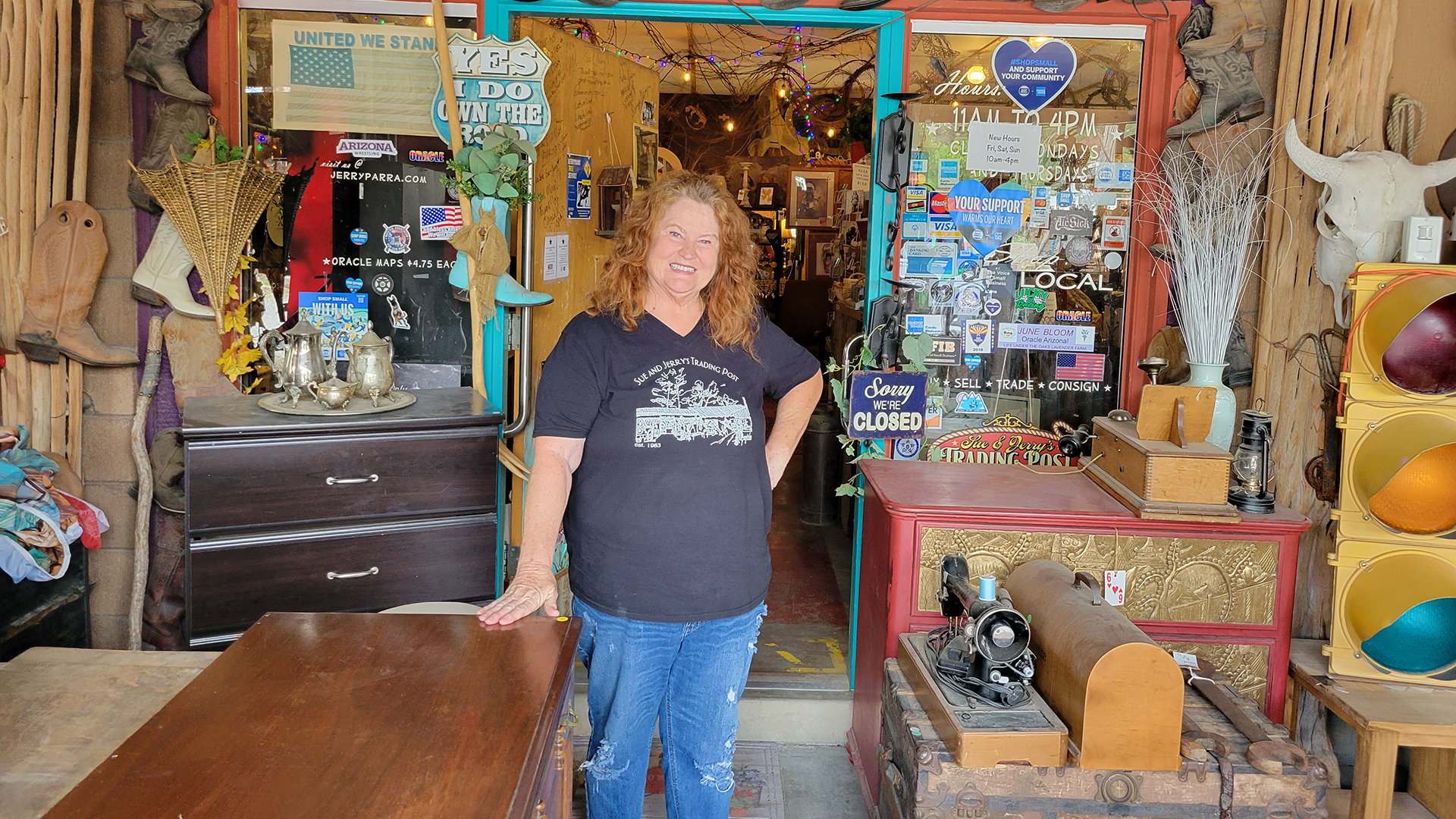 Sue Parra, co-owner of Sue and Jerry's Trading Post in Oracle.
Zac Ziegler
Sue and Jerry's Trading Post has become a fixture in Oracle. The shop sells a variety of new and used items, and also hosts a weekly gathering of food, music and local vendors on Wednesday nights most of the year.
"We call it a farmer's market, but there's rarely any produce. It just has a good ring."
Parra said Oracle took a notable hit when the San Manuel Mine began to shut down in 1999.
"That devastated our community. People had to leave. People weren't out shopping, and we had to max out our credit cards to stay open."
But today, she is hopeful with what she sees in her community. She points to new businesses like a zipline course, a lavender farm and the newest edition, a coffee shop that also holds evening concerts and an influx of new residents.
"I have never felt so excited in Oracle," Parra said.
Among the new residents in town is Hope Morris, who bought El Rancho Robles about a year ago. The property became a dude ranch during that industry's heyday, and has been continually renovated in recent years into an event center and guest ranch.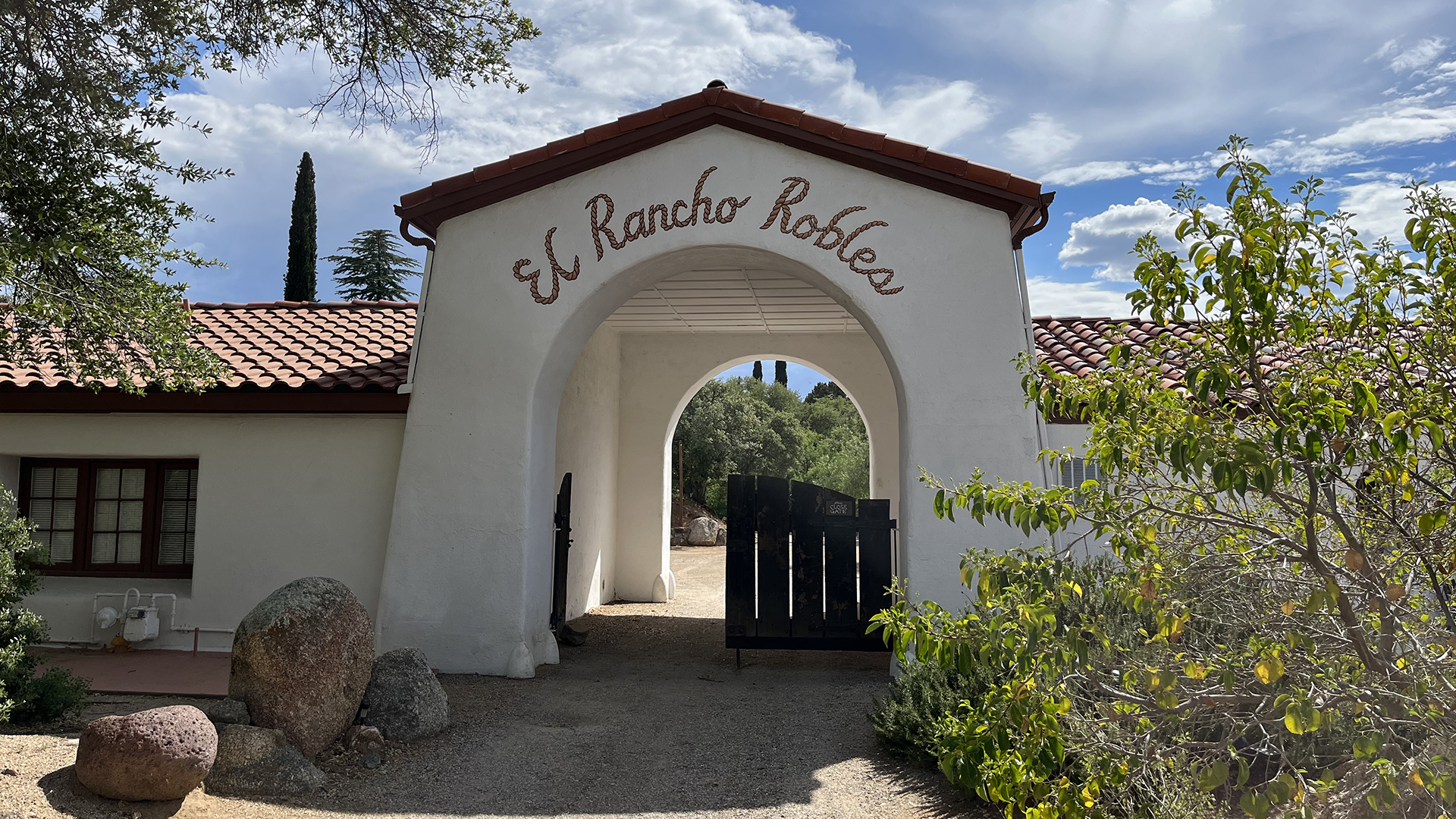 Christopher Conover
"My business partner owns some hotels," she said. "He saw a listing [for the ranch] and thought I might be interested because my parents are getting older. My mom lives in Phoenix and I was living in San Diego. That's a six-hour drive as compared to an hour and a half."
Morris said the move to a community with 3,300 people rather than 3.3 million can be a bit of a shock, but she likes the way the community is growing.
"A lot of artists are drawn here, and there's more and more to do. There's a good community and I see changes coming."
While El Rancho Robles has been renovated into a destination event space, another former dude ranch in Oracle has undergone a rather unique renovation in the past 20 years.
"Triangle L Art Ranch incorporates a ten-acre sculpture park, it's illuminated at night. We do GLOW, which is one of our big annual events where people come in illuminated costumes, they walk the paths, the art is illuminated, there's live music and food," said Triangle L's owner, Sharon Holnback.
The Triangle L also maintains its business side as a guest ranch.
Holnback came from Tucson, looking for a place where she could build something like an art ranch.
"When I was on this tour [of the ranch], I realized how incredible of a place this was. Since I've been here, I've realized the beauty of the community as well."