This Week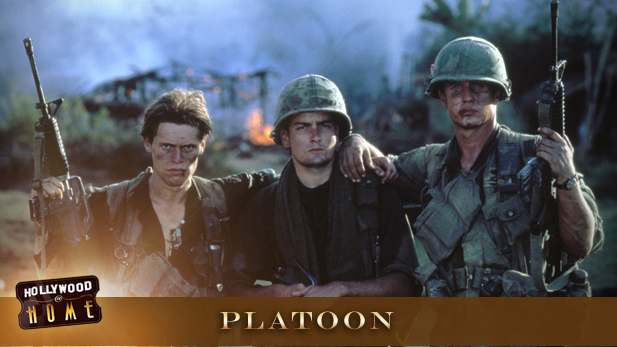 Saturday, April 26 at 9 p.m.
Platoon, written and directed by Oliver Stone, is a war film is based on Stone's experiences as a U.S. infantry soldier during the Vietnam War. This film is the first of three movies that make up Stone's Vietnam War trilogy, which includes Born on the Fourth of July (1989) and Heaven & Earth (1993).
The film stars Tom Berenger, Willem Dafoe, Forest Whitaker, and Charlie Sheen. Platoon won an Academy Award for Best Picture in 1986.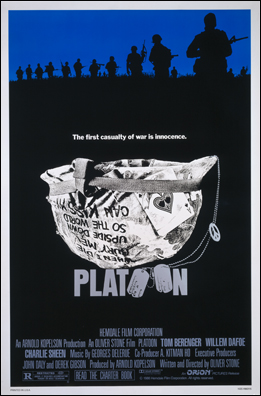 Plot

In 1967, college dropout Chris Taylor (Sheen), enlists during the Vietnam War and is stationed near the Cambodian border. When he arrives, Taylor is labeled a rookie and treated as an outsider. He soon has to adjust to a daily life of bloodshed, drugs, and hopelessness. Over time, Taylor is accepted by the men in the platoon. The more comfortable he is with his comrades, the more aware he is of the night-and-day personalities of two officers, Sergeant Robert Barnes (Berenger), ill tempered and ruthless, and the calm and rational Sergeant Elias Grodin (Dafoe).
While on patrol, the platoon come across a nearby village and discover a supply cache. The soldiers attempt to determine if the villagers are assisting the Vietcong, the situation quickly spirals out of control, the two officers clash, and as a result the village is burned.
Taylor faces various horrors of war throughout the remainder of the film. He realizes the soldiers not only fight the Vietcong, but must battle another enemy within themselves - their conscience. Amidst a world filled with violence, death, and misery, Platoon communicates the story of Taylor's struggle with the gray areas of what is right, what is wrong, and what is necessary.
Airs Saturday, April 26 at 9 p.m.