Rod Steiger and Sidney Poitier are compelling as an unlikely crime- fighting pair in this five-time Oscar winning murder mystery set in a steamy southern town.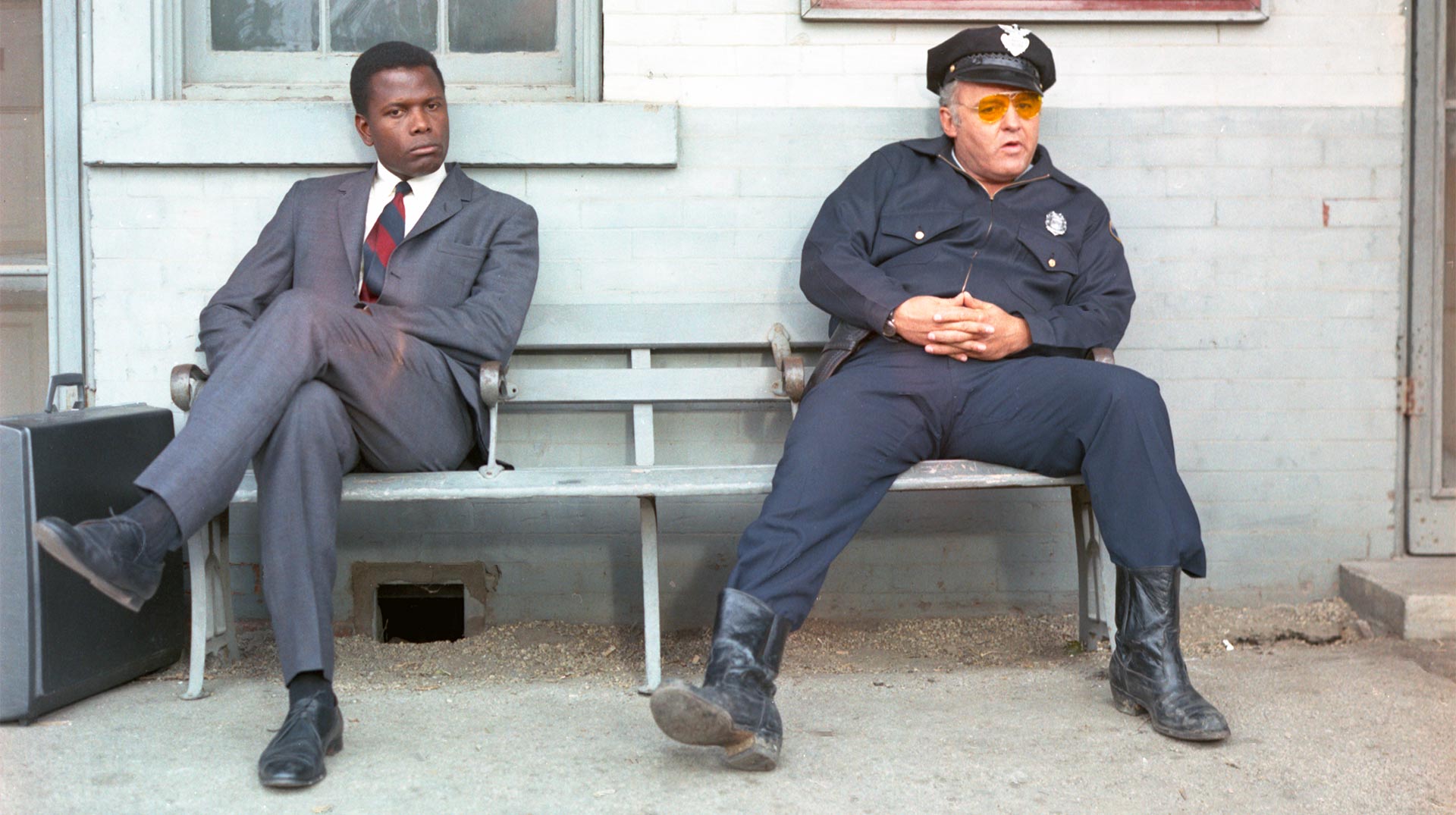 Hollywood at Home: In the Heat of the Night

APT
Plot Summary
Even though many of us were sentient beings in 1967, so would like to think our society has progressed further than it has in overcoming this social blight, this is an early film about the disease of racism in America that explores how men may navigate relationships while thoroughly infected. A black homicide detective from Chicago is waiting in the colored section of a rundown railway station in Sparta, Mississippi for a train home while a white developer is murdered in the local town. When a cop on his rounds finds this unknown black man in the station, he arrests him for murder. This is one sort of racist relationship; white has power, black does not regardless of the facts, and that power is maintained through violence. Simple and straightforward. The photography and direction are stunningly descriptive.
The police chief, being smarter and a bit more sophisticated than his staff, which separates him from them in other ways as well, rejects the temptation to throw away the key, verifies Mr. Tibbs' bona fides, and actually asks him for help solving the murder. Tibbs reluctantly complies, with Sidney Poitier giving a wonderful performance of the black man whose feelings of confidence, generosity, and justice have been battered by his life experience. Both he and Chief Gillespie, played masterfully by Rod Steiger, grow personally over his time in Sparta by exploring the possibility of friendship with a man of the other race. The effect is reminiscent of the tiny, meek figure of hope at the bottom of Pandora's box of evils. And is another ilk of relationship. The name Sparta, reminiscent of a bare, austere life, is not accidental.
A third relationship is the one driven by hatred and reinforced by violence. This shows up in the form of young white men with chains pursuing the black detective until the chief appears and shows a light under their rock by driving them off. This is, of course, the lynch mob.
The crime is solved and Mr. Tibbs returns to Chicago, leaving Chief Gillespie very much on his own. No promises for future resolution beyond that little glimmer of hope. But the hope deserves to be nurtured, even or especially because we now know how far we have come in fifty years, and how far we still have to go for a healthy society for everyone.
Quote
Chief Gillespie: "Virgil? That's a funny name for a nigger boy to come from Philadelphia. What do they call you?"
Virgil Tibbs: "They call me MISTER TIBBS."
Chief Gillespie: "I got the motive, which is money, and the body, which is dead."
Leslie Colbert, wife of the murder victim: "I came by to make it as clear as I possibly can that I do not want that Negro officer taken off this case."
Mayor Web Schubert: "Negro officer?"
Chief Gillespie: "Yeah, well, he, uh, he comes from up North, you see, and he was, uh, kinda…passing through…"
Mrs. Colbert: "I don't care what he is. If it wasn't for him your impartial chief of police would still have the wrong man behind bars. I want that officer given a free hand. Otherwise I will pack up my husband's engineers and leave you… to yourselves."

Harvey Oberst about Chief Gillespie: "Got no more smile than a turnip."
Jess the mechanic, looking Virgil Tibbs up and down: "What you doin' here man?"
Virgil Tibbs: "Policeman."
Jess: "You're a policeman? Here in Sparta?"
Virgil Tibbs: "They've got a murder they don't know what to do with. They need a whipping boy."
Jess: "You got a roof?"
Virgil Tibbs: "No. I'll find a motel."
Jess, laughing as he picks up Virgil's suitcase: "Viola…we got company."

Trivia
This movie was filmed in Sparta, Illinois because Sidney Poitier demanded that the film be shot in the North, based on a nearly fatal encounter he and Harry Belafonte had had in Mississippi. Due to the absence of cotton fields in Illinois there was a brief scene in Tennessee where Poitier's life was threatened, he slept with a gun under his pillow, and filming was cut short.
Rod Steiger took time to warm up to chewing gum at all times, but finally went through 263 packs by the end of the movie.
For the first time in Hollywood history the lighting in this film was adjusted for its effects on black skin.
The scene between the two stars in the Sheriff's house evolved from improvisations by both men.
Like many Sidney Poitier movies, this one was banned by the South African Control Board.
Sources:
IMDb
Rotten Tomatoes
Bosley Crowther's movie review in the New York Times, April 3, 1967