A gay cabaret owner and his drag queen companion agree to put up a false straight front so that their son can introduce them to his fiancée's right-wing moralistic parents.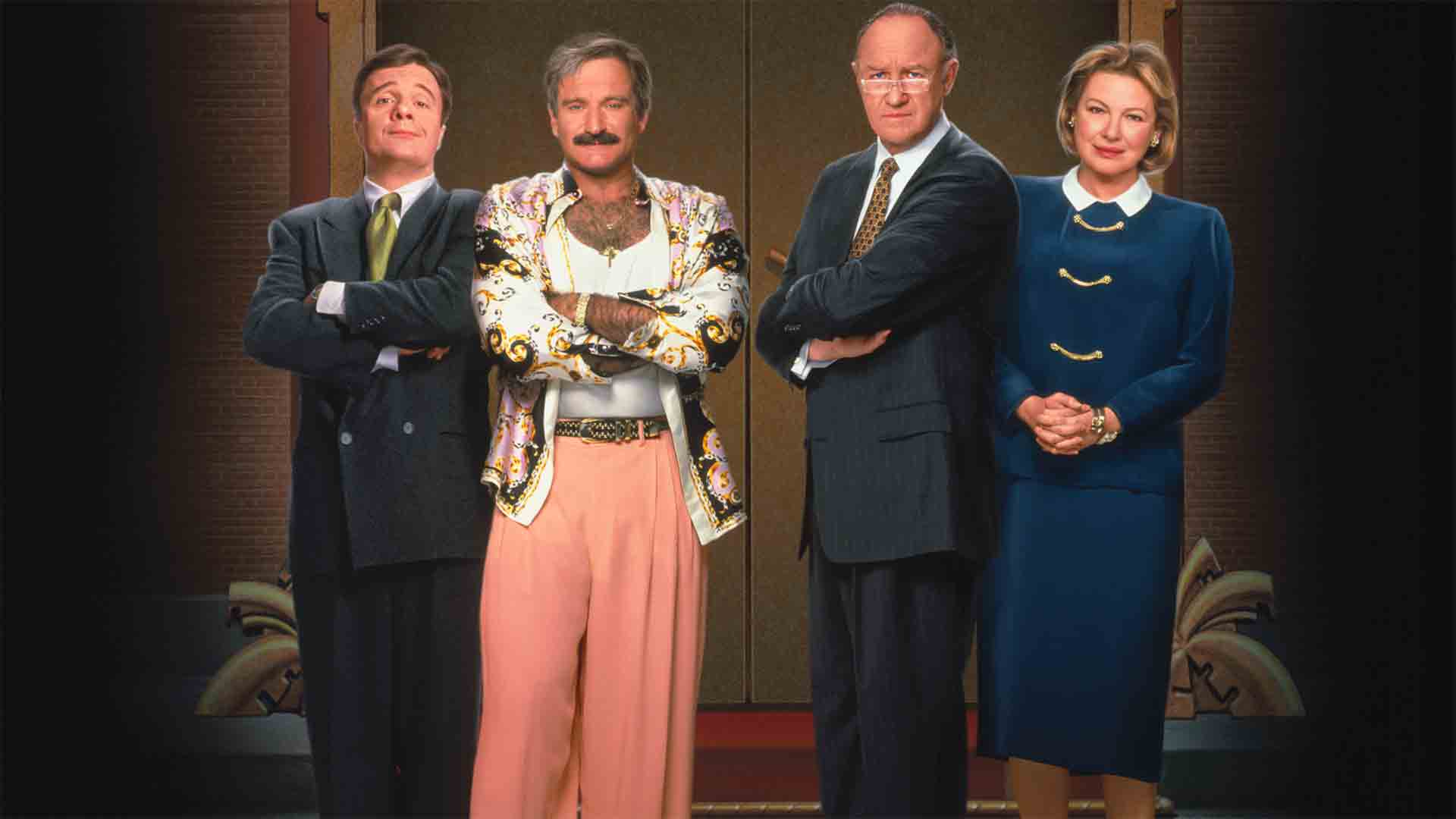 Hollywood at Home: The Birdcage

APT
Plot Summary
"The Birdcage" is an American remake of the French "La Cage aux Folles" of 1978. A middle-aged gay couple lives in South Beach, Florida in a flat above the eponymous nightclub owned by one of them and starred in by the other. Said apartment is kept dust-free and cocktail full by an aspiring drag queen from Guatemala named Agador. Armand, the club owner, had a son from a single encounter with a woman he has not seen since, and he and Albert have raised Val, who is now twenty and away at university. The story begins with Val's visit to announce his impending marriage to the young daughter of a senator whose cause is something called the Coalition for Moral Order.
The senator is in a snit because his partner in the Coalition has just died in the bed of an underage, black, prostitute. This indiscretion plants himself, the cause, and the senator in the spotlight of the tabloid press which screams hypocrisy, between guffaws. The senator needs help. Into the melee comes the marriage proposal from Val. The youngsters have invented a socially and "morally" upright family for young Barbara to marry into, and a plan forms to redeem the senator's standing and dispel the tabloids with a white wedding. This involves a trip to Florida to meet the new in-laws.
Val, with the blind self-centeredness of youth, asks his father to send Albert away, ask his biological mother to come for dinner in that role, and redecorate the apartment, replacing homoerotic sculpture with a crucifix. Oh, and to straighten out Agador. Therein lies the comedy. And much of this is truly funny, if sometimes heavy-handed. The cast is so good that their talent compensates for any dated slapstick. And because a senator with ridiculously high "moral ground" is not really a joke these days, perhaps this film is not as dated as it would have been ten years ago. The issues being spoofed sound very familiar: LGBTQ; immigration; abortion; antisemitism. There is even a reference to testing for a pandemic, though a different one than we have today.
After an extraordinary evening the youngsters admit their lies and Val introduces the men who raised him as themselves. There follows an improbable escape plan to escort the senator and his family past the press under cover of a drag show. Again, the performances tend to both compensate for and exacerbate any absurdity. There is so much hoopla about what is "moral" or "right" that it is really only at the end that we realize that the film is actually squeaky clean. No nudity, certainly no sex, and no real eroticism. We get it. The suggestions are enough, and funnier than anything more explicit.
Commentary by Cicely d'Autremont
Quotes
Armand: "What are you giving him drugs for? What the hell are Pirin tablets?"
Agador: "Its's God, what a brilliant idea!"</br? Agador: "I know.a'
Albert: "Don't give me that tone!"
Armand: "What tone?"
Albert: "That sarcastic, contemptuous tone that means you know everything because you're a man and I know nothing because I'm a woman." Armand: "You're not a woman."
Albert: "You bastard! "
Celsius: "Chewing gum helps me think."
Albert: "Sweetie, you're wasting your gum."
Albert: "You know, I used to feel that way too till I found out that Alexander the Great was a fag. Talk about gays in the military!"
Senator Kevin Keeley: "Louise, people in this country aren't interested in details. They don't ever trust details. The only thing they trust is headlines."
Trivia
Hank Azaria asked a gay friend to decide on which voice he should use as Agador, and the friend chose the higher of the two. After the film was completed, Azaria realized he had modeled the voice on his grandmother.
Because both Robin Williams and Nathan Lane are known to improvise while acting, director Mike Nichols insisted they do one take of every scene only on script.
Nathan Lane had not yet come out as gay in 1996.
At the time "The Birdcage" was being filmed Billy Bob Thornton was filming "Sling Blade." He and Hank Azaria were friends, each with a part demanding distinct voices, so they would drive around together, pretending that their characters were in a buddy cop film and practicing their voices as part of the game.
Sources
IMDb
Rotten Tomatoes
Review by Roger Ebert in the Chicago Sun Times, March 8, 1996