Hollywood at Home presents Gone With The Wind, Saturday at 7 p.m.
This 1939 Hollywood classic was directed by Victor Fleming, who took over after George Cukor was fired, written by Sidney Howard, who followed a succession of writers, and starred Clark Gable, Vivian Leigh, Olivia de Havilland, Leslie Howard and Hattie McDaniel.
The movie was adapted from Margaret Mitchell's best-selling novel set in the South during and after the Civil War. The size and complexity of the film production matched the popularity and scope of the novel – with more than 50 speaking roles and roughly 2,400 extras on screen. The film went on to 10 Academy Awards, including Best Picture, Best Actress (Vivian Leigh), Best Supporting Actress (Hattie McDaniel) and Best Screenplay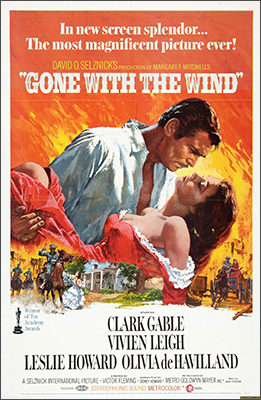 Plot
This film needs no introduction to anyone born before 1970, but for everyone else it is the story of an entitled, self-important girl from 1861 Georgia with no concern for the feelings of others. She spitefully marries her sister's beau, tries to steal her greatest advocate's husband, lies with impunity, and generally manipulates everyone she encounters. As a classically trained "lady" using feminine wiles and sex appeal, despite her aversion to the act of love, she embodies what used to be the stereotypical double standard of charming, ladylike behavior.
The loss, pain, misery and societal upheaval of war are nothing but inconvenience to Scarlett until it affects her food supply. Though she does learn to value the loyalty of those working with her, giving glimpses of the woman she might have been. The title of both book and film springs from the idea that the charm and grace of the pre-war South has gone with the wind, never to return. One suspects Margaret Mitchell of being less than nostalgic.
Irritating as Scarlett may be, her pronouncements, ability to make a gown from dusty curtains, quintessential flirting, and procrastination have become iconic. Perhaps it is her shallowness and lack of insight that have been blown away, along with the injustice of slavery and renegade soldiers. Good riddance. And cheers to the ability to overcome.
By Cicely d'Autremont
Hollywood at Home presents Gone With The Wind, Saturday at 7 p.m.