After a harsh childhood, orphan Jane Eyre is hired by Edward Rochester, the brooding lord of a mysterious manor house, to care for his young daughter.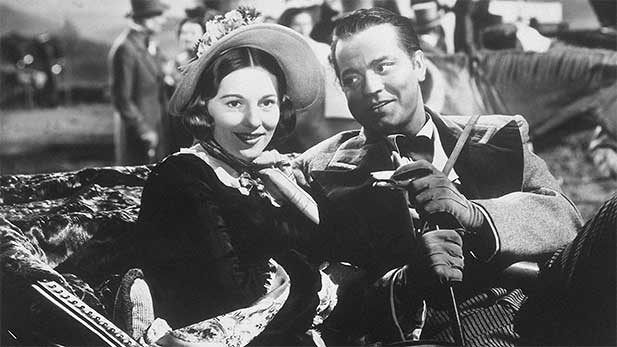 Jane Eyre (APT)
We all know the story of little orphaned Jane, left in the custody of the requisite mean aunt who packs her off to the loathsome institution where she barely survives for ten years. Her only friend, played by a young Elizabeth Taylor, dies, and the only kind adult is the visiting doctor. Jane finagles a governess position, and it looks for a while like she has gone from frying pan to fire, but her charge is agreeable and the housekeeper not as creepy as it first appeared. The master is mostly absent, but the plot thickens when he looms, literally, out of the mist on the moor one night.
Orson Welles is a brooding, lonely Rochester comfortably surrounded by the dark, shadowy sets. Those stone walls just look cold, and we know they harbor secrets and sorrows. Those walls also have many gothic styled arches, lest we imagine the gloom is not deliberate. All of this is shrouded in an appropriately portentous sound track. Jane herself alternates between mousy and direct, cringing and courageous. A bit inconsistent, but it rarely feels discordant as her character is overshadowed by the unfolding of the relationship between governess and master. It is all predictable, as is the requisite challenge to living happily ever after, but this particular version is so consistent with the somber surroundings that we happily suspend disbelief and accept the outrageous.
The story and the characters, like the set, cinematography, and music all reflect the prevailing preoccupation with self-righteousness, judgment, and general joylessness. Humor was a sign of weakness, but the script manages to slip a little in under the guise of being stern. A dreary time to be in England, as Jane informs us at the outset.
Production commentary by Cicely d'Autremont
Quotes
Dr. Rivers: "You keep your schoolroom uncommonly cold, Mr. Brocklehurst."
Henry Brocklehurst: "A matter of principle, Dr. Rivers. Our aim is not to pamper the body but strengthen the soul."
Dr. Rivers: "I should not have thought that a bad cough was any aid to salvation, but then I'm not a theologian. Good day, sir."

Jane Eyre: "I should never mistake informality for insolence. One, I rather like; the other no free-born person would submit to, even for a salary."
Edward Rochester: "Humbug! Most free-born people would submit to anything for a salary."

Blanche Ingram: "It is a beautiful place, your Thornfield."
Edward Rochester: "As a dungeon, it serves its purpose."
Blanche Ingram: "Dungeon? Why it's a paradise!"
Blanche Ingram: "Though of course, if one lived here, one would really have to have a house in London, wouldn't one?"

Edward Rochester, dryly: Unquestionably. And a little apartment in Paris, perhaps a villa on the Mediterranean.

Jane Eyre, narrating in the beginning: "My name is Jane Eyre…I was born in 1820, a harsh time of change in England. Money and position seemed all that mattered. Charity was a cold and disagreeable word. Religion too often wore a mask of bigotry and cruelty. There was not proper placer for the poor or the unfortunate. I had no father or mother, brother or sister. As a child I lived with my aunt, Mrs. Reed of Gateshead Hall. I do not remember that she ever spoke one kind word to me."
Trivia Director Robert Stevenson joined the Bronte Society.

Charlotte Bronte, author of "Jane Eyre", was portrayed by Joan Fontaine's sister, Olivia de Havilland in "Devotion" in 1946.

In 1839 Jane earned 30 pounds a year as a governess. That would have equated to $3,840.00 in 2014. Edward Rochester's income of 8,00 pounds per year equates to $216,114.41 in 2019.

Sources
Rotten Tomatoes
New York Times review, Bosley Croowther, February 4, 1944
IMDb