A court-appointed psychiatrist is charged with assessing the sanity of a novice accused of murdering her newborn.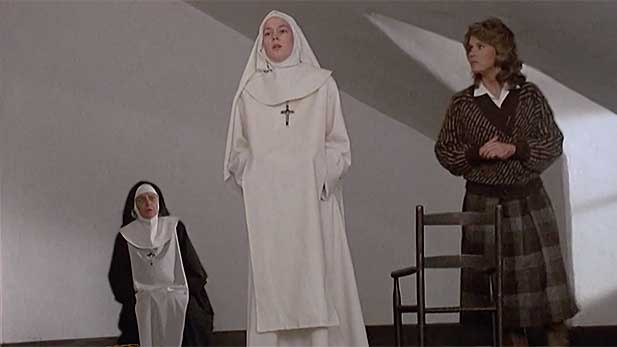 Hollywood at Home: Agnes of God

AZPM
Set in Quebec, Canada this is the story of a young nun in a rural convent who is discovered with a dead baby in her cell. She denies any knowledge of a baby, or even of a pregnancy, much less of the actions required to produce either. A psychiatrist with her own devils is sent to assess Agnes, and becomes enmeshed in the story and locked in combat with the protective Mother Superior. And an exploration of faith and miracles ensues.
The roles of delusion, Deity and denial are explored, along with the basic mystery. The performances are intense, if somewhat uneven. Meg Tilly as Agnes is consistent and believable in the strangest role. She exudes an ethereal calm which balances the other two. Anne Bancroft is excellent, both intellectual and spiritual, and Jane Fonda is intense, a bit hysterical, probing, and vulnerable. In her defense, as her character is written she is very unprofessional and therefore difficult to portray. The question of who is crazier, patient or physician, is central to the story as is the clash between science and religion and whether or not to believe in miracles. I enjoyed pondering how the doctor could be played in the current time and still fit the story and the message, because the questions posed are timeless.
Commentary by Cicely d'Autremont
Quotes
Mother Miriam Ruth: My dear, I don't think a communion wafer has the recommended daily allowance of anything.
Sister Agnes: Of God…
Mother Miriam Ruth: Is she totally bananas or just slightly off center?

Dr. Livingston: Suppose the saints would have smoked if tobacco had been popular back then?
Mother Miriam Ruth: Undoubtedly. Not the ascetics, of course, but, well, St. Thomas More.
Dr. Livingston: Long thin, and filtered!
Mother Miriam: St. Ignatius would smoke cigars and stub them out on the soles of his bare feet. And of course all of the apostles.
Dr. Livingston: Hand rolled.
Mother Miriam: Even Christ would partake socially.
Dr. Livingston: St Peter?
Mother Miriam: Pipe!
Dr. Livingston: Right!
Mother Miriam: Mary Magdalene?
Dr. Livingston: You've come a long way baby?
Mother Miriam: And St. Joan would chew tobacco.
Dr. Livingston: All right! What do you suppose today's saints are smoking?

Trivia
Meg Tilly later said this was her favorite film experience.
Jane Fonda smoked reed cigarettes in the movie, as her character chain smokes and Fonda had quit ten years previously.
Anne Bancroft announced that "after seeing 'Agnes of God' I would like people who believe in God to think again, and people who don't believe in God to think again as well."
Norman Jewison, in his later autobiography, stated that "Agnes of God gave me the opportunity to explore that timeless conflict between believing what we can see and believing what we can't see or experience. It seemed to me then, as it does now, that the world is in dire need of angels." Amen.
Sources:
IMDb
TCMDb
Rotten Tomatoes