After a botched robbery results in the brutal murder of a rural family, two drifters elude police, in the end coming to terms with their own mortality and the repercussions of their vile atrocity.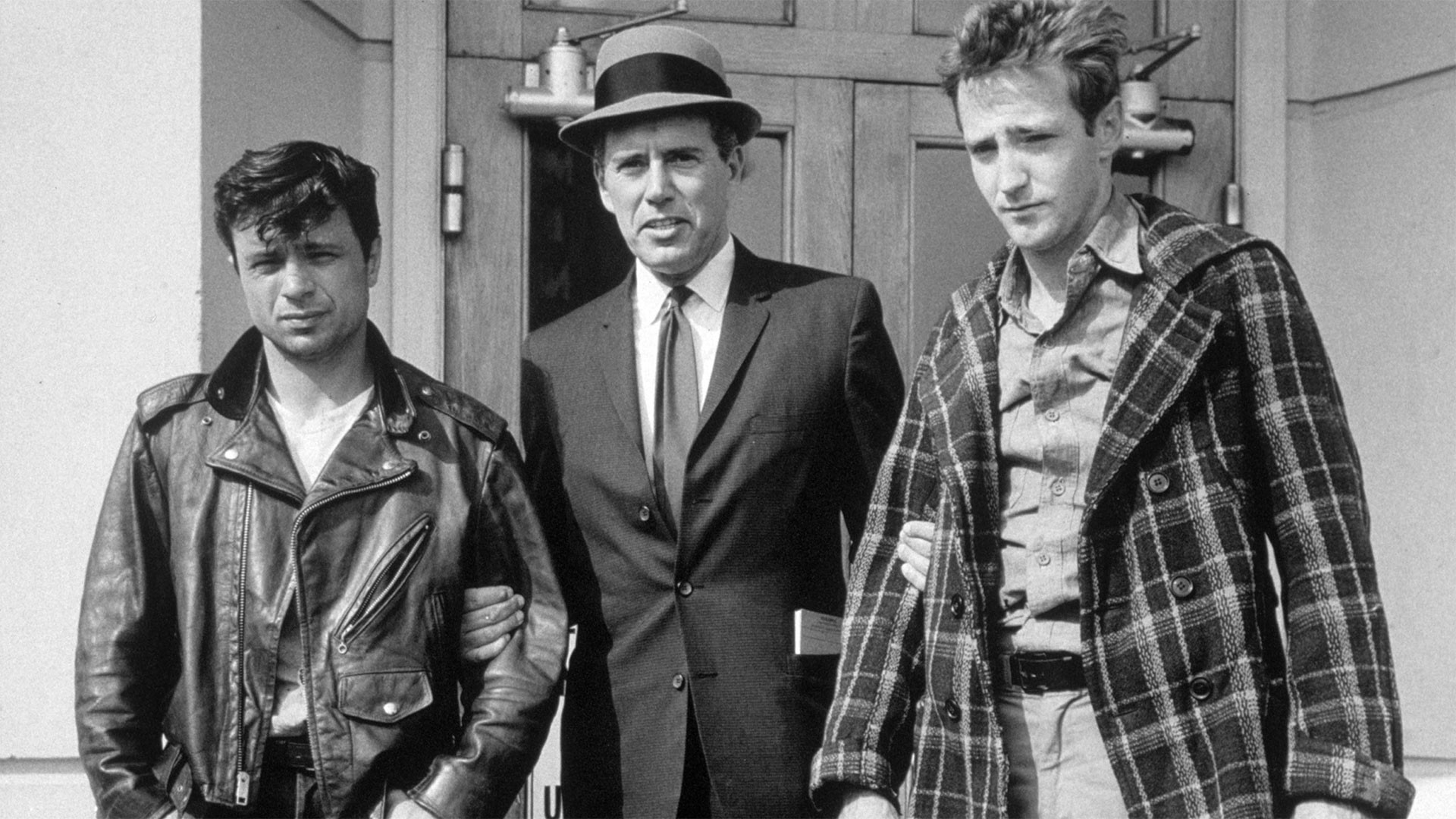 Hollywood at Home: in Cold Blood

APT
Plot Summary
The story of an actual crime that caught Truman Capote's fancy, and his account that caught that of the country. Dick Hickock shared a prison cell with someone who worked for a farmer in Kansas who he swore had a safe stuffed with cash. Dick hooks up with an old buddy, Perry Smith, who breaks parole to accompany Dick to Kansas to empty that safe. In the process of discovering that there is no safe, and only $43 in cash, the men snap and murder all four family members. The rest of the story, appropriately filmed in gloomy grey, describes the manhunt, conviction, sentencing and executions that follow.
We are introduced to the pleasant Clutter family in an ideal farmhouse, looking like something out of an Andrew Wyeth painting. Complete with chipper teenage girl with a horse. And then we meet each anti-hero in ways that offer a bit of sympathy for them. Then the back stories build, and sympathy wanes. Especially for Hickock.
Scott Wilson and Robert Blake both provide performances that carry us into the hopeless underworld of people who never had a chance. Each in his own way is swaggering and cringing his way through an aimless and frightened life defined by mental illness, addiction, poverty and violence. Whether his own or those who formed him. Perry's reminiscences of his childhood are heart wrenching, even as we know they lead to horror. The cinematography is so effective, that we never need see carnage except on the faces of people around it, especially of the police inspector. Because one knows the story from the beginning, and spends the first third of the film dreading gory images, it is further seductive to be spared actual corpses.

The story, the lighting, the dialog and the characters are gloomy, except that there is briefly light around the ruined family. There are rays of hope at moments, like when Perry tries to convince Dick to call off the raid, or Dick thinks he wants to take care of his ailing father, but they are transitory. Even those successful people such as the mentoring priest and the police detective are, in part due to their own kindness, weighed down by the realities of the lives around them. All of it more effective because it really happened.

Commentary by Cicely d'Autremont
Quotes
Dick: "Did you see those guys? They coulda robbed us."
Perry: "What of?"
Dick: "Did you ever hang any paper?"
Perry: "I couldn't cash a check even if it was good."
Dick: "There are two kinds of laws, honey. One for the rich and one for the poor."
Alvin Dewey: "Someday, somebody will explain to me the motive of a newspaper. First, you scream "Find the bastards!" Till we find them, you want to get us fired. When we find them, you accuse us of brutality. Before you go into court, you give them a trial by newspaper. When we finally get a conviction you want to save them by proving they were crazy in the first place."
Jensen: "All of which adds up to one thing: you've caught the killers."
Perry: "I'd like to apologize, but…who to?"
Trivia
The photographs around the Clutter house are of the actual Clutter family. The family currently living in the house was paid to tolerate the film crew for filming.
Two pairs of eyes pictured on the poster advertising the movie. They are the eyes of the killers, not of the actors portraying them.
There is a scene where bottles are being collected for cash, and the musical themes in the background are played on bottles. They collected 420 bottles, worth $.03 each, for a total of $12.60, or $107.80 in 2019.
Director Richard Brooks disagreed with capital punishment and believed this film to be a good argument against additional, futile violence.
Scott Wilson was strongly suggested to Richard Brooks by Sidney Poitier, who had worked with him on "In the Heat of the Night." Wilson did not know about the recommendation until he had been cast.
Sources
IMDb
Rotten Tomatoes
Chicago Sun Times review by Roger Ebert, February, 6, 1968