A once close-knit group of friends reunite in a big house after a funeral of their much-envied friend.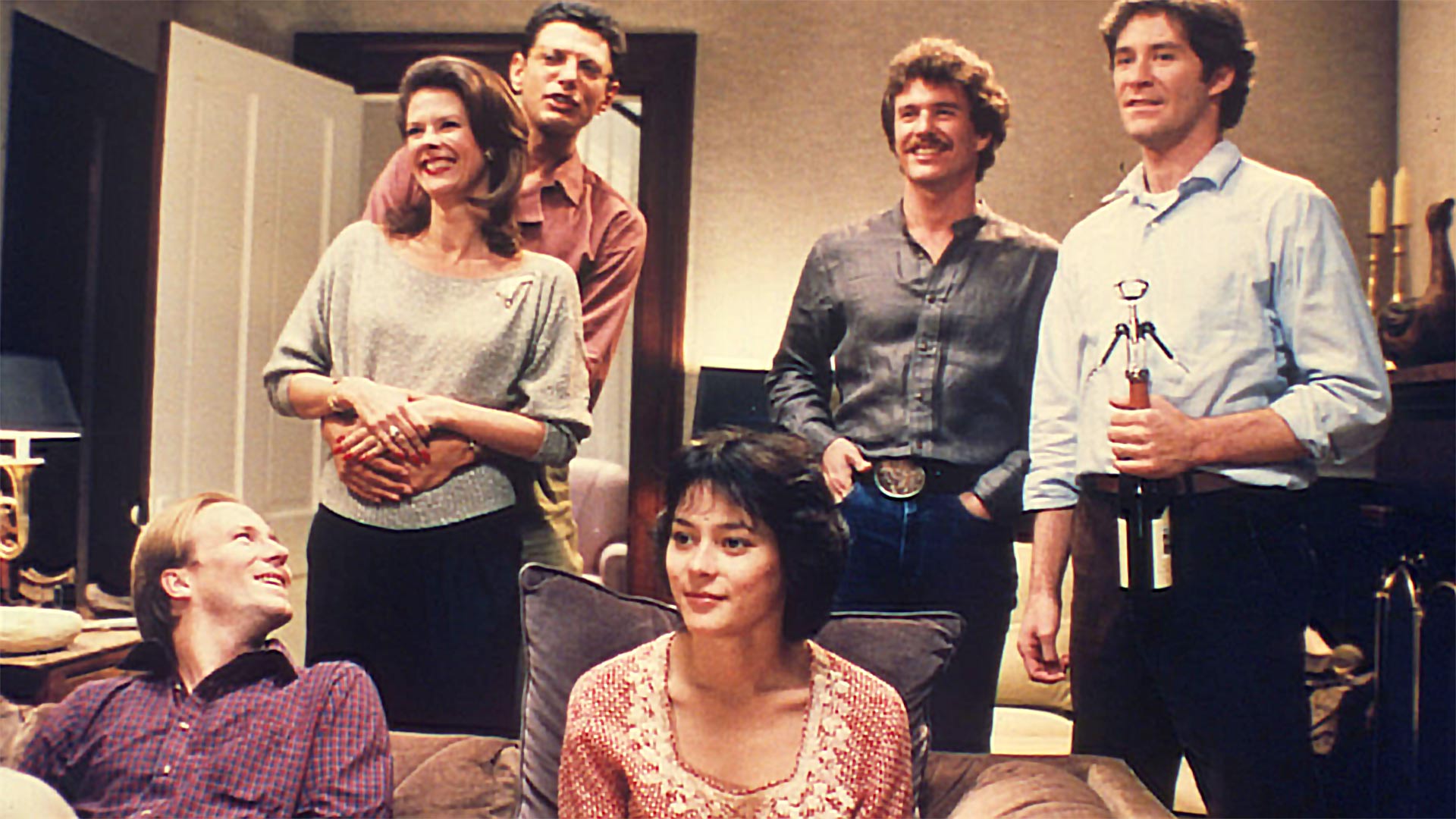 Hollywood at Home: The Big Chill

APT
Plot Summary
The Big Chill
was described by its director as a comedy of values. It is the story of a group of eight close friends who attended the University of Michigan in the 1960's, and grew up through their heated, idealistic dreams to a chillier reality. They have come together in South Carolina because one of them has surprisingly committed suicide. They all attend his funeral, then stay at the lovely house of two of their number to sort through their feelings about the death and reconnect after all these years. Alex, the man who died, had a lovely young girlfriend Chloe, who attends the house party and provides some funny and touching balance. She is at a very different point in life, as underscored by her concerns, energy, and views of the future. Unlike Meg, for instance, who has progressed from idealistic Public Defender to wealthy, cynical corporate lawyer with a ticking biological clock.
Kasdan has given us an example of many 1960's stereotypes, who can be found in all decades, but most dramatically then. There is even a Vietnam veteran named Nick who began life as a radio psychologist, but is now a bitter, cocaine driven nomad whose combat wounds have left him with no sex life. Also Sam, a soap opera star who is embarrassed by the lack of art in his successful career. Michael, began as a cutting-edge journalist wound up writing for "People" magazine. Karen settled for being a housewife in a safe but unexciting marriage.

Harold and Sarah, the married couple, seem to have done the best coming to terms with real life. She is a physician, and he a successful businessman with no apparent guilt. They have a solid marriage that has surmounted some barriers, and done so well that Sarah deliberately sets up a situation that could be destructive. And all of this in the shadow of why Alex killed himself.

The performances are strong and believable. We can imagine that we know these people. And that the bonds they forged in college weathered the interim vicissitudes. The composite music is a stroke of genius, especially for those of us of that generation who knew all the words to all those songs. Rather than a score, the music is songs from the '60's, often relative to whatever is happening in the film. Altogether a sweet, funny, real, and occasionally sad portrayal of middle-aged friends facing a new and very different time of life.
Commentary by Cicely d'Autremont
Quotes
Meg (about men): They're either married or gay. And if they're not gay, they've just broken up with the most wonderful woman in the world, or they've just broken up with a bitch who looks exactly like me. They're in transition from a monogamous relationship and they need more space. Or they're tired of space, but they just can't commit. Or they want to commit, but they're afraid to get close. They want to get close, and you don't want to get near them.
Michael: I don't know anyone who could get through the day without two or three juicy rationalizations. They're more important than sex.
Sam: Ah, come on. Nothing's more important than sex.
Michael: Oh yeah? Ever gone a week without a rationalization?
Chloe: I haven't met that many happy people in my life. How do they act?
Meg: It's a cold world out there. Sometimes I feel like I'm getting a little frosty myself.
Karen: So, you and Alex were living here?
Chloe: We have a room downstairs. Well, we did. I do. I'm the one who found him.
Karen: Oh, God. It must have been awful.
Chloe: It was, it was a real mess.
Karen: So what're you gonna do now?
Chloe: Oh, we cleaned it up.
Trivia
Tom Berenger said "The Big Chill" is "about that period in life when you're beginning to realize you have limitations, that you will never accomplish certain goals and dreams. Suddenly you know you're not a kid anymore."
The cast lived together for several weeks in a small town with little happening. This meant they became very well acquainted, physically comfortable with each other, and good at improvising. It also meant there was more rehearsal time than usual, so filming went quickly once it started.
William Hurt and Lawrence Kasdan made four movies together. Hurt declared this to be the most rewarding professional relationship of his career.
The eight major actors in this film were not only some of the most talented of their generation, but all about the same age and in similar stages in their careers which enhanced their roles and the story.
Sources
IMDb
New York Times review by Vincent Canby, September 23, 1983
Special features on Columbia Pictures DVD