A call girl (Rebecca De Mornay) teaches a Princeton applicant (Tom Cruise) about the free enterprise system.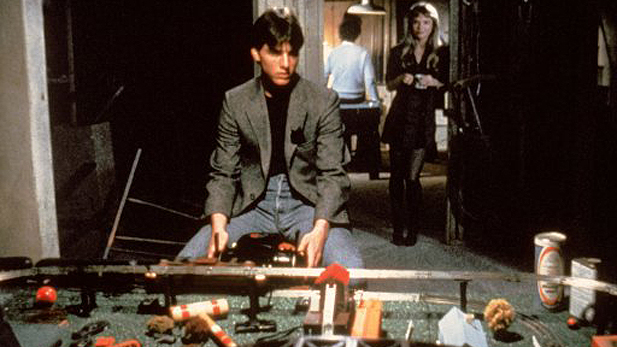 Plot Summary
Boys may be boys, but there are limits. In this satiric coming-of-age story high school senior Joel turns his parents' suburban Chicago home into a brothel for a few days, has a potentially fatal run-in with a pimp, and falls in love, er, lust with a young prostitute. An overriding theme here is the relative value of monetary gain versus personal fulfillment. And learning about trust. Who deserves it and how valuable is it anyway?
There is some snappy dialog here, lots of adolescent sex, and despite the potential for disaster, the only casualty is a car. This dates the story some, as the consequences would be greater now, but our hero learns a lesson or two about judgment and planning, and is looking at his future a bit differently. And humor is never far under the surface.
Commentary by Cicely d'Autremont
Quotes
Joel: "Some of the girls are wearing my mother's clothing."
Lana: "What's wrong with that?"
Joel: "I just don't want to spend the rest of my life in analysis."
Joel: "It was great the way her mind worked. No guilt, no doubts, no fear. None of my usual specialties. Just the shameless pursuit of gratification. What a capitalist!"
Lana: "What if I said I'd be your girlfriend the next couple of days? No charge."
Joel's father: "Haven't I been telling you? Every once in a while you just got to say "what the heck" and take some chances."
Joel: "You are so right."
Trivia
Domino's Pizza filmed an ad in 2020 copying the famous dance scene, with the pizza delivery man played by Curtis Armstrong.
Five different Porsche 928 cars were used in this film, four 1978 models and one 1981. A collector tried to buy them all, but only found one, which he purchased in 2012 at a Hollywood Memorabilia Auction for $49,200.
Curtis Armstrong and Bronson Pinchot both mentioned to interviewers that Tom Cruise made repeated and ugly homophobic statements, often not relevant to the topic of conversation. Pinchot commented later, when Cruise himself underwent gossip about being gay, "that's really fitting, because he tormented a lot of people as a 20-year old."
The photographs in the living room are of Tom Cruise as a child.
Sources
IMDb
Rotten Tomatoes
Review by Roger Ebert in the Chicago Sun Times, January 1, 1983