Hollywood at Home presents An Affair To Remember, Saturday at 9 p.m.
This 1957 romantic drama starring Cary Grant and Deborah Kerr is the second of three movies in which the two starred together. (The other two are Dream Wife (1953) and The Grass is Greener (1960).) The film, directed by Leo McCarey, is a remake of McCarey's 1939 film Love Affair starring Irene Dunne and Charles Boyer and is almost identical to Love Affair on a scene-to-scene basis. In fact McCarey used the same screenplay as the original film, which was written by Delmer Daves and Donald Ogden Steward.

The movie was nominated for four Oscars: Best Cinematography, Best Costume Design, Best Music, Original Song, and Best Music, Scoring. The film's title song, "An Affair to Remember (Our Love Affair)" was a major hit for Vic Damone holding a place on the Hit Parade for 16 weeks.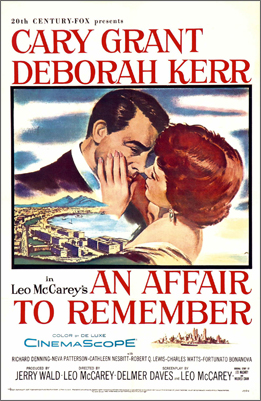 Plot
Playboy Nickie Ferrante makes headlines with his engagement to one of the richest heiresses in America. Sailing from France to New York to meet his fiancé, Nickie is intrigued when he sees fellow passenger Terry McKay carrying his misplaced cigarette case. She returns the case and Nickie follows her to her room, where she lets him know that she is engaged to Kenneth Bradley. But Terry can't resist Nickie's charm, and accepts his dinner invitation. And so begins their shipboard romance.

The night before the ship reaches its destination in New York, Terry confesses that she no longer loves Kenneth. Realizing that together, they have finally found happiness, Nickie proposes and asks Terry to wait for him so he can prove himself worthy of supporting her. They make a promise that if they still love each other in six months, they will reunite at the top of the Empire State Building.
Destiny intervenes, and a series of tragic events keeps Terry from meeting Nickie at the designated time. Nickie waits at the Empire State Building for her in the midst of a rainstorm, reluctantly leaving when he realizes she won't be coming. The two eventually see each other again, but will their love endure?
Hollywood at Home presents An Affair To Remember, Saturday at 9 p.m.