Frank Sinatra, Grace Kelly and Bing Crosby star in this romantic musical comedy with songs by Cole Porter.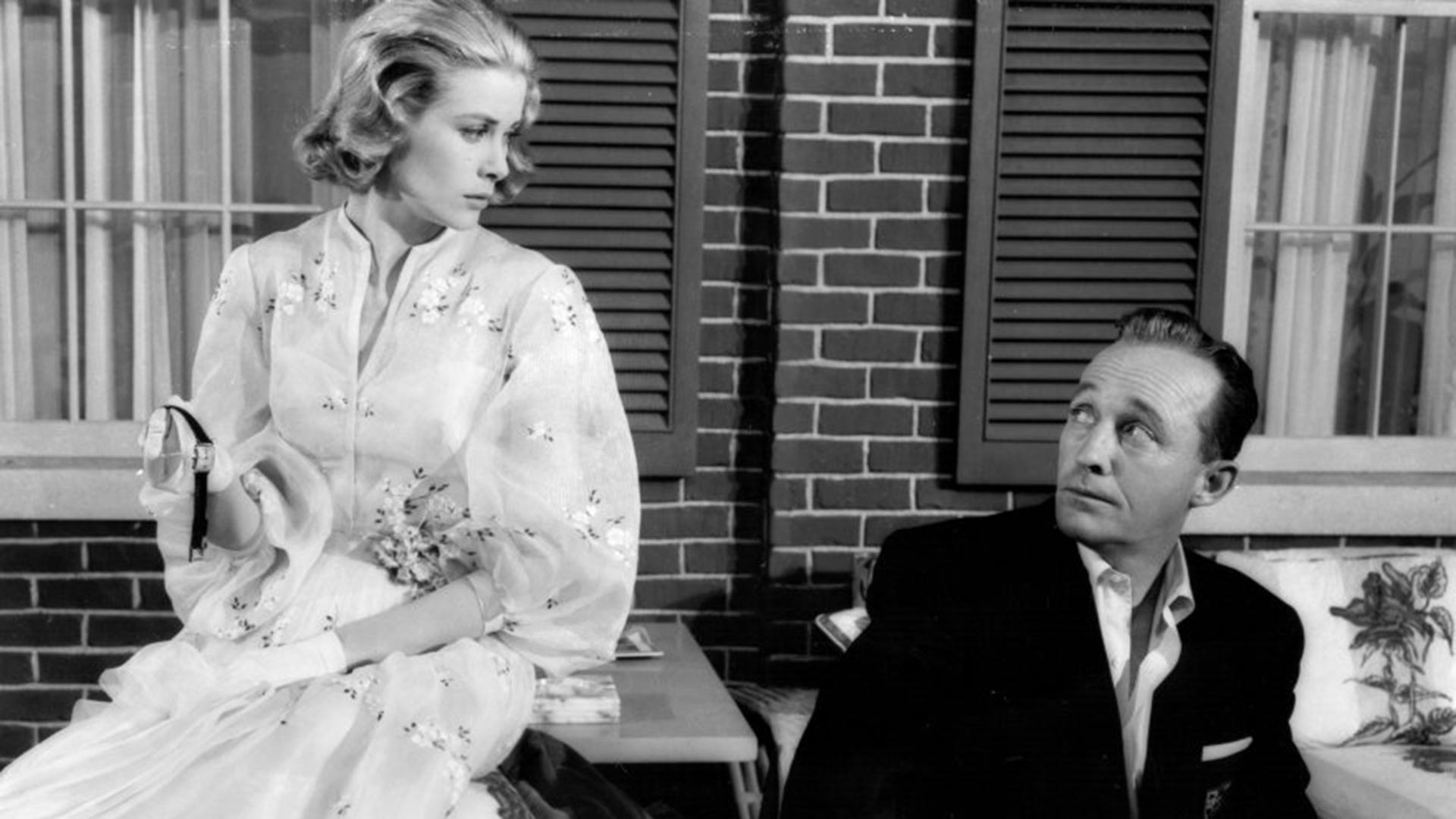 Grace Kelly and Bing Crosby in High Society (PHOTO: WB)
This film is a musical remake of the "Philadelphia Story", and for this reviewer Grace Kelly is a better choice than Katharine Hepburn, though each does a very credible spoiled debutante. And one might miss Cary Grant, but the music makes up for anything. Beginning and ending with Satchmo, who functions as himself and as Greek chorus.
Tracy Lord is getting remarried, to a humorless arriviste named George. But her ex-husband, her little sister, her estranged father, an arbitrary newspaper reporter, and the band leader disapprove. The story is about how each faction convinces her that another wedding would be vastly better. The marvelous voices of Frank Sinatra, Bing Crosby, and Louis Armstrong, robed in the music of Cole Porter, provide whatever emotional depth and humor there is.
Echoes of the Newport Jazz Festival far outweigh class differences and dramas. What a swell party this was.
By Cicely d'Autremont
Quotes
Mike Connor: "Don't dig that kind of crooning, chum."
C.K. Dexter-Haven: "You must be one of the newer fellows"
Louis Armstrong: "Right song, but the wrong girl."
Mike Connor: "Mr. Kittredge, it may interest you to know that our so-called affair consisted of exactly two kisses and one rather late swim, both of which I thoroughly enjoyed and the memory of which I wouldn't part with for anything. After which I returned here, carried her to her room, deposited her on her bed and promptly returned here, which you will no doubt remember."
George Kittredge: "That's all?"
Mike Connor: "That's all."
Tracy Lord: "Why? Was I so cold? So forbidding?"
Mike Connor: "Not at all. On the contrary you were somewhat the worse, or better, for the wine and there are rules about such things."
Uncle Willie: "My dear boy, this is the sort of day history tells us is better spent in bed."
Tracy Lord: "Mother, don't you think Caroline is old enough to be sent to a good military school?"
Tracy Lord: "Help me off the pedestal."
Seth Lord: "Watch out for that first step, it's quite a tumble."
Trivia
This was Grace Kelly's final film before she retired to be married to Prince Rainier. The engagement ring he gave her was the one she wore in the movie.
There were four Oscar winners and one Oscar nominee among the cast: Grace Kelly; Frank Sinatra; Celeste Holme; Bing Crosby and Louis Calhern.
The film was included in the "1001 Movies to See Before You Die", Ed. By S. Schneider.
Despite the original play having been set in Philadelphia, the film was set in Newport, R.I. to take advantage of the Newport Jazz Festival.
The mansion up to which Louis Armstrong's band originally drove is located at 750 Bel Air Rd, Los Angeles, and later became the home of the Clampett family in the "Beverly Hillbillies".
Sources: IMDb, Wikipedia, TCMDb