An Indiana lineman and other UFO sighters have documented contact with space aliens.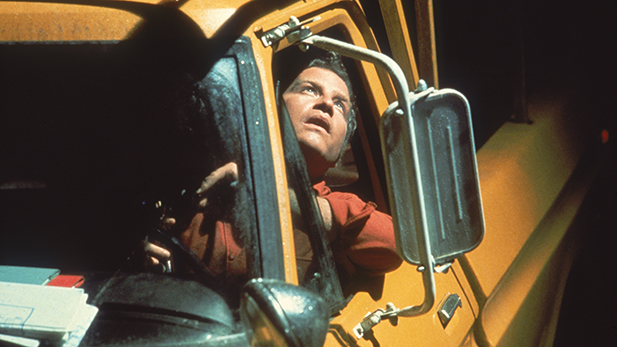 (PHOTO: APT)
Every once in a while the always simmering preoccupation of Americans with the possibility of life in outer space erupts in a flurry of fascination, however implausible, irrational or silly. "Close Encounters of the Third Kind" is one such occasion. The story begins in the cramped, chaotic house of Roy Neary (Dreyfus) who is inadequately trying to help his uninterested eight-year old son with his math homework. Every family member is making noise, as are a couple of mechanical contraptions, so concentration and communication are impossible.
The story cuts to the small house of a single mother who unaccountably sleeps in her clothes. Her small son is wakened by each one of his mechanical toys, of which he seems to own a plethora, beginning to chirp, squeak, whir, or bang on its own. The child is drawn out of the house into the woods by something he can see but the rest of us do not. His mother sees him leave from a window, gives chase, but cannot find him. And so it begins.
That child turns up, obviously having had a friendly encounter with someone, somewhere; other people are drawn out to follow a light in the sky; Roy's family is so disconnected from whatever phenomena are occurring that his wife takes the kids to mother, leaving him to follow the light. No hanky panky of course, which is too bad, as that would have lent some interest to a disjointed story presented with uninspired acting.
Secret aspects of the government are involved, unsurprisingly, which allows for scenes of confused air traffic controllers, milling scientists, and the occasional military leader. Even a foreign expert, portrayed by Francois Truffault.
This movie is very dated, so it is important to remember that it was filmed before GPS; before international terrorism became a daily reality; when the lights on a "UFO" would not automatically call to mind the emergency department of a hospital; when the trustworthy Walter Cronkite reported the news; when cameras all used film; and the phrase "every living Christian soul" could somehow mean everyone. Watch it as a period piece, by all means. Or as part of its particular genre. But perhaps not to revisit any feeling of titillation or fright. Some experiences simply cannot be duplicated.
By Cicely d'Autremont
Trivia
Both Steven Spielberg and John Williams chose the five notes that announce the visitors from hundreds of permutations.
Cary Guffey acted so well that each of his scenes needed only one or two takes. Spielberg had a t-shirt printed for him saying "One Take Cary."
The crowd in India is shouting "Aaya Re! Aaya!" which means "He has come" in Hindi.
Most of the lighting effects of haloes and beams from the UFO's were filmed in dark, smoky rooms.
The dog in the scene when people debark the ship is Spielberg's own pet. He also appears in "Jaws."
The character of Charles Lacombe (Truffault) is based on Jacques Vallee, a real life UFO expert from France.
Quotes
Project Leader: "He says the sun came out last night. He says it sang to him."

Roy Neary: "I guess you've noticed something a little strange with Dad. It's okay, though. I'm still Dad."

Roy Neary, to the officials:"Is that it? Is that all you're gonna ask me? Well, I gotta couple of thousand goddam questions…What the hell is going on around here? Who the hell are you people?"

Air Traffic Control: "TWA 517 do you want to report a UFO?"
TWA Pilot: "Negative, we don't want to report."
Air Traffic Control: "Air East 31, do you wish to report a UFO?"
Air East Pilot: "Negative, we don't want to report one of those either."
Air Traffic Control: "Air East 31 do you wish to file a repot of any kind to us?"
Air East Pilot: "I wouldn't know what kind of report to file, Center."
Air Traffic Control: "Uh, Air East 31, uh, me neither."
Roy: "I want to speak to the man in charge."
David Laughlin: "Mr. Lacombe is the highest authority."
Roy: "He isn't even an American?"
Claude Lacombe: "Mr. Neary, what do you want?"
Roy Neary: "I just want to know that it's really happening."
Scientist #1: "Einstein was right."
Team Leader: "Einstein was probably one of them."
Sources:
IMDb
TCMDb
Wikipedia