This Week
Airs Saturday, February 22nd @ 9 pm
This 1958 war drama was directed by Robert Wise, and written by John Gay from the novel by Commander Edward Beach. Russell Haran received an Oscar for his cinematography on this film. The movies stars Clark Gable and Burt Lancaster. This picture was Don Rickle'sfirst film role.
PLOT
Commander Rich Richardson (Clark Gable) developed an Ahab-like obsession for destroying the Japanese ship that sank his last command in the Bungo Straits in 1942, and he has had an entire year behind a desk to feed this obsession. He acquires another command, over the head of the first officer Jim Bledsoe (Burt Lancaster), and there ensues a virtual father-son struggle for supremacy and survival in the naval war in the Pacific.
Don Rickles provides some humor, and the cast and tight direction provide a clear and seamless picture of the close quarters, competition, and communication styles on a combat submarine. All with plenty of sweat and suspense along the way. There are also touching moments delineating the rise of one career crossing paths with the fall of another, both on and off the screen.
By Cicely d'Autremont

Run Silent Run Deep Saturday, February 22nd @ 9 pm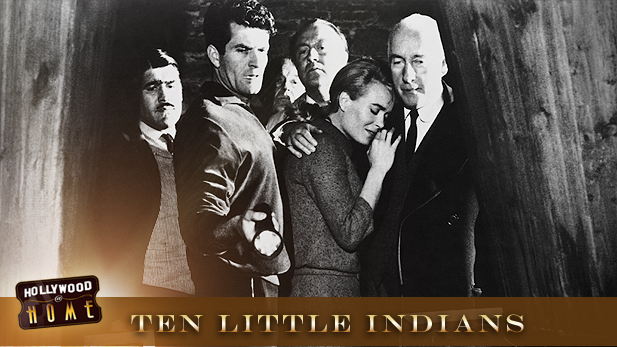 Airs Saturday, February 22nd @ 10:34 p.m.
This 1966 film was directed by George Pollack and produced by Oliver Unger. The screenplay was written by Peter Yeldman and Peter Welbeck, based on the story by Agatha Christie. The film stars Hugh O'Brian, Shirley Eaton and Fabian
PLOT
As in the Agatha Christie story of 1940, eight strangers convene on a rainy night in the mountains for a mysterious house party. Even the servants do not know the owners, which adds to the mystery. It is soon apparent that the agenda is that each guest must atone for a previous crime, so the unfolding story reveals who did what to whom, and their "sentence". The hidden host acts as judge, jury, and executioner.
There are much suspense, sinister accents, the required love story, innocence, guilt, and resolution. All within ninety minutes.
By Cicely d'Autremont

Easter Parade, Saturday, February 22nd at 10:34 p.m.