Nick and Nora Charles (William Powell, Myrna Loy) visit his hometown and link art and corpses to a spy ring.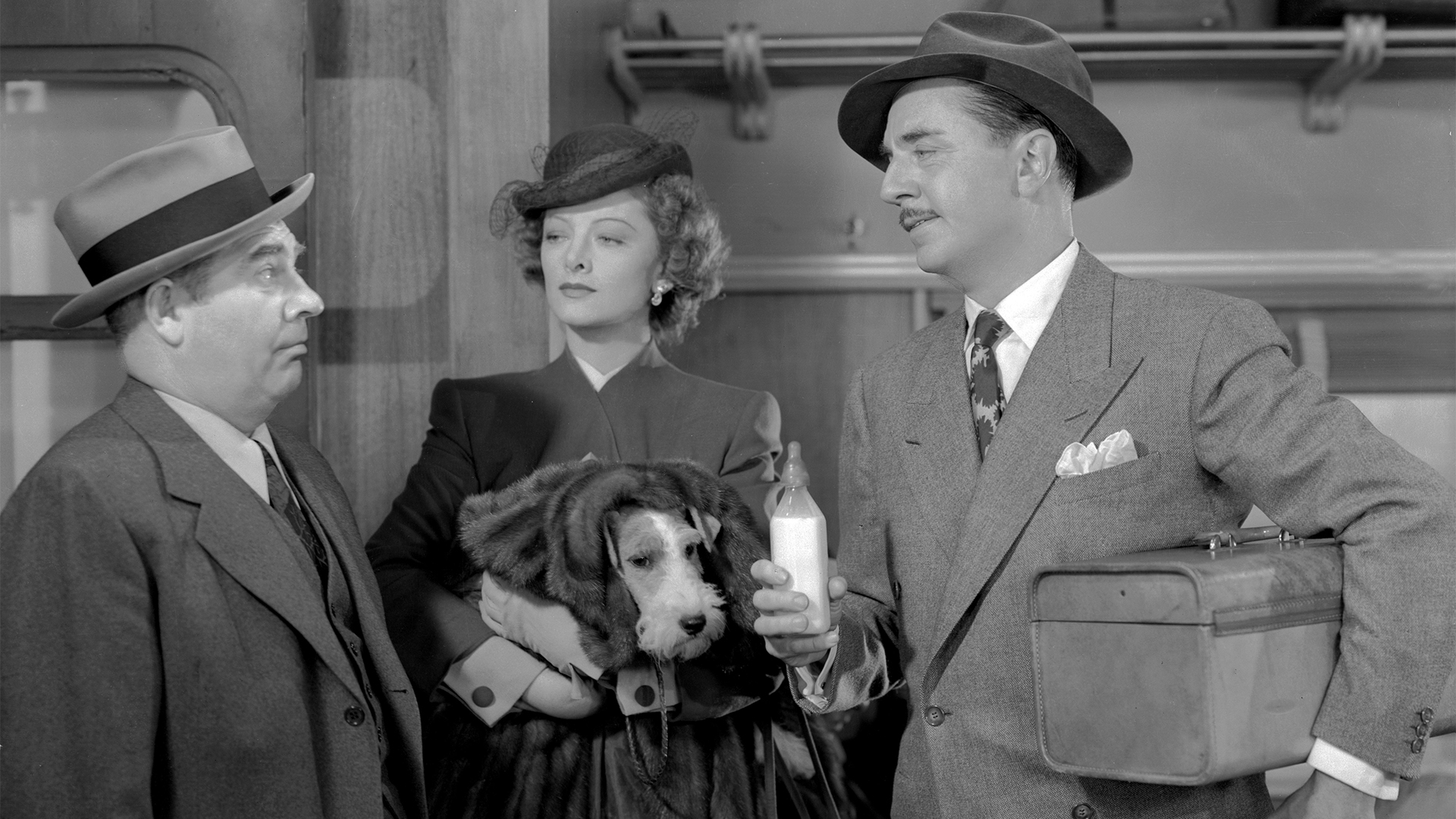 (PHOTO: APT)
Thin Man movie writers love trains, so once again the film begins on a train as Nick and Nora Charles are relegated to the baggage car with their pooch as they steam through the country toward Nick's childhood home. He is unenthusiastic about seeing his critical father, but Nora is determined to create a loving, respectful bond between them. The mission seems futile until the inevitable murders mar the smooth surface of country life, and allow Nick's reputation and talent to carry the day.
Hollywood at Home host, Victoria Lucas, shares some trivia on this week's feature film.
The charming chemistry between William Powell and Myrna Loy remains evident in this story, their twelfth film together, even if they, and the script, are a bit less sprightly. Nora asserts herself a bit more than usual, weathers the reaction, and spends time in the kitchen, which is a first. Nick maintains his shady friends, esoteric knowledge so necessary in movie detectives, and general charm.
Meanwhile, paintings by a local artist are in too much demand, especially when he is shot, and a "crazy" woman is also killed. The story is a bit convoluted, but Nick performs well, while remaining sober, no less, and his father is ultimately proud. All is well.
By Cicely d'Autremont
Sources IMDb, New York Times movie reviews, January 26, 1945

Quotes:
Nick Charles: "A couple of weeks on this cider and I'll be a new man."
Nora Charles: "I sort of like the old one."
Nick Charles: "Why, darling, that's the nicest thing you've said to me since the time I got my head caught in the cuspidor at the Waldorf."
Nora: "Who's Sam Ronson?" Mrs. Charles: "He's the town banker. He has a hand in everything that goes on here. I suppose he's what you call a typhoon."
Dr. Charles: "Don't you mean tycoon, Mother? Typhoon is a sort of big wind."
Mrs. Charles: "Well, that's Sam Ronson."
Willie Crump: "Bad ones. Always gave me his bad pictures to sell. Never his good ones. Just higgledy-piggledy. That's the way he was. You know, artists are all like that. They keep their good pictures and sell their bad ones. It seems that a good artist is just naturally higgledy-piggledy. Maybe that's why he's a good artist. Or, maybe it's reversed."
Nick: "Wait here."
Nora: "Where are you going?"
Nick: "I want to do a little business with a blonde."
Nora: "Do you think she'll give it to you?"
Nick: "Well, I can try Darling. Anything for art."
Hollywood at Home: The Thin Man Goes Home, Saturday at 9 p.m. on PBS 6.