This electrifying musical sets the ageless tragedy of Romeo and Juliet in the slums of 1950s New York.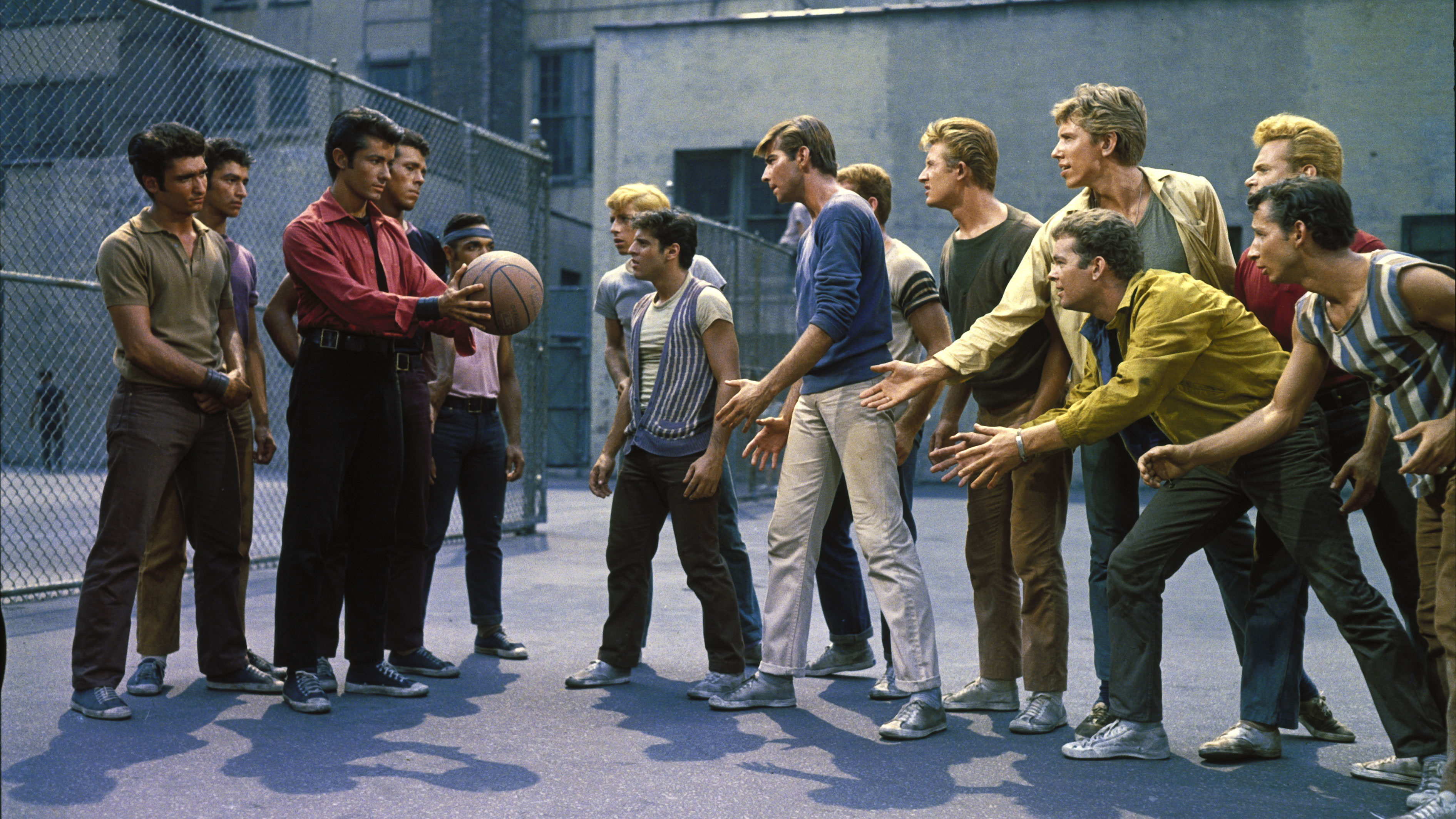 APT
Plot Summary
This is a 20th century version of Romeo and Juliet with Montagues and Capulets replaced by rival street gangs who are white and Puerto Rican, and Verona usurped by the slums of Manhattan. A fire escape does make a credible balcony. The nurse in the play has metamorphosed into "Doc," a candy store owner, who should be massaging a concentration camp tattoo. The kids themselves are surprisingly clean cut and threatening only to each other. Even the "mean streets" seem kinder than they do now.

The singing and dancing diminish much of the menace, at least in the first half, making the production border on the corny. But there are the racial hatred of the white detective, and the actual deaths, of course, which all remain timely. In 2020 the movie is visually incongruous, and too easily passed off as dated. But, oh, the music! These songs have proven their immortality, as has the story. The tunes will live in your head, and who could forget the lyrics turning urban ills like drug addiction and poverty into a "social disease"? Or the plaintive dream for "a place for us"? Could be the cry of many an immigrant at any time.
Commentary by Cicely d'Autremont
Quotes
Doc: "Why do you kids live like there is a war on?"
Lieutenant Schrank: "Do you mind?"
Doc: "I have no mind. I am the village idiot."
Maria: "My brother is a silly watchdog!"
Bernardo: "Ah, my sister is a precious jewel!"
Anita: "What am I, cut glass?"
Riff: "Boy, I am a victim of disappointment in you."
Riff, in song: "When you're a Jet you're a Jet all the way from your first cigarette to your last dying day."
Girls, singing: "I like to be in America. Okay by me in America. Everything free in America…"
Bernardo: "For a small fee in America!"
Action, pretending to be a psychiatrist: "Juvenile delinquency is purely a social disease."
Riff: "Hey, I got a social disease!"
Doc: "When do you kids stop? You make this world lousy."
Action: "We didn't make it, Doc."
Trivia
The actors who played Sharks and Jets played pranks on each other off set, encouraged by the crew, to establish and maintain tension between them.
Tony and Riff swear loyalty to each other with "womb to tomb" and "birth to earth." Tony's answer on stage was "sperm to worm", which was considered improper for the movies.
The director's first choice to play Tony was Elvis Presley.
This was the biggest selling sound track at the time.
The role of Maria was offered to Audrey Hepburn, who refused it because she was pregnant.
This film received an Oscar for both directors, which was the first time such an award had been presented. It was not presented again until it was given to Joel and Ethan Coen for "No Country for Old Men" in 2007.
Filming went on for six months, but sound mixing and editing lasted for seven.
With ten awards, this film won more Oscars than any other musical in history.
The BBC banned the song "Gee Officer Krupke" because it alluded to drug use and sexual ambiguity.
Many scenes were deliberately shot to emulate modern American painters of New York City, particularly Robert Vickery and Ben Shahn.
Sid Ramin and Irwin Kostal orchestrated the film score as well as the Broadway show. They tripled the orchestra for the movie, with a result that Leonard Bernstein disliked as "lacking in texture and subtlety."
Sources
IMDb

Wikipedia

TCMDb