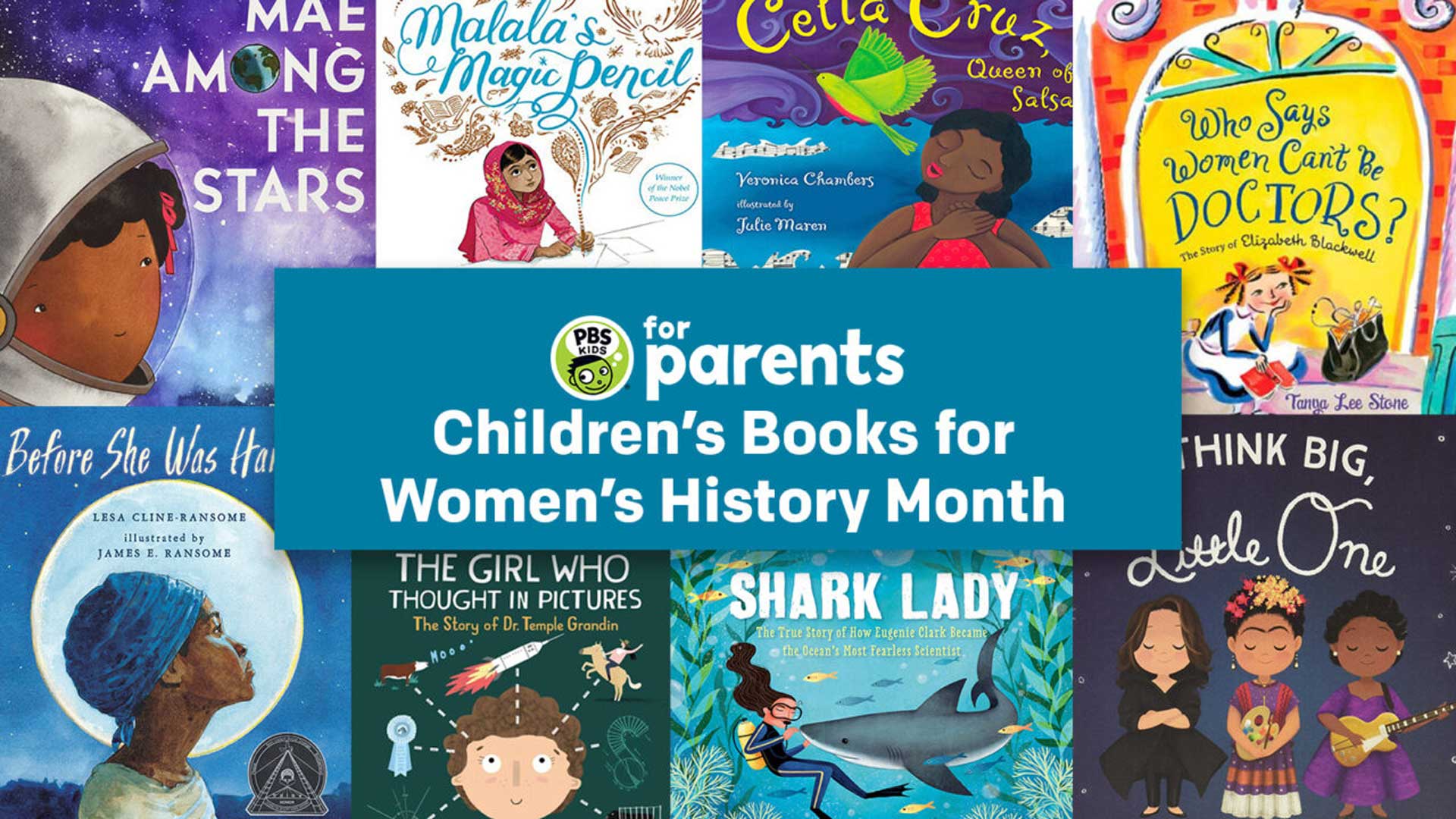 PBS Parents
When my daughter was 3 years old, one of her favorite library books we'd borrow was Who Says Women Can't Be Doctors? about Elizabeth Blackwell, the first female doctor. I loved that my daughter was inspired by her story at such a young age, and this book started our love of picture book biographies. In honor of Women's History Month, here are 15 such books about impactful and inspirational historic and modern-day women. While some of these women are well-known, others are not — yet all of them have made an important mark on the world.
Shark Lady: The True Story of How Eugenie Clark Became the Ocean's Most Fearless Scientist
Jess Keating (Author) and Marta Alvarez Miguens (Illustrator)
From a young age, Eugenie Clark loved sharks and wanted to learn everything about them — and disagreed with those who considered sharks to be mindless monsters. In this beautifully illustrated story, readers learn how Eugenie dedicated her life to the study of sharks.
Mae Among the Stars
Roda Ahmed (Author) and Stasia Burrington (Illustrator)
"If you dream it, believe in it, and work hard for it, anything is possible." This book tells how Mae Jemison, the first African American woman in space, followed her dreams to become an astronaut.
Kamala Harris: Rooted in Justice
Nikki Grimes (Author) and Laura Freeman (Illustrator)
This book tells the background story of the first woman, first Black person, and first South Asian American to serve as Vice President of the United States.
Planting Stories: The Life of Librarian and Storyteller Pura Belpré
Anika Aldamuy Denise (Author) and Paola Escobar (Illustrator)
When Pura Belpré came to America from Puerto Rico in 1921, she found work as a bilingual assistant at the New York Public Library. This book tells the story of Pura, a storyteller and puppeteer who championed bilingual literature.
Think Big, Little One
Vashti Harrison
In board book format for young readers, this book introduces 18 trailblazing women, including inventors, artists, writers, and scientists.
Malala's Magic Pencil
Malala Yousafzai (Author) and Kerascoet (Illustrator)
In this picture book, Malala Yousafzai, the youngest recipient of the Nobel Peace Prize, tells the story of her childhood in Pakistan and her quest to make the world a more peaceful place.
Who Says Women Can't Be Doctors?: The Story of Elizabeth Blackwell
Tanya Lee Stone (Author) and Marjorie Priceman (Illustrator)
When Elizabeth Blackwell was a child, women weren't allowed to be doctors. In this book, children learn that Elizabeth "didn't believe in couldn't or shouldn't" and overcame obstacles to become the first woman doctor.
Harlem's Little Blackbird: The Story of Florence Mills
Renee Watson (Author) and Christian Robinson (Illustrator)
The daughter of former slaves, Florence Mills began singing and dancing as a young child. In this book, children see how Florence became an international star who used her voice not just for entertainment, but also to call for equal rights.
Just Like Beverly: A Biography of Beverly Cleary
Vicki Conrad (Author) and David Hohn (Illustrator)
Children's book author Beverly Cleary began as a young girl who struggled to read — but this story shows how Beverly successfully created relatable books that are now beloved by generations of children.
She Persisted: 13 American Women Who Changed the World
Chelsea Clinton (Author) and Alexandra Boiger (Illustrator)
With child-friendly stories of women like Helen Keller, Ruby Bridges, Sally Ride, and Sonia Sotomayor, this book introduces 13 American women who pushed through barriers and reached their dreams.
Frida Kahlo and Her Animalitos
Monica Brown (Author) and John Parra (Illustrator)
In this book, children are introduced to renowned artist Frida Kahlo, her childhood, her art, and her numerous, diverse pets.
Wilma Unlimited: How Wilma Rudolph Became the World's Fastest Woman
Kathleen Krull (Author) and David Diaz (Illustrator)
When Wilma Rudolph contracted polio as a young child, she struggled to learn to walk again, but this inspiring book shows how Wilma overcame barriers and became one of the world's greatest athletes.
The Girl Who Thought in Pictures: The Story of Dr. Temple Grandin
Julia Finley Mosca (Author) and Daniel Rieley (Illustrator)
In rhyming prose, this book tells the story of Temple Grandin, who was diagnosed with autism at a young age. Throughout the story, children will see how Temple used her unique mind and visual thinking skills to become an amazing scientist.
Before She Was Harriet
Lesa Cline-Ransome (Author) and James E. Ransome (Illustrator)
Many have heard of Harriet Tubman as a conductor on the Underground Railroad, but this story introduces children to Harriet in many different roles — as a child, a slave, a spy, a nurse, and a suffragist.
Celia Cruz, Queen of Salsa
Veronica Chambers (Author) and Julie Maren (Illustrator)
This book tells the story of Cuban salsa singer Celia Cruz — from her childhood to her rise to fame as the Queen of Salsa.
---
Formerly an elementary school teacher, Katie McKeown is now a stay-at-home mom and a master's degree student in library and information science. She loves exploring new places, reading children's books, and making to-do lists. Katie is always on the lookout for the next great book to share with her two bookworm kids.