This 1979 film is loosely based on the Great Gold Robbery of 1855, a daring train robbery that shocked Victorian society.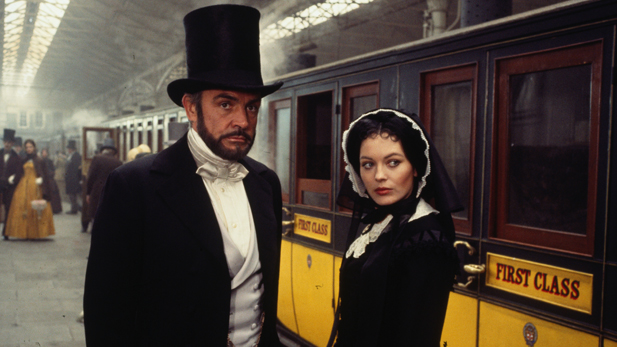 Sean Connery and Lesley-Anne Down
Edward Pierce (Sean Connery) lives a double life as a respectable member of London's high society, while at the same time secretly operating as a master thief. Pierce is planning the robbery of a moving train, something that has not been done before. The train transports a monthly shipment of gold, used to finance the Crimean War.
For the scheme to work, Pierce needs a team of thieves with specialized skills. He quickly recruits his old friend Robert Agar (Donald Sutherland), a pickpocket and expert at duplicating keys. The rest of the team includes his beautiful mistress Miriam (Leslie-Anne Down), who is an actress, his cab driver, and the guard to the train car the holds the gold.
The robbery is planned in precise detail, including access to security information and the secret location of four sets of keys needed to open a pair of locks on each of two safes that contain the gold. The scheme goes smoothly, until one more person, a cat burglar known as Clean Willy, is added to the team. A double cross by Willy undermines the elaborate plot, and Pierce is forced to quickly put together an alternate plan if the heist is to succeed.
Hollywood at Home: The Great Train Robbery, Saturday at 9 p.m. on PBS 6.
<