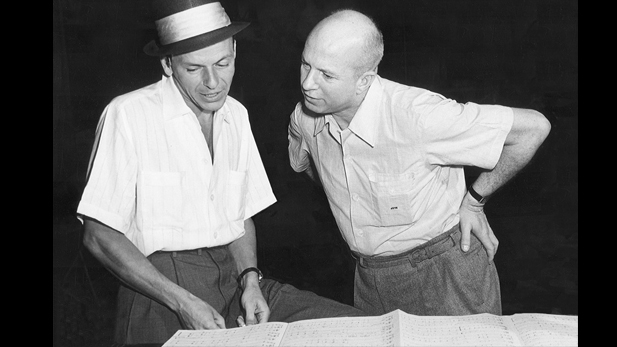 Frank Sinatra (left) and Jimmy Van Heusen looking at music together, 1950s.
Celebrate Oscar-winning composer and test pilot Jimmy Van Heusen, who wrote high-flying songs for his legendary pals: "Swinging on a Star" and "Moonlight Becomes You" for Bing Crosby and "Come Fly With Me" for Frank Sinatra, plus "Call Me Irresponsible," "The Tender Trap," "All the Way," "High Hopes," "Here's That Rainy Day" and many more. The program includes interviews with Frank Sinatra, Jr., Harry Crosby, Tony Bennett, Woody Allen, Angie Dickinson, Shirley MacLaine, John Pizzarelli and others, along with archival film and television clips of his timeless songs.
Jimmy Van Heusen: Swingin' With Frank and Bing, Saturday at 6 p.m. on PBS 6.
.