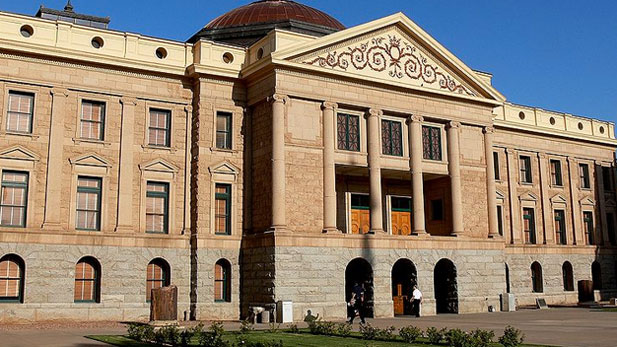 Arizona Capitol.

AZPM Staff
Two incumbents and a political newcomer are neck-and-neck in a three way race for two state House seats in Tucson's Legislative District 9.
Democrats state Rep. Victoria Steele and political newcomer Randy Friese have a lead over Republican incumbent Ethan Orr. But Orr and Friese are 247 votes apart.
On Monday morning, Steele, who is seeking a second term, had 33.51 percent of votes.
Friese, a surgeon at the University of Arizona Medical Center, had 33.21 percent, while Orr, who also hopes for a second term in the state House, had 32.95 percent of votes.
Democrats currently hold nine of the 14 state House seats in Southern Arizona. The party hopes Friese will unseat Orr to gain another.
All three candidates campaigned on education as their top priority in the district.
In LD 4, two political newcomers - Democrat Charlene Fernandez and Republican Richard Hopkins - are locked in a narrow race with Democratic incumbent Lisa Otondo.
Otondo, who is seeking a second term in the state House, leads over both newcomers with 35.15 percent of votes. Fernandez and Hopkins are merely 65 votes apart, with the Democrat holding 32.4 percent of votes and the Republican 32.22 percent.
The district covers most of southwestern Arizona, including parts of Maricopa, Pima, Pinal and Yuma counties.
About 9,000 ballots still need to be counted in Pima County, according to a Sunday evening update by the county's Recorder's Office. It weas unknown how many of them were in Legislative Districts 4 and 9.