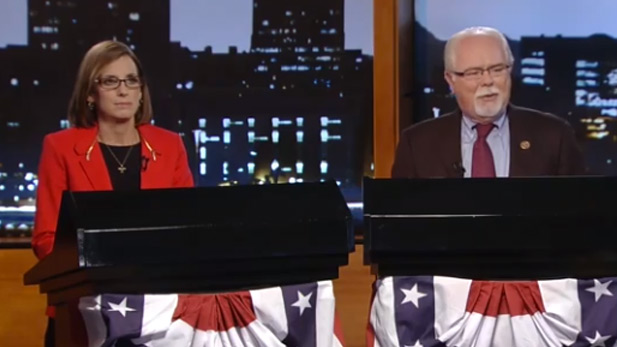 Republican Martha McSally, Democrat Ron Barber at AZPM debate Oct. 7, 2014.

AZPM Staff
Republican Martha McSally had a 133-vote lead over Democratic incumbent Ron Barber in Arizona's 2nd Congressional District Tuesday with all but a small number of ballots counted.
Any margin under 200 votes will trigger an automatic recount by state law, and that recount could not begin until the election is declared official by the secretary of state Dec. 1.
A county spokesman said "roughly 200" votes remained uncounted and will be added to the totals only if the voters present identification to county elections officials before 5 p.m. Wednesday.
The vote count as of Tuesday afternoon was 109,539 for McSally and 109,406 for Barber, a margin of 0.06 percent.
Barber spokeswoman Ashley Nash-Hahn said in a statement Tuesday afternoon that the Democrat "will work to see that every lawful vote is counted."
McSally said in a statement she was "confident that when all ballots are in, our lead will hold."
Both candidates have declined requests for interviews since Election Day one week ago, saying they wanted to wait for a final decision.
Pima County officials said 2,664 votes were counted Tuesday for the 2nd Congressional District.
Barber won the 2012 election over McSally by 2,454 votes, or 0.84 percent, in a race that took 11 days to settle.
Both sides have made calls for campaign contributions to help cover costs of a recount. A recount would be paid for with public money, although the campaigns would have expenses for lawyers and others involved in observing the process.
A congressional race in Arizona is subject to recount if the margin is fewer than 200 votes after the official secretary of state's canvass and certification, scheduled for Dec. 1.
The secretary then would go to Maricopa County Superior Court, where a judge would issue an order for the recount, which would be conducted electronically by the secretary of state. Following a hand count of a small number of randomly selected precincts and comparison of that with the electronic count.
If the count is within a predesignated margin, the results will be declared final, and the judge will issue an order to that effect.
McSally challenged the counting of some provisional ballots in Pima County Superior Court Monday for lacking poll workers' signatures, but a judge rejected the request. There was no word from McSally's campaign about the possibility of an appeal.