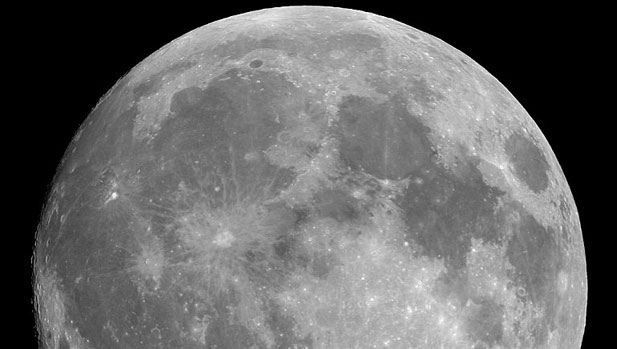 The Moon
The search for rare minerals on Earth could lead to mining operations on the moon, a University of Arizona scientist says.
More than four decades after he first examined moon rocks, UA professor Timothy Swindle said he and other researchers are asking if highly valued natural resources can be found on the moon.
Swindle and fellow researchers at the university's Lunar and Planetary Laboratory continue to study the moon's history, composition and magnetic field using information from modern spacecraft orbiting the moon. Swindle said the new race for lunar knowledge is a crowded field.
"The Chinese have sent missions to the moon," he said. "They have a rover there right now. The Indians have seen an orbiter around the moon, as well as the Americans, of course."
But Swindle warned the quest to exploit the moon for natural resources might be disappointing.
Some scientists have theorized that the moon could be a source for what are known as rare earth minerals, elements used in an increasing number of important technological industries. Michael Conway, a researcher with the Arizona Geological Survey, is among them.
"When we talk about the rare earths, we're talking about the rare earth element series - lanthanides," Conway said. "There are 15 of those, and often we group in yttrium and scandium as well, so 17 rare earth elements. It turns out they're not all that rare. They are actually relatively abundant in the earth's crust."
But Conway said the elements don't accumulate in mineral form all that frequently, so they are hard to find.
Personal computers and cell phones use metals derived from rare earth elements, as do a wide range of military defense items, from night vision goggles to precision guided weapons.
Could those same elements be mined on the moon?
"To be honest, I don't know the answer to that question," Swindle said. "We know how much material is there. What we don't know is how much it would take to mine it, to launch the material to do the mining, to refine it there or to bring it back.
"It turns out it's really hard to find the justification for doing mining in space. It has to be something that's pretty unique. And a lot harder to find on Earth than on the moon."
That hasn't stopped private industry from planning missions to harvest rare material from objects in outer space. They're targeting asteroids, some of which might be easier to reach than the moon.
Swindle said it all comes down to commercial value.
"There are things in asteroids, like precious metals, that might be more of an issue, than going out and mining them," he said. "One nation or one company doing it might spur another. Rare earth elements, they're rare on earth, but not rare enough to make mining the moon worth it."
The real value of going to the moon in the 21st century could lie in what it takes to get there. Swindle said he thinks the space between the Earth and its closest neighbor presents a good training ground for technology aimed at achieving something more difficult.
"The moon is a good target for a nation learning how to do space, so it's becoming more and more popular," he said. "We haven't had a human on the moon in more than 40 years, but humans going back to the moon makes sense because one of the real advantages the moon has over any other target, be it Mars or near earth asteroids, is that if something goes wrong, it's only a few days' trip away."
Swindle said future missions will remind scientists and laymen alike that space is big, and at least in relative terms, the moon is close.