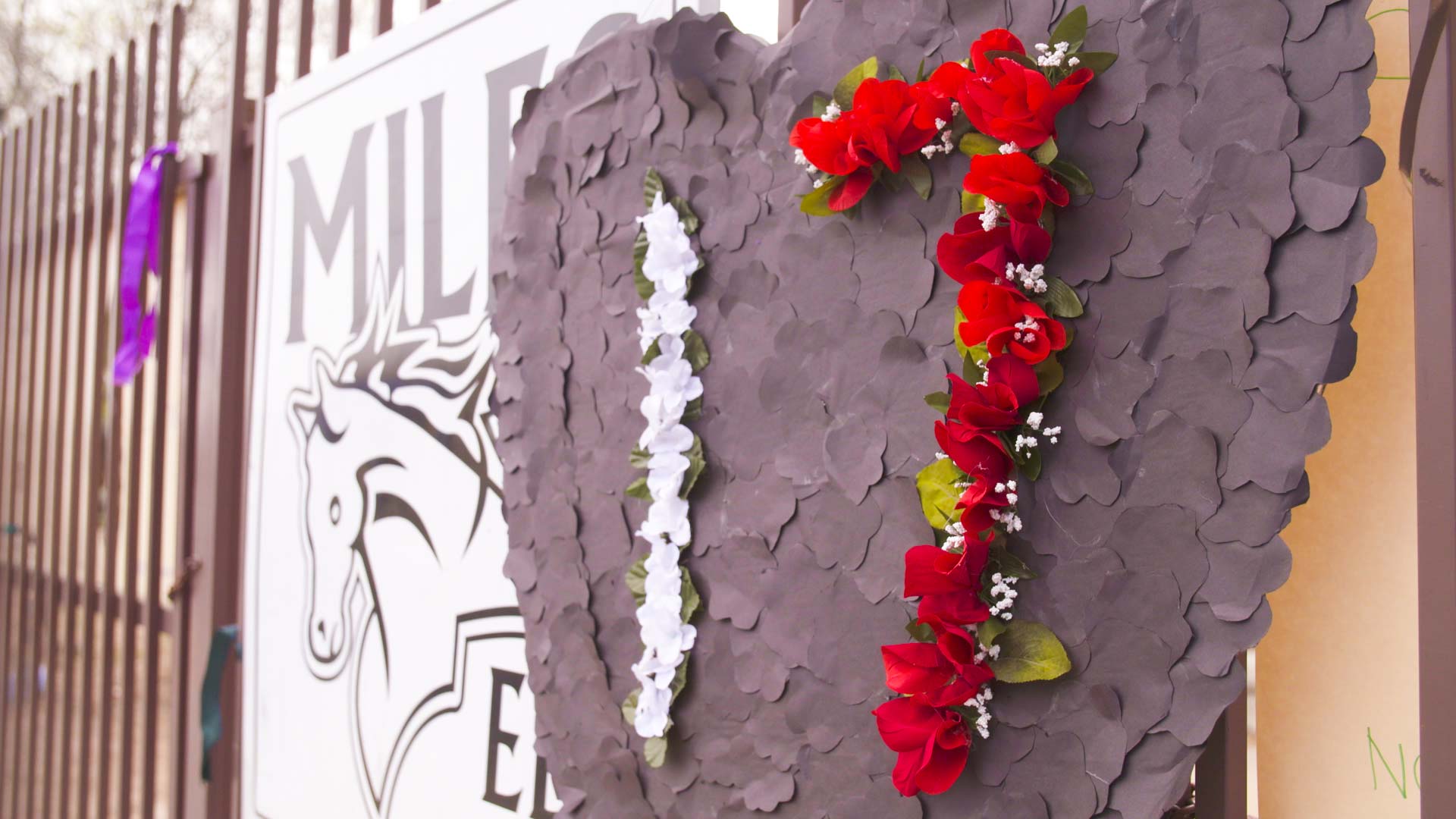 A sign put up March 14 outside the Miles Exploratory Learning Center in Tucson reading "17" in remembrance of the 17 people killed in a Parkland, Florida, school shooting one month before.
AZPM Staff
Students in Tucson plan to walk from Jacome Plaza in Downtown Tucson to the University of Arizona mall in protest of gun violence on Saturday. It's part of a national, student-led protest called March For Our Lives.
Since the Parkland, Florida, shooting, which killed 17 people, Sophomore Sharmila Dey from University High in Tucson hopes the protest will mobilize students to have a voice, bridging the gap between students and politicians.
"I think what is going to come out of that is politicians caring more about the youth and what they think," Dey said. "Making sure they're on board with whatever is happening in government as well."
Pima County Sheriff deputies have seen a surge in threats against schools since the Parkland shooting, which took place Feb. 14.
"The school resource officer unit has conducted 30 school threat investigations," said deputy James Allerton.
He said that's almost as many threats in five weeks as the department investigated in the first six months of the school year. The number only includes cases in unincorporated Pima County.
But schools throughout Tucson, like University High, have had to come up with their own protocol since the Florida shooting.
"A bunch of my teachers in my classes had to sit down with us and talk about what we would have to do in case there was a shooting," Dey said. "Where you would go, where we would have to sit, and they had to create this new protocol because of this new threat."
The Tucson Police Department says the police are working with schools to find out about threats.
"What we have done, too, is have additional school security on campus," said officer Christopher Hawkins said.
The department has been working with the organizers of the march in Tucson to make sure everything goes safely this weekend.
So far, more than 2,000 people have expressed interest through its Facebook page.
One in three young people polled by USA Today and Ipsos say they plan to participate.
Follow Brandon Mejia on Twitter or contact him via email at BMejia@azpm.org.