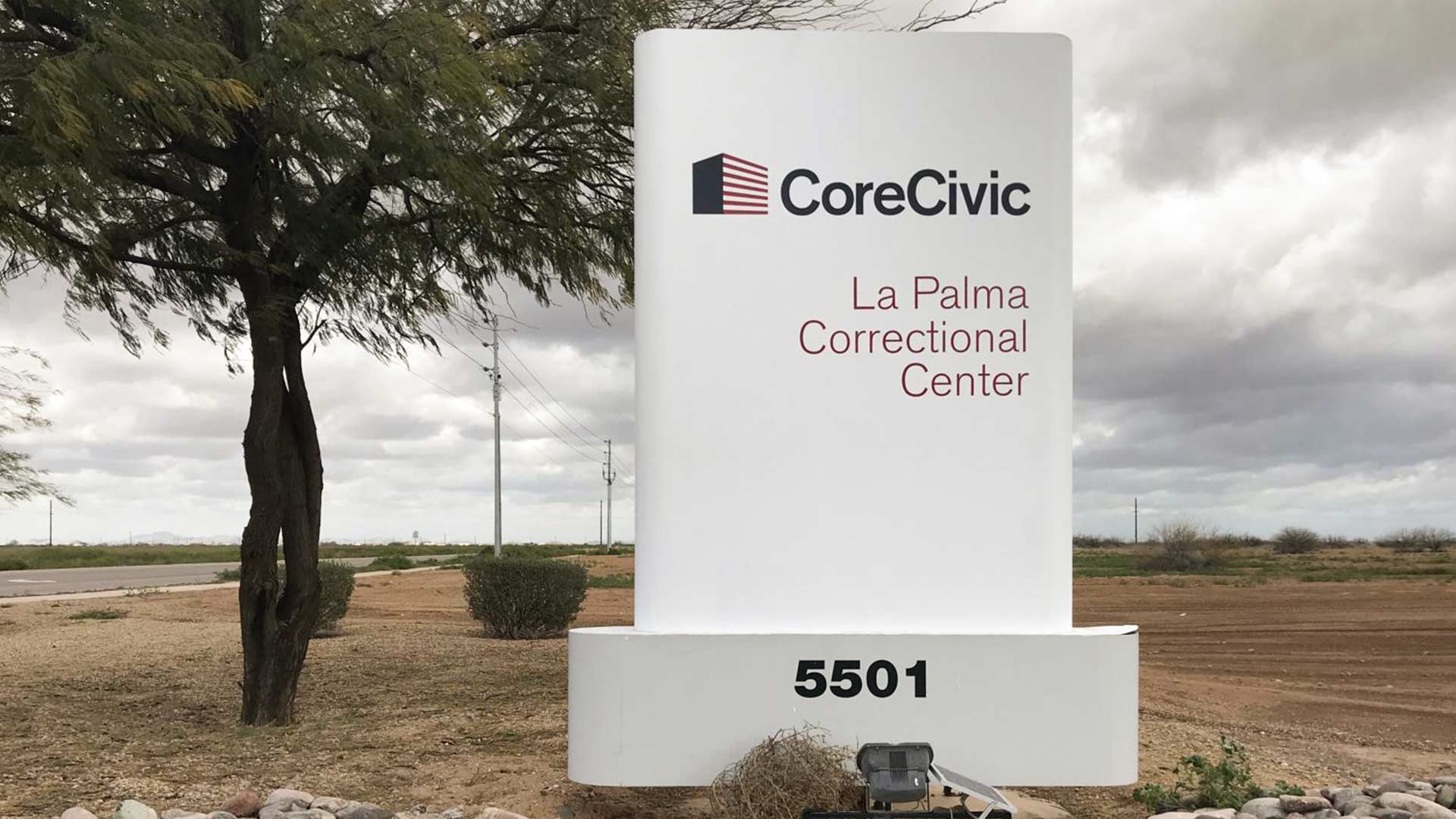 The entrance to the La Palma Correction Center in Eloy, Arizona, 2019.
Matthew Casey/Fronteras Desk
Daljitpal Singh Parmar turned his Mercedes-Benz to keep it on the right road to the La Palma Correctional Center. With the car's black interior further darkened by a cloudy day, low light reflected off a shiny ornament on the dash.
"This is the cross for Sikhs," he said.
Parmar was a kid when his parents fled to the United States from India. Now he's a rookie immigration lawyer whose very first client was due in court on a recent Wednesday morning.
"My parents were granted political asylum," he said.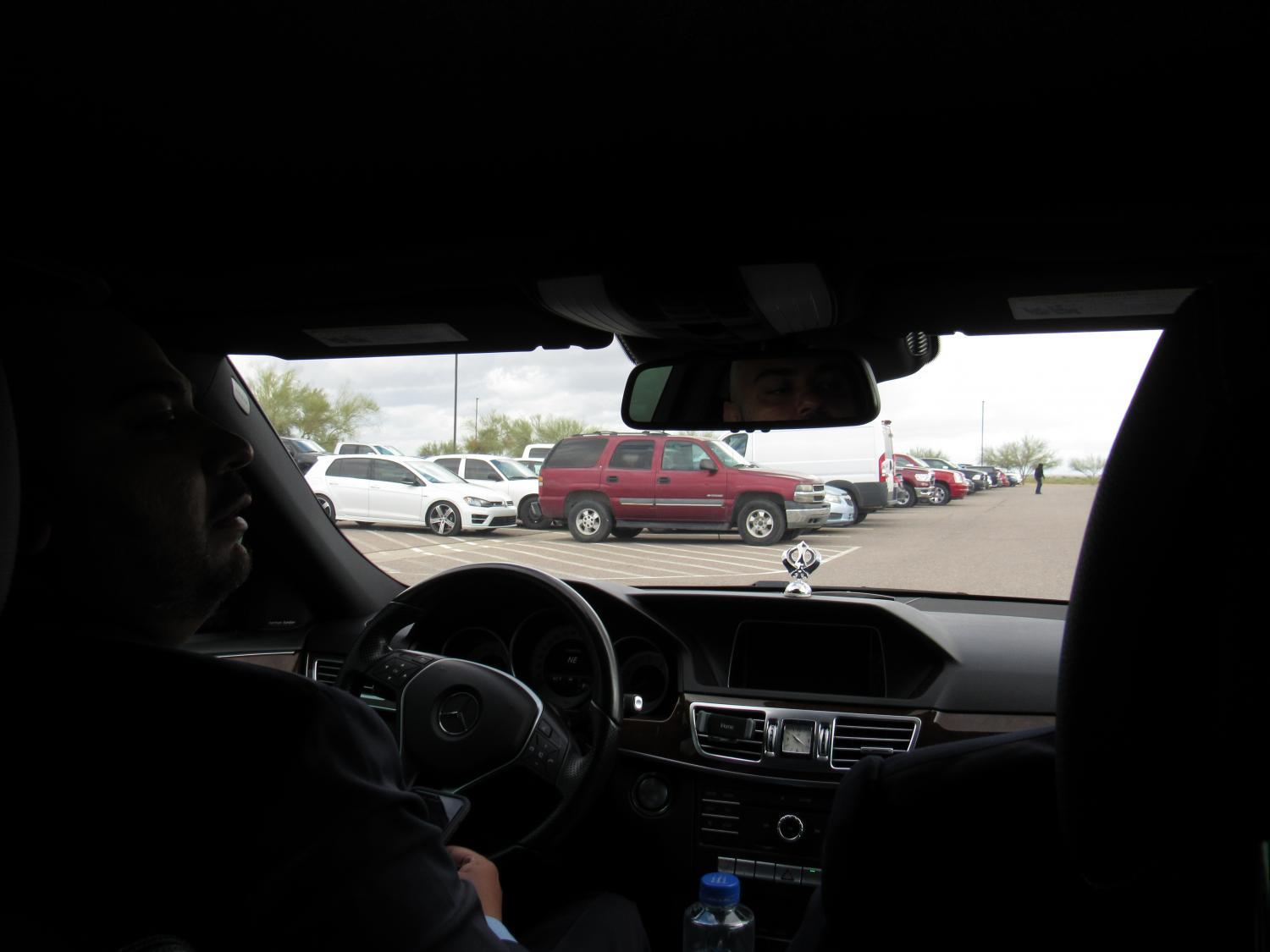 VIEW LARGER Immigration attorney Daljitpal Singh Parmar in the parking lot of the La Palma Correctional Center, where his very first client will have their asylum case decided via video conference.

Matthew Casey/Fronteras Desk
The pathway to citizenship has everything to do with why Parmar was headed for Eloy. His client had fled Venezuela — a country in chaos.
"Today we're going to be turning in the I-589, which is the application for asylum," he said.
It was only Parmar's second court hearing but, strangely, neither he nor his client were in the same room as the judge deciding the case.
Tele-video
Since February, detainees at a private prison in Eloy have been appearing on a screen in Tucson, instead of the immigration court next door. The practice is part of an effort to make an increasingly swamped system more efficient.
Parmar must use video conferencing to win what he said is a life-or-death case. He felt nervous before the hearing, but lucky to be there.
"Too blessed to be stressed," he said.
Federal law allows for the use of video conference in immigration cases, and a handful of U.S. Circuit Court decisions have found its use was legal. But there's a pending lawsuit against the practice in New York and talk of filing one in Arizona.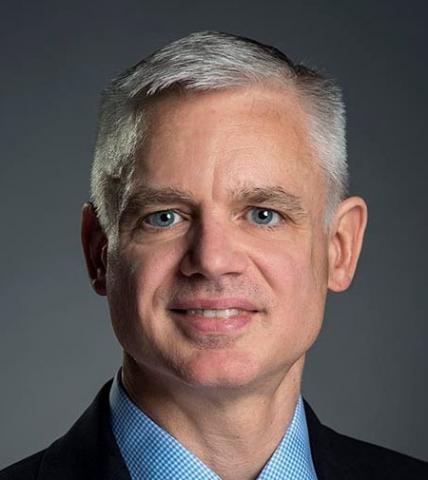 VIEW LARGER Doug Ligor, senior policy researcher for the RAND Corporatation and former government lawyer

RAND Corporation via Fronteras Desk
"I tried numerous cases where the immigrant prevailed, and it was tele-video," said Doug Ligor, a former government trial attorney, and now a senior policy researcher in the RAND Corporation's Boston office.
In an asylum case, a judge must weigh body language with testimony.
"That can be more difficult to do when the person is on a screen in a remote location," Ligor said.
An efficient system
Still, Ligor backs video conference hearings. He describes them as a tool for making immigration courts more efficient, and helping some people spend less time in detention. The system is fair to people seeking to stay in the U.S., as long as technological issues get factored in and courtroom staff are well-trained to spot problems.
"Folks need to be vigilant to make sure that, at the end of the day, the process is fair and that all of the due process elements for the immigrant are followed," Ligor said.
Alleged due process violations were at the heart of failed legal challenges in appeals courts. More cases could be brought as the government's use of video conference grows, said Ingrid V. Eagly, UCLA law professor.
"It can also be much harder for attorneys to actually defend these cases," she said.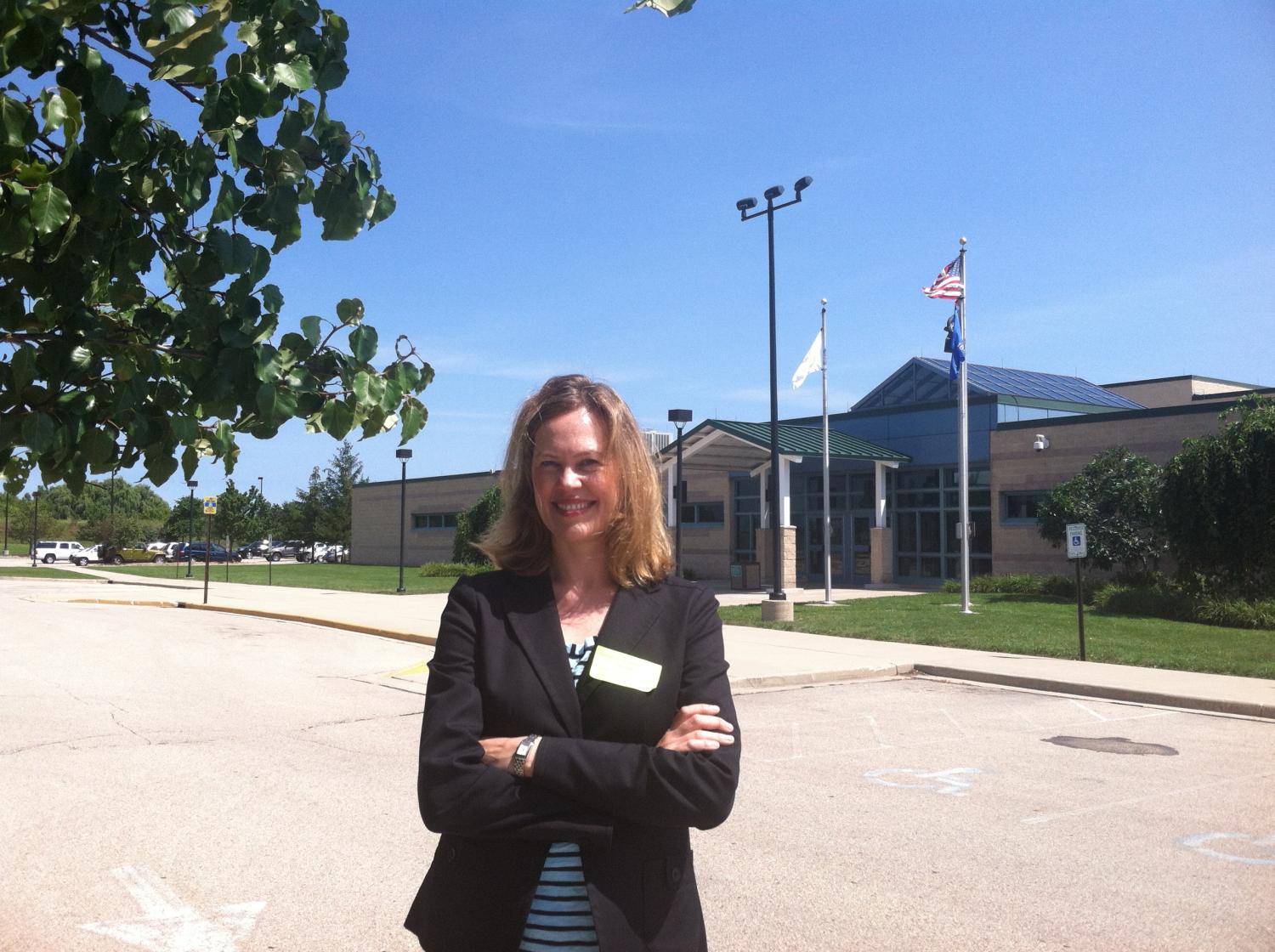 VIEW LARGER Ingrid V. Eagly, UCLA law professor, has published research on use of video conference in immigration court.

Courtesy Ingrid V. Eagly
Eagly's research found judges did not deny claims of people appearing via video conference at higher rates. But it also concluded that detained people with video cases were more likely to be deported than detained people who go to court in-person.
Attorneys also told Eagly about communication problems with interpreters working from different locations. It's an issue lawyers must consider, when choosing where to try their client's case from.
"They need to make an impossible decision about whether to sit with their client in a remote location and be beamed into the courtroom, or whether to join the courtroom and be present with the judge," she said.
Real connection
Daljitpal Singh Parmar has decided to be with his client inside the La Palma Correctional Center. But he encountered a different setup at their second hearing — the judge and government lawyers were on one video screen, instead of two.
Parmar said the setup is awkward, and makes it harder to humanize his client. On the drive back to the Valley, he worried it could cost him the case.
"If I'm going to have an expert witness testify, is the screen going to get even smaller?" he said.
The witness is an expert on Venezuela, where Parmar's client was part of a government opposition party.
"And some of his colleagues have been jailed and tortured and killed," he said.
The man has been in detention since November, and Parmar needs to finish gathering evidence before arguing the asylum claim — a huge step the brand new lawyer estimated will come in early May.