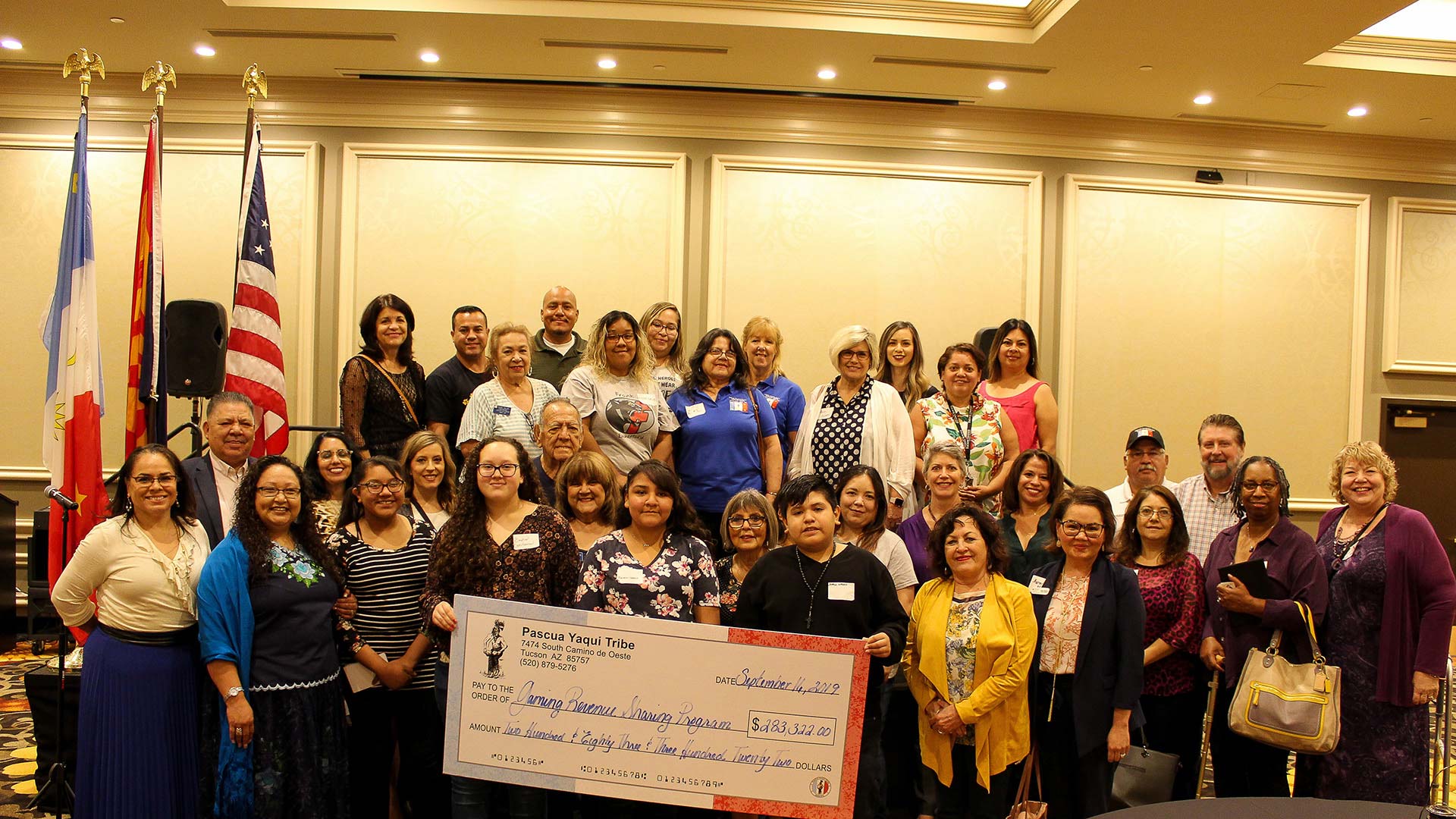 Tribal officials and representatives from the 14 organizations that received a grant through the Pascua Yaqui Tribe's gaming contributions pose September 16, 2019, with a check for the total amount donated to the organizations.
Courtesy of the Pascua Yaqui Tribe
The Pascua Yaqui Tribe awarded $283,322 to more than a dozen organizations across Arizona as part of the its tribal gaming compact with Arizona.
According to the compact, tribes with casinos must give 1% to 8% of their gaming revenue to the state. The percentage is determined by the amount of the tribe's annual gaming revenue. Treasurer Ray Baltazar of the Pascua Yaqui Tribal Council said the tribe must contribute 12% of the funds owed to the state to cities, towns and counties in Arizona, or to a state fund. It can also give to both categories.
If the tribe decides to donate to cities, towns, counties, public schools, and nonprofits, it must award the grants to applicants that pitch projects that benefit the community. Baltazar said this year the tribe donated all $283,322 to such organizations across Arizona.
"We try and distribute the funds evenly to different organizations that are making an impact to social services, public safety, the education of our children, our veterans — we try to look across the whole spectrum of service," said Baltazar.
He said each year more than 100 organizations apply to receive a portion of the funds. This year there were 14 awardees, listed below.
"The tribe wanted to assist these organizations that are providing these crucial services to not only tribal members living off the reservation, but everyone else in need of welfare," said Baltazar.
Awardees
American Legion Cocio-Estrada Post 59
Angel Heart Pajama Project
City of Tucson Ward 5
Eagles Wings of Grace
Echoing Hope Ranch
Emerge Center Against Domestic Abuse
Frank Elementary Parent-Teacher Organization
GAP Ministries
Guadalupe Post 124
Leukemia & Lymphoma Society
TUSD Borton Elementary School
TUSD Lynn Urquides Elementary School
TUSD Pistor Middle School
TUSD Valencia Middle School