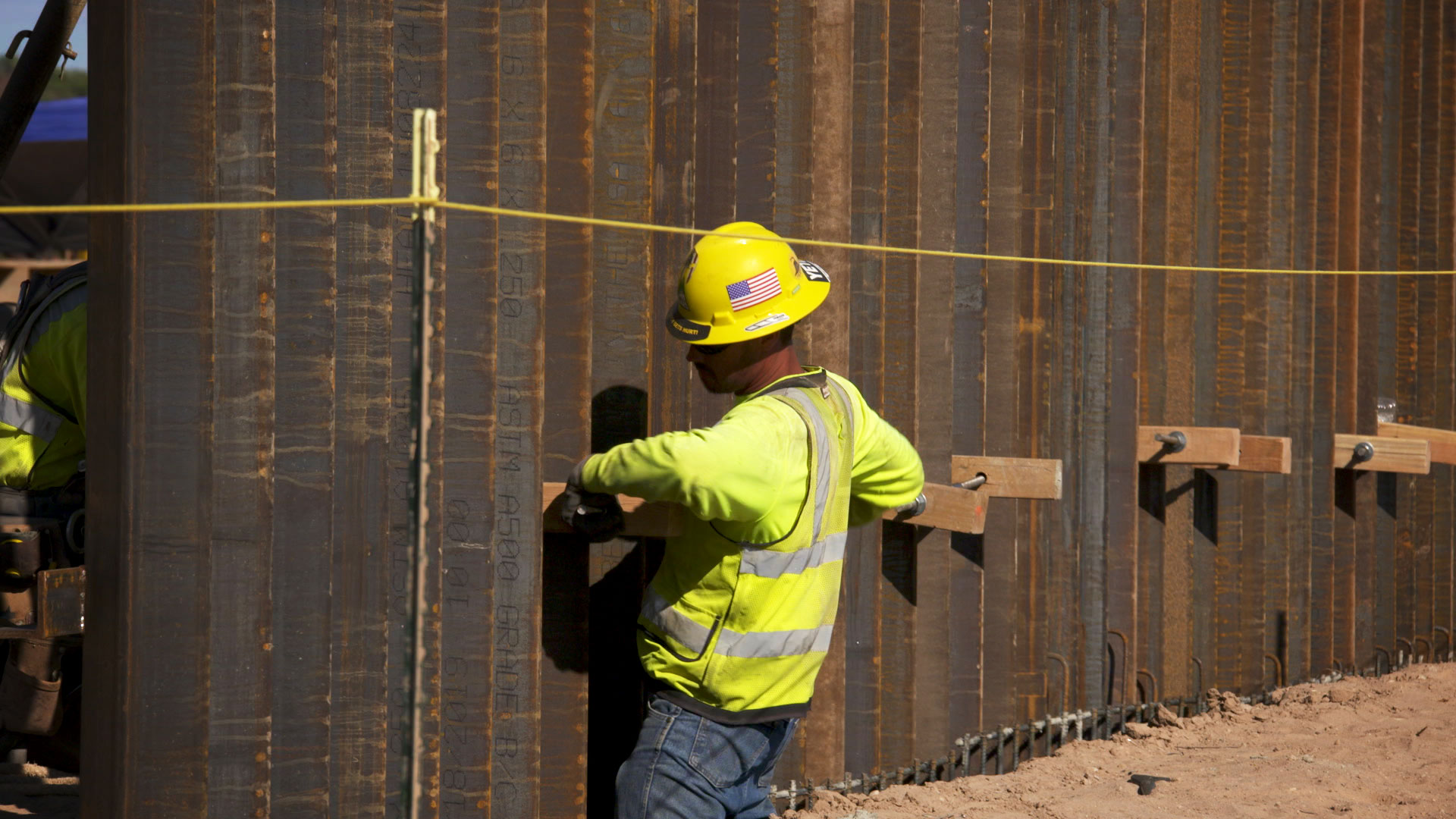 A construction worker works on installing 30-foot bollard fencing along Arizona's border with Mexico in Organ Pipe Cactus National Monument, February 2020.
Nate Huffman/AZPM Staff
U.S. Customs and Border Protection is inviting public comment on new border wall segments across large swaths of wilderness in southern Arizona. Environmental advocates said the construction is another example of reckless border policy with big consequences for wildlife.
If the agency's plan moves forward, a 30-foot, bollard style border wall will one day cover nearly 75 miles in Cochise, Santa Cruz and Pima counties.
In a Federal Register notice published on March 11, the Department of Homeland Security cited "high illegal entry" of people and drugs as the incentive to move forward with the projects.
Randy Serraglio is a southwest conservation advocate for the Center for Biological Diversity. He said much of this borderland is rugged, mountainous wilderness that sees little human activity. He said that's why previous administrations have declined to build significant infrastructure there.
"They have never determined that a border wall was needed in these places in years past, even when migrant traffic was higher than it was now — it would be hugely expensive and an engineering nightmare," he said. "The administrations' deterrence policy in the past was based on the terrain itself as a deterrent, it's just much more difficult to cross in a place like that than in cities along the border."
Serraglio said what this area does have are North American jaguars. The animal is present in dwindling numbers in the southwest United States and northern Mexico. Add these ranges are precious pathways the cat uses to connect habitat in Sonora and Arizona.
"We have feared this for years, and as Trump has continued to build in more and more remote places, we knew he was closing in on these last remaining corridors," he said. "So we can't say we're surprised."
Protecting an endangered species could be reason to stop big construction projects elsewhere. But the Real ID Act gives the Department of Homeland Security the ability to waive a host of environmental and cultural safeguards in the name of border security. The department is waiving 37 of those laws to speed up construction now.
Serraglio said the agency's ability to bypass those safeguards makes this wilderness battle different from the rest.
"The thing that's so hard with the border is we're fighting this with both of our hands tied behind our backs," he said. "We don't have the laws or tools that we normally use to protect places."
Serraglio's group is involved in several lawsuits challenging the legality of both the administration's use of the Real ID Act to build the wall and the wall construction itself. Border construction has been allowed to continue despite those suits still being heard in court.
The agency's public comment notice said public input would be accepted through TucsonComments@cbp.dhs.gov until April 15. In addition to the new wall construction, the plans include the installation of additional lights and cameras, road construction and a "linear ground detection system."
U.S. Customs and Border Protection did not respond to Arizona Public Media's requests for comment about the projects.