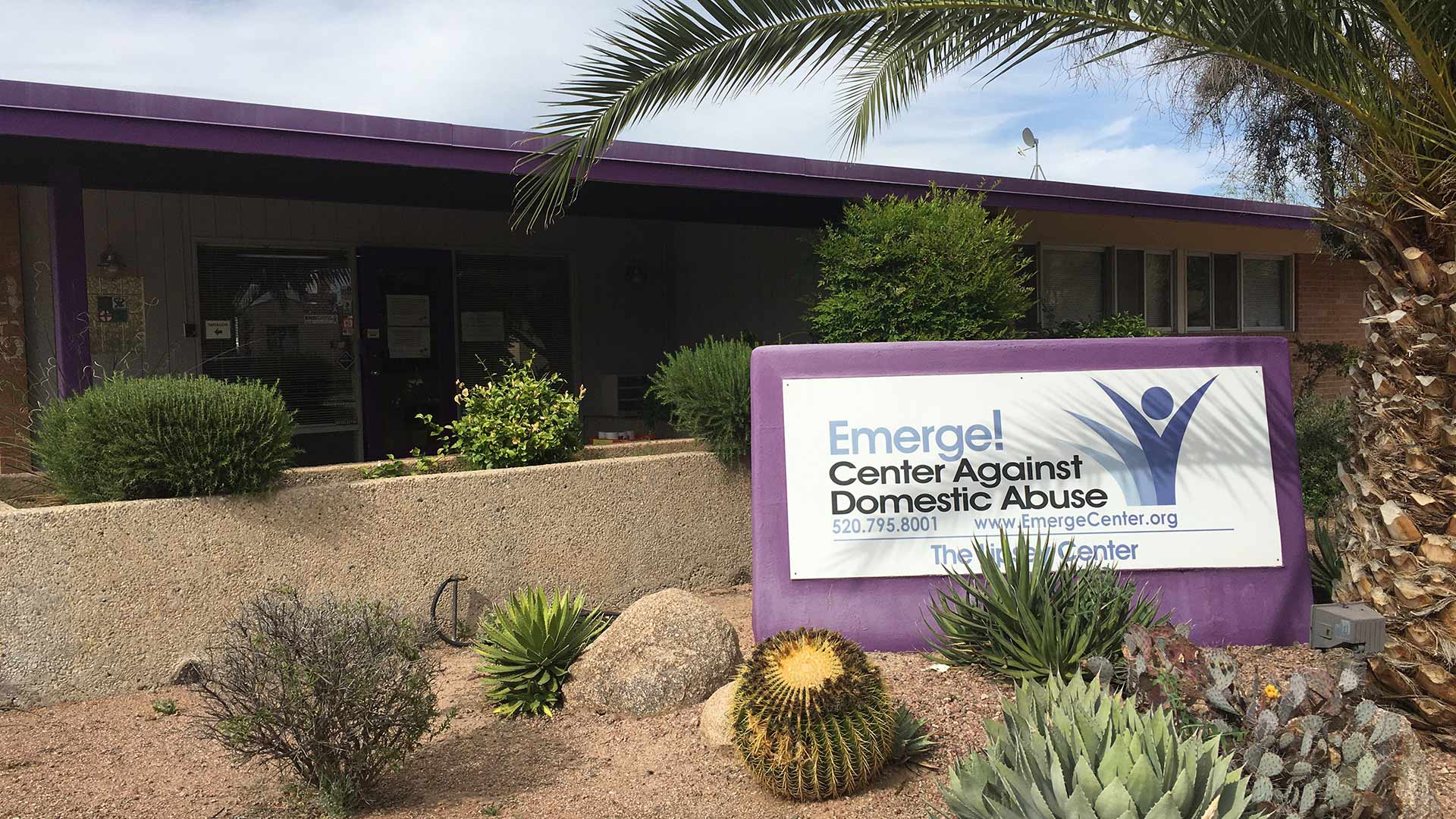 The administration building for Emerge! Center Against Domestic Abuse.
Courtesy of Ed Mercurio-Sakwa
The city of Tucson's main resource for those experiencing domestic abuse is still open during the pandemic, but it's adapting how it provides services.
Ed Mercurio-Sakwa, CEO of Emerge! Center Against Domestic Abuse, said for Tucsonans experiencing domestic violence, sheltering-in-place to remain virus-free can mean spending more time in a dangerous situation at home with an abusive partner. He said that's why it's important Emerge stays operational.
"This really is more important than ever. It's one of the most unique but globally dangerous times for domestic violence victims," Mercurio-Sakwa said.
According to Emerge's website, its support groups are now online via Zoom meetings and its community-based services — like domestic abuse education, safety planning and informal legal services — will be over the phone. Mercurio-Sakwa said Emerge! has updated its emergency shelter protocols to open and keep people healthy.
Mercurio-Sakwa said Emerge will not turn away anyone who needs emergency shelter, even if that person has COVID-19 symptoms.
It is taking steps to isolate those who are ill, socially distance everyone at the facility, and find safe places outside of the shelter for people to stay. The center is distributing masks, gloves and hygiene products to the survivors.
He said on average the whole emergency shelter program houses 50 people a night. He said while observing these precautions Emerge! has been able to shelter just as many people as it did a month ago.
Unlike the Arizona Coalition to End Sexual and Domestic Violence, a state hotline that has seen calls increase during the COVID-19 outbreak, Mercurio-Sakwa said fewer people are calling into Emerge's help line.
"While staying at home as a way to create safety makes a lot of sense for managing a viral pandemic, it is actually a great danger to those whose lack of safety comes from within the home," Mercurio-Sakwa said.
He said Emerge regularly receives 15-25 calls a day, but recently the number of calls has stayed closer to the minimum.
"It's not a huge drop, but it's enough to tell us that something is different because we're fairly consistent across time, and we've definitely seen a little bit of a dip," Mercurio-Sakwa said.
He said the people who have called in tell Emerge it's been harder for them to find opportunities to ask the hotline or their friends for help since their abusers are sheltering-in-place with them. He said while most people are now at home, it is important for those who are the support systems for others experiencing domestic violence to keep in contact with their friends, but also to take their lead on if it's safe to talk.
"It's really important for us to proactively reach out to that person, check in on them, see how they're doing and make sure that they still have that lifeline, which could quite literally be that," Mercurio-Sakwa said.