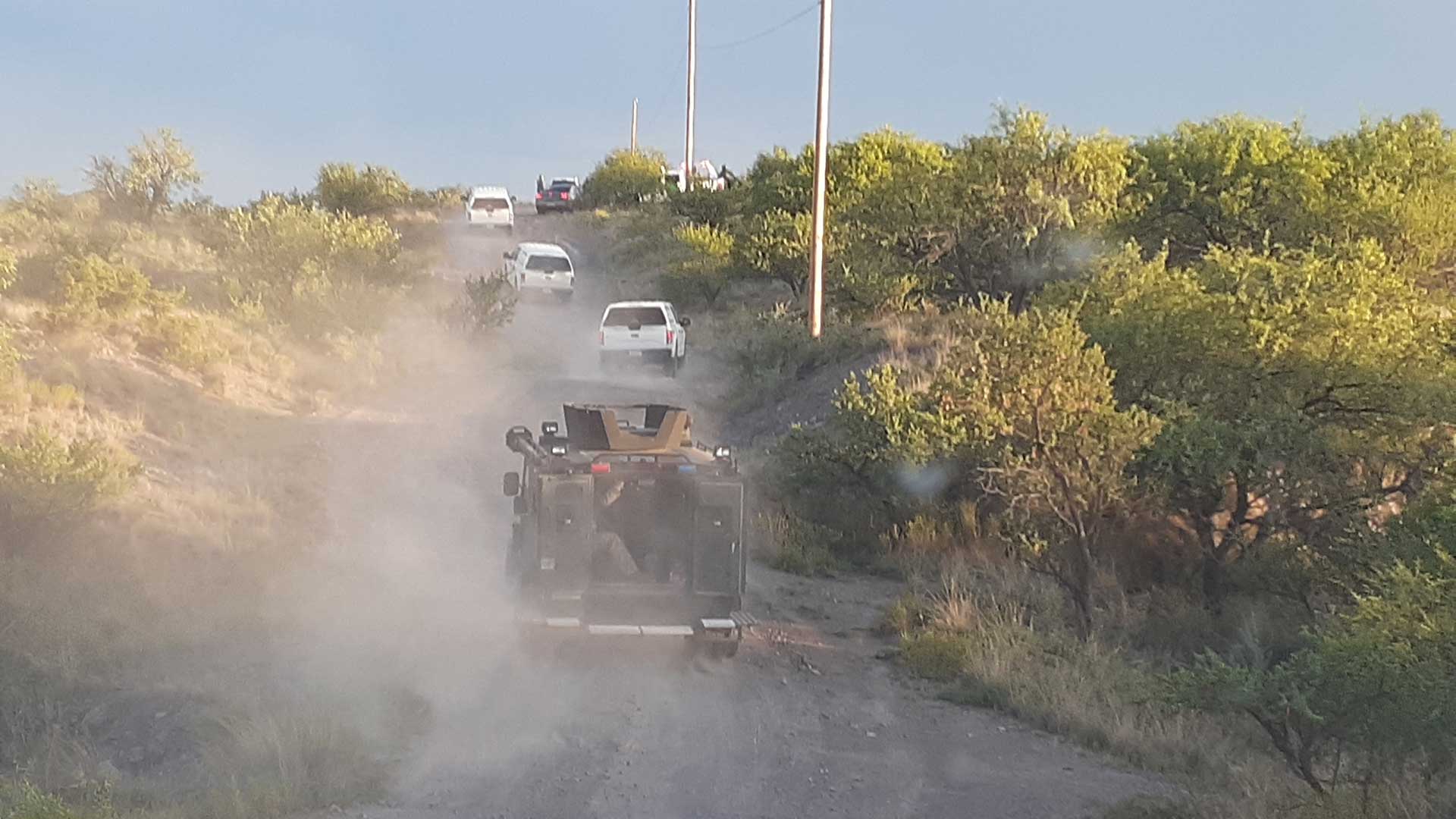 A photo accompanying a media release from No More Deaths saying Border Patrol on Friday, July 31 raided a camp where the group was providing aid.
No More Deaths
Border Patrol agents executing a federal search warrant arrested more than 30 migrants at a medical aid camp run by humanitarian group No More Deaths Friday.
Byrd Camp is located in Arivaca and serves as medical site for people passing through one of the deadliest desert corridors of the Arizona borderland.
No More Deaths volunteer Emily Saunders said it's a humanitarian outpost that's been in operation since 2004 and the Border Patrol mostly leaves the site alone. But around sunset Friday, agents in several vehicles, ATVs and an armored vehicle descended on the property to make the arrests. Saunders said two helicopters also circled above.
"This is consistent with this pattern that we see from Border Patrol of interfering with lifesaving humanitarian aid, unfortunately during the hottest days of summer," Saunders said. "This does seem like an escalation, a retaliation and targeting of those working to be in solidarity with and prevent the death of folks in the desert."
Friday's raid is the latest event in a several-day encounter between the group and Border Patrol agents. On Thursday, Saunders said agents entered the camp for the first time in over a year and arrested one migrant receiving care there. Agency presence continued around the area for more than 24 hours until the next raid took place.
On Friday, a handful of volunteers were also briefly detained on site as the arrests took place. Saunders said agents seized their phones and some paperwork at the site.
UPDATE — At sunset last night, in a military-style assault, Border Patrol raided our humanitarian aid camp, chasing and arresting 30+ people who were receiving care and detaining all aid workers, whose phones were confiscated along w/ any video footage of the raid. pic.twitter.com/yiGAB98KYi

— No More Deaths (@NoMoreDeaths) August 1, 2020
In a press statement, the group said its volunteers operate under a set of rules to protect those under care.
"Many No More Deaths volunteers work as EMTs, paramedics, nurses, and doctors," the statement said. "Volunteers are trained to respect the autonomy of individuals receiving care — as is standard practice in the medical field, they only call 911 and Border Patrol with patient consent."
The statement said agents were in the camp for two hours Friday, refused to show a search warrant and didn't wear masks.
The move comes a few days after No More Deaths released documents detailing the lead up to a larger Border Patrol raid on Byrd Camp in 2017. Saunders said the group sees the new raid as a retaliation.
Border Patrol officials did not respond to requests for comment. But a statement provided by a spokesperson on Saturday said agents from multiple agency arms entered the camp using a federal search warrant.
"On July 31, 2020, Border Patrol agents from the Tucson Border Patrol Sector, with support from CBP Air and Marine Operation's Tucson Air Branch executed a federal search warrant on the No More Deaths camp near Arivaca, Arizona," the statement read. "Upon entry, over three dozen Illegal border crossers were found within the camp."
Tucson Sector Chief Roy Villareal tweeted the same statement out Saturday morning, adding that the agency tracked the group for two days in the desert before they arrived at the humanitarian aid camp.
These are Border Patrol camera images of the group that Agents tracked into the No More Deaths camp. Agents tracked this group through remote mountains for two days before the group entered the camp. pic.twitter.com/yGgF64mU4a

— Roy D. Villareal (@USBPChiefTCA) July 31, 2020