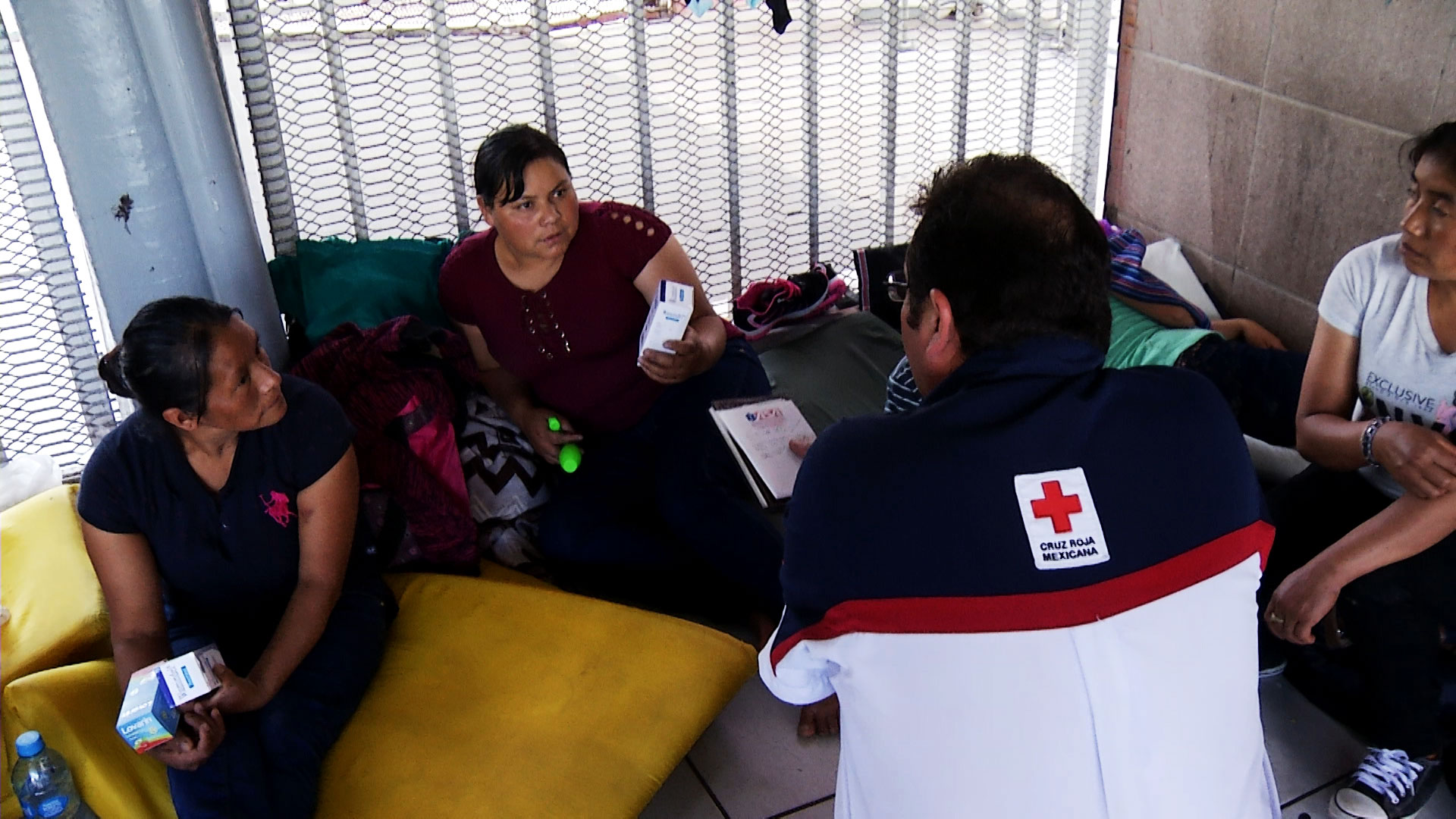 A Mexican Red Cross volunteer offers medicine to a woman waiting to make a request for asylum outside the port of entry in Nogales, Sonora, on Sept. 4, 2018.
Martín Rubio/AZPM Staff
The Trump administration has been asking for public feedback on a proposal to block would-be asylum seekers deemed at risk of carrying a communicable disease. The measure is branded as a safeguard against COVID-19 contagion, but public health experts warn the change would deteriorate human rights while failing to actually curb the pandemic.
The policy change, proposed and opened to public comment by the administration last month, would allow immigration officials to turn away asylum seekers who come from, or have traveled through, countries where communicable diseases are present.
Joanna Naples-Mitchell with health advocacy group Physicians for Human Rights said that includes not only COVID-19, but also other manageable conditions like syphilis and tuberculosis.
"What this rule is doing is really backtracking and taking the approach that this country took to HIV about 10 years ago, where people who had HIV or AIDS were not allowed in this country," said Naples-Mitchell, who serves as the group's U.S. researcher.
Naples-Mitchell said health screenings are already in place for asylum seekers who present at the border. Additionally, a protocol already exists at ports of entry for people traveling back into the U.S.
"There's no reason that can't continue to be applied, especially considering asylum seekers are taking the same transit routes as many other people who continue to be allowed into the U.S.," she said. "There's no reason to believe that they pose any different risk than these other groups."
Under the new rule, officials could use travel history and symptom checks to determine whether "there are reasonable grounds for regarding [an] alien as a danger to the security of the United States."
Naples-Mitchell said the proposal is the latest in a long line of drastic changes to the immigration system. But she said it's especially dangerous to paint asylum seekers as a threat to public safety.

"This creates a false choice between protecting the right to seek asylum, which is protected under international and U.S. law, and safeguarding public health during the pandemic," she said. "It is possible and necessary to do both."
Physicians for Human Rights outlined that opposition in a detailed comment to the Department of Homeland Security before the agency closed the comment period Aug. 10. Naples-Mitchell said that response was one of over 4,000 comments submitted in the last month.
Some of the group's members were also part of a letter signed by more than 170 public health experts and physicians describing what they said were logical pitfalls in the proposal.
University of Arizona epidemiologist Kacey Ernst was one of the co-signers. She said barring asylum seekers in the name of public health doesn't make sense, particularly when more than 5 million people have the coronavirus in the U.S. — one of the highest case counts worldwide.
"It's a large swath of the world that does not want us into their country because we are a source of infection," she said. "So it's somewhat ironic that we, who have not controlled the pandemic very well, are trying to exclude people."
Though it's being branded as a public health measure to curb COVID-19, Ernst says it could have the opposite effect of deterring people from seeking care or testing when sick.