Cases 199,273 | Deaths 4,792 | Diagnostic tests 1,160,602
On Tuesday, Aug. 25, the Arizona Department of Health Services reported 859 new cases of COVID-19 and 21 additional deaths. According to state data, ventilator usage in Arizona dropped to below 30% over the weekend, a low it has not seen since early May.
---
Memo announces the implementation of new DACA guidance
AZPM
U.S. Citizenship and Immigration Services (USCIS) is enacting broad changes to the Deferred Action for Childhood Arrivals program, or DACA, the Obama-era program that gave some 800,000 immigrants brought to the U.S. as children temporary protection from deportation and a work permit.
In a memo dated Aug. 21 and released Aug. 24, the agency announces the official implementation of a set of changes introduced in July in a memo from Acting Department of Homeland Security Secretary Chad Wolf.
Under the new guidance, first-time DACA applicants will be rejected and their fees returned. Existing DACA holders will have to renew their status and work permit yearly instead of every two, and renewal applications must be submitted no more than 150 days ahead of when a person's status is set to expire.
DACA recipients looking for permission to travel internationally will be largely rejected unless in exceptional cases with "urgent humanitarian needs or significant public benefit."
---
Former Republican Sen. Flake endorses Biden
AZPM
Former U.S. Sen. Jeff Flake posted a 15-minute video on Twitter Monday laying out the reasons he is endorsing Joe Biden for President.
Flake, a conservative Republican who has been openly critical of President Donald Trump since 2016, decided not to run for reelection two years ago because he said the political environment had become too toxic.
Flake's endorsement of Biden came on the opening day of the Republican National Convention and not long after Trump was officially nominated as on the Republican ticket.
---
TUSD closes second school
Arizona Daily Star
The Tucson Unified School District has now closed a second elementary school, and part of a high school, due to COVID-19 infections.
The district's website lists Erickson school, on East Stella Road, closed from starting Aug. 25 through Sept. 7. The Arizona Daily Star reported one of the students at the KIDCO program within the school tested positive for the disease.
This comes after Tolson school was closed last week, after two employees tested positive.
The Star is also reporting that two special education classrooms at Rincon High School have been closed after a staff member tested positive.
Learn more at Tucson.com
---
Secretary of state: Postal Service ready for Arizona's mail-in ballots
AZPM
The United States Postal Service will be able to handle an influx of Arizona ballots, according to Secretary of State Katie Hobbs.
Arizona voters set a record for early ballots during the Aug. 4 primary, and the USPS was able to handle the volume.
"We have been assured that the capacity is there. We are going to continue to be vigilant and make sure that we know if any changes are being implemented," said Hobbs during a Facebook Live town hall on Tuesday.
Hobbs said despite the assurances from postal officials her office is suggesting voters return early ballots a little earlier than normal.
---
More Arizona counties could see gyms, nightclubs reopen
AP
PHOENIX — The fight over whether Phoenix-area gyms, bars and waterparks can reopen could be a moot point by Thursday if Maricopa County's downward trend in coronavirus cases holds.
Health Services Department Director Dr. Cara Christ said she expects the county will hit levels for "moderate" spread of the virus on that day. That means the businesses can reopen at reduced capacity without a waiver.
Five smaller counties already are rated at "moderate" and other counties besides Maricopa could reach that mark this week. The news comes as the state nears 200,000 confirmed coronavirus cases after officials reported 859 new cases Tuesday.
---
Science fair goes completely virtual for 2021
AZPM
Southern Arizona's regional science fair isn't happening until March, but organizers have already decided the competition will be held completely online.
The Southern Arizona Research, Science and Engineering Foundation has put together local science fairs for more than 60 years. Last March the group pivoted to holding its final competition virtually, streaming its awards ceremony online. Julie Euber, with the group, says next Spring, the entire event will be held virtually.
A SARSEF news release says details of the event are "evolving," but the group has decided the virtual fair will take place March 1-6, 2021.
---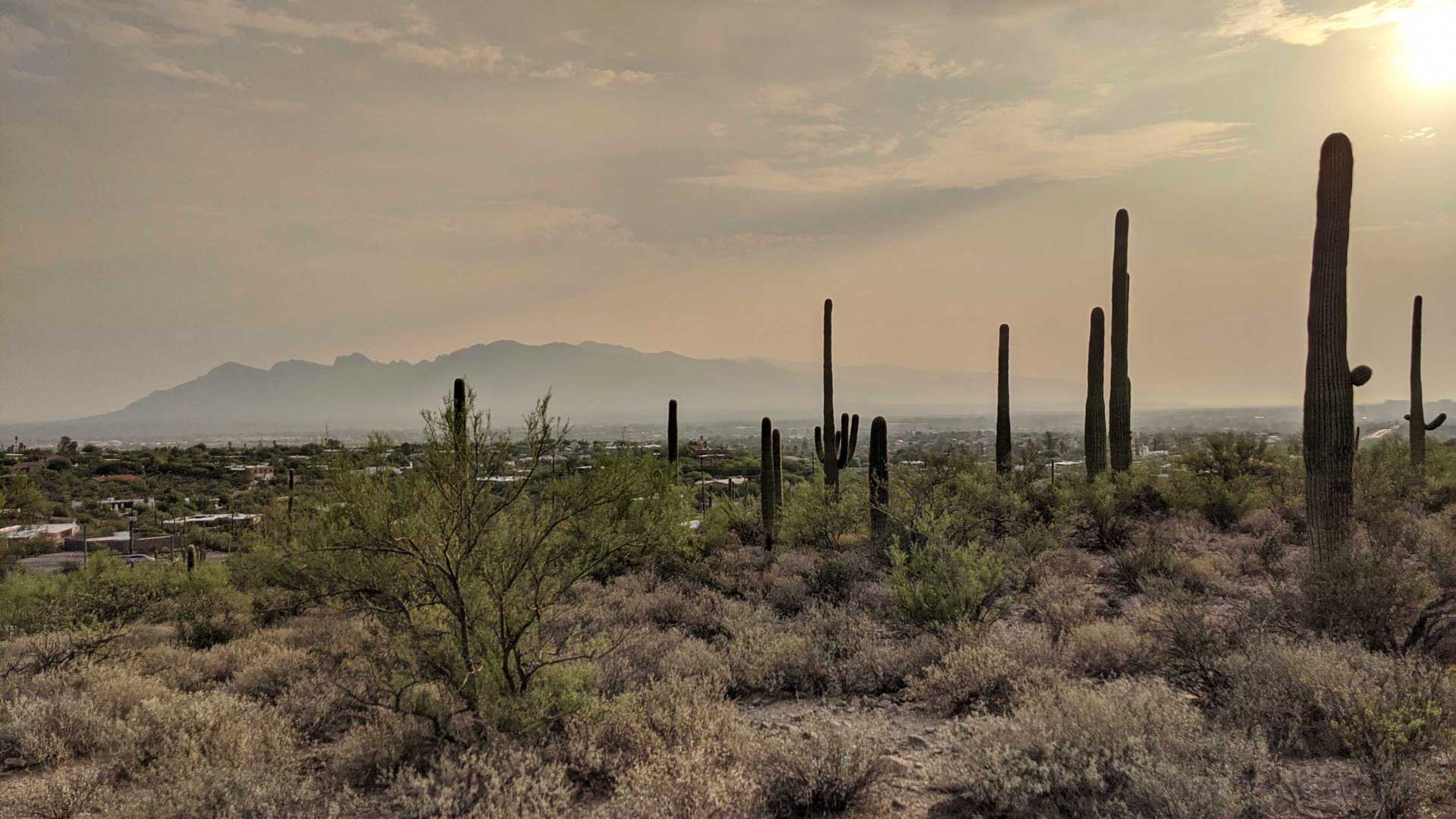 VIEW LARGER A haze of smoke from wildfires in the West blankets Tucson skies Aug. 25, 2020.

Nick O'Gara/AZPM
Wildfires sending smoke to Tucson skies
Arizona Daily Star
Fires burning in the West have brought a blanket of haze to Pima County skies in recent days, and it might not dissipate as soon as some would like.
Much of the smoke came from wildfires in California, Colorado and New Mexico, a meteorologist said. Arizona also was contributing to the smoke, with two small wildfires in Saguaro National Park and two more in Central Arizona.
Emissions from wildfires can lead to increased ozone in the air, which can irritate the throat and airways and worsen other respiratory issues and ailments, according to officials.
Learn more at Tucson.com
---
Republicans In Mexico Applaud Trump's Nomination
Fronteras Desk
MEXICO CITY — The Republican National Convention is underway and President Trump has been nominated for a second term. In Mexico, Republican expatriates applaud the decision, despite the controversial image that the president has in the country.
Larry Rubin represents the Republicans in Mexico. He said president Trump's capacity to solve the issues that affect Mexico and the United States are attracting more expat votes than in past elections.
Rubin said some media have tried to portray Trump as a racist, but he has proven to be capable of building strong agreements with Mexico. According to Rubin, the Republican delegation in Mexico is helping get voters registered, while monitoring the election process.
---
Yaqui Protesters End Highway And Rail Blockades In Southern Sonora
Fronteras Desk
After more than two weeks of nonstop blockades on the highway and train tracks, and after cutting off water supply to much of the coastal municipality Guaymas last week, members of Yaqui Indigenous communities ended their protests Saturday.
They reached an agreement with Mexican authorities, who promised water, electricity, schools, health clinics and housing for Yaqui towns after four days of negotiations.
Members of Yaqui communities have demanded the cancellation of a new water project in Hermosillo, as well as compensation for infrastructure built on their land.
---
Sonora Training Dogs To Detect Coronavirus Cases
Fronteras Desk
As health officials in Sonora, Mexico continue to look for ways to combat the spread of the coronavirus, they announced last week that they're preparing a new tool: COVID-19 detecting dogs.
Nine dogs are in training to sniff out cases of coronavirus at Sonoran hospitals and clinics.
Health Secretary Enrique Clausen said Friday that dogs can detect the coronavirus more quickly than any test, and perhaps with more accuracy. That could help prevent the spread of the virus and lead to better outcomes for those who have been infected.
---
Pima County authorities recover body found on Arizona Trail
AP
Pima County Sheriff's officials say a body has been recovered along the Arizona Trail. They say the body was spotted about noon Monday by a sheriff's department helicopter crew during a pre-planned training flight in the area.
Deputies recovered the remains of a man who has yet to be identified. But sheriff's officials say deputies responded to a report of an unidentified man in that same area Sunday who asked another hiker for water. They say the man didn't request assistance or indicate he was in distress, but authorities couldn't locate him when they searched later Sunday to see if he was OK.
---
FAA won't prosecute drone owner in recent Arizona wildfire
AP
The Federal Aviation Administration has decided against prosecuting a person suspected of flying a drone illegally into firefighters' airspace during a recent wildfire near Tucson. The FAA couldn't prove who was the pilot. The decision illustrates the difficulties in proving identities of those who operate drones.
According to the Arizona Daily Star, Forest Service officials say the presence of at least two drones in the Pusch Ridge area forced firefighters to suspend aerial operations at a crucial stage in the Bighorn Fire in early June on at least two occasions. Authorities say those suspensions slowed the service's ability to battle the blaze just as it was getting underway.
---
Businesses heavily lobbied Arizona governor during pandemic
AP
PHOENIX — Arizona Gov. Doug Ducey had no shortage of advice when he was considering reopening the state following a six-week coronavirus shutdown that ended in mid-May.
Records provided to The Associated Press show the Arizona Chamber of Commerce and Industry and a national small business lobbying group were among those sending letters to the Republican governor offering their take on what they needed. Other key groups seeking the governor's ear were associations representing hospitals, nursing homes and physicians.
Hospitals sought waivers to allow them to restart elective surgeries, and Ducey complied.
---
Navajo man asks to halt execution while seeking clemency
AP
WASHINGTON — The only Native American man on federal death row is asking a judge to halt his execution until he receives a determination to his clemency petition from the Justice Department. Lezmond Mitchell's lawyers filed papers in federal court in Washington seeking to delay his execution. He's currently scheduled to be put to death Wednesday at the Federal Correctional Complex in Terre Haute, Indiana.
The Navajo government has been asking officials to spare his life on the basis of cultural beliefs and sovereignty. Tribal leaders have appealed to President Donald Trump and Attorney General William Barr, asking them to call off the execution.
---
Rock fall at Grand Canyon reveals ancient animal footprints
AP
FLAGSTAFF — A rock tumble at the Grand Canyon revealed fossil footprints that researchers say are among the oldest in the park.
Steve Rowland is a geology professor at the University of Nevada, Las Vegas, and recently published the findings with two co-authors. They say the creature that made the tracks is something like a modern-day chuckwalla that strolled in sand dunes in a coastal plain more than 300 million years ago.
Not everyone is convinced the footprints were created by a single animal. Or, that the footprints are those of animals with a distinctive gait and that lay eggs with protective hard shells. But Grand Canyon officials say the research raises interesting questions.