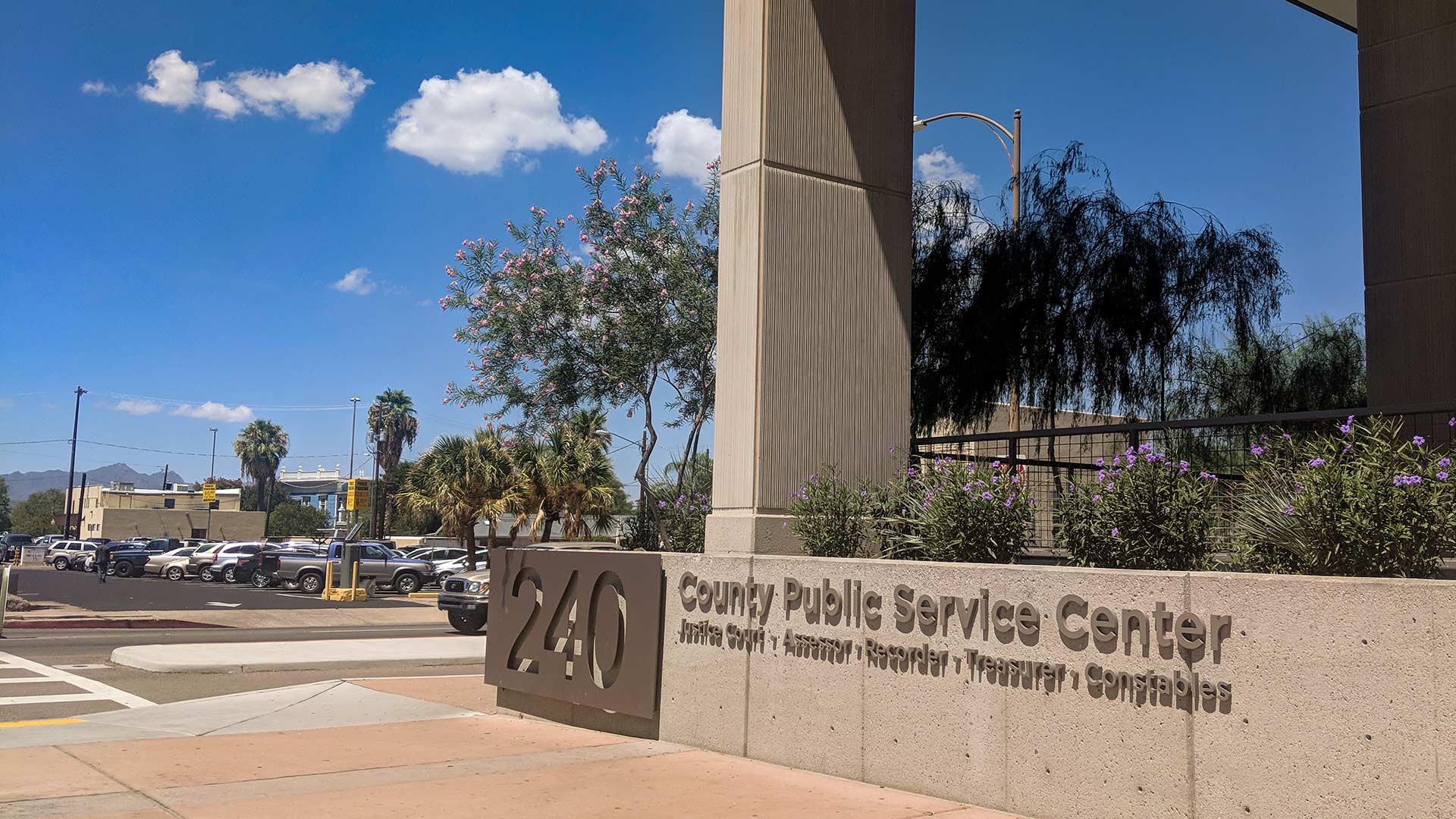 The Pima County Services Building in downtown Tucson.
Nick O'Gara/AZPM
The retirement of some longtime elected officials is opening the way for new voices this fall.
Retiring Pima County Recorder F. Ann Rodriguez has been in her position for nearly 30 years. The county recorder position entails several responsibilities but is best known for the work running and supervising local elections. That work is what led Democratic candidate Gabriella Cázares-Kelly to run.
She said she got her start in increasing voter participation when she worked at Tohono O'odham Community College. Her self-started voter registration effort took much more time than she expected due to all the specific questions people had about rural and tribal voting.
"I would reach out to the recorder's office and they were always very friendly, very helpful," Cázares-Kelly said. "But I was asking them questions that nobody had ever asked them before and they didn't know enough about our community to really, effectively serve us."
Cázares-Kelly said two years ago she applied for a position with the recorder's office to do outreach and voter registration on the Tohono O'odham Nation. Cázares-Kelly, who is Tohono O'odham, said she was offered the position but at the lowest posted pay rate, despite her experience and graduate-level education. She said she turned down the position because it would have been a pay cut.
When Cázares-Kelly first heard that the current recorder would be retiring, she initially assumed that meant she would have to educate a new recorder on the voting needs of tribal communities. She said she also worried that whoever filled the position could be bigoted or otherwise uninterested in helping the community.
"I thought: 'I care about those things. I'm educated, I'm qualified, I'm knowledgeable, I can do this job,'" Cázares-Kelly said.
Cázares-Kelly considers making sure constituents are aware of, and have the ability to exercise, their voting rights to be the top priority of the recorder's office. This is especially true for historically marginalized communities, like Native Americans, Latinos and low-income communities.
She said the recorder's office has an obligation to respond to the various needs of voters, including those who face barriers when it comes to voting, whether that is because of their location, language or disability status.
Republican candidate Benny White said the open seat provides an opportunity for him to continue his service to the community. He has 12 years of experience working with the recorder's office as representative from the Republican Party.
"Having good elections that people can trust is fundamental to our system of government," White said.
One of White's priorities is to reduce the number of provisional ballots cast in Pima County elections. Provisional ballots are used when a voter's registration status or eligibility is in question on election day. Often this occurs because the person is registered to vote at a different polling place.
After the election day, the voter's eligibility must be verified in order for that vote to count.
"It causes a delay of sometimes a week or 10 days to go through all those and a tremendous expense in both manpower and money to do those things," White said.
White said he would like to help the county transition from precinct polling places to voting centers. Voters could cast their ballots at any voting center in the county, instead of at a single designated location.
Having fewer physical locations to cast ballots could potentially make voting more difficult for voters not near one of the centers, but White said that the majority of Pima County voters, especially those in rural areas, use mail ballots already.
In addition to overseeing elections, the recorder's office also takes care of property records.
"I want to try to eliminate the possibility of having forged documents being used to illegally transfer ownership of property from one owner to another," White said.
He proposed using something akin to an electronic signature to validate such documents, which would require working with other recorder's offices in Arizona.
---
Santa Cruz County Sheriff Tony Estrada
AZPM Staff
Tony Estrada has been sheriff of Santa Cruz County for the last 28 years. His retirement at age 77 opens the door for a new sheriff.
Three candidates are running to fill the position: Democrat David Hathaway, independent José Agosttini, and independent Andrew Ibarra.
Arizona 360 interviewed each of the sheriff candidates and outgoing Sheriff Estrada this week. Find the full interviews Friday evening on the Arizona 360 page.
---
Election season is here and The Buzz wants know what's on your mind. Call and leave us a voicemail message about what key issues, races or candidates are driving you to vote this fall. Your comments may end up in an upcoming episode. The number is 520-621-5999.

The Buzz
airs Fridays at 8:30 a.m. and 6 p.m. and Saturdays at 3:30 p.m. on NPR 89.1. You can subscribe to our podcast on
iTunes
and NPR One. See more from
The Buzz
.