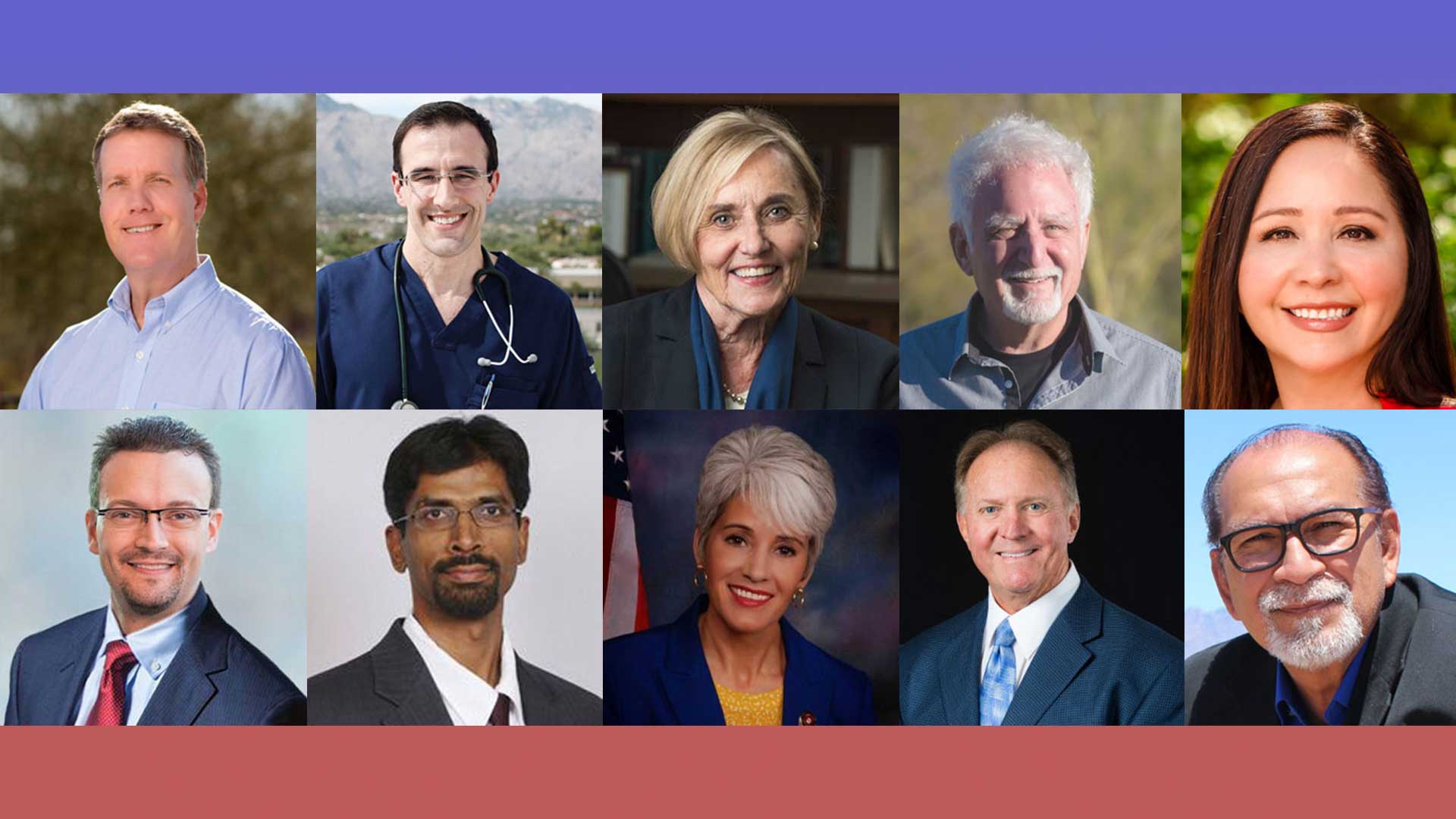 Left to right, District 1: Rex Scott (D), Steve Spain (R). District 2: Matt Heinz (D), Anthony Sizer (R). District 3: Sharon Bronson (D, incumbent), Gabby Saucedo Mercer (R). District 4: Steve Diamond (D), Steve Christy (R, incumbent). District 5: Adelita Grijalva (D), Fernando Gonzales (R).
Campaign photos
Democrats nearly seized complete control of the Pima County Board of Supervisors Tuesday night, but Republicans are likely to hold on to one seat.
With votes still being counted, incumbent Republican Steve Christy leads Democrat Steve Diamond by less than 6,000 votes as of Wednesday morning to represent District 4, which covers Sahuarita, Green Valley, Vail and East Tucson.
Christy was elected in 2016 and focused his campaign on economic development and road repairs. Diamond is a community organizer who advocates for environmental protection and increased education funding.
In District 1 Democrat Rex Scott will succeed Republican Ally Miller, who opted not to seek a third term. In District 5, Democrat Adelita Grijalva will take the seat formerly held by Richard Elías, who died earlier this year.
Board of Supervisors
District 1
Rex Scott (Dem)
50.28%
66,565
Steve Spain (GOP)
49.72%
48,153
District 2
Matt Heinz (Dem)
67.78%
48,153
Anthony Sizer (GOP)
32.22%
22,885
District 3
Sharon Bronson (Dem)
57.43%
51,823
Gabby Saucedo Mercer (GOP)
42.57%
38,410
District 4
Steve Christy (GOP)
54.52%
69,292
Steve Diamond (Dem)
45.48%
57,813
District 5
Adelita Grijalva (Dem)
73.60%
56,266
Fernando Gonzales (GOP)
26.40%
20,179