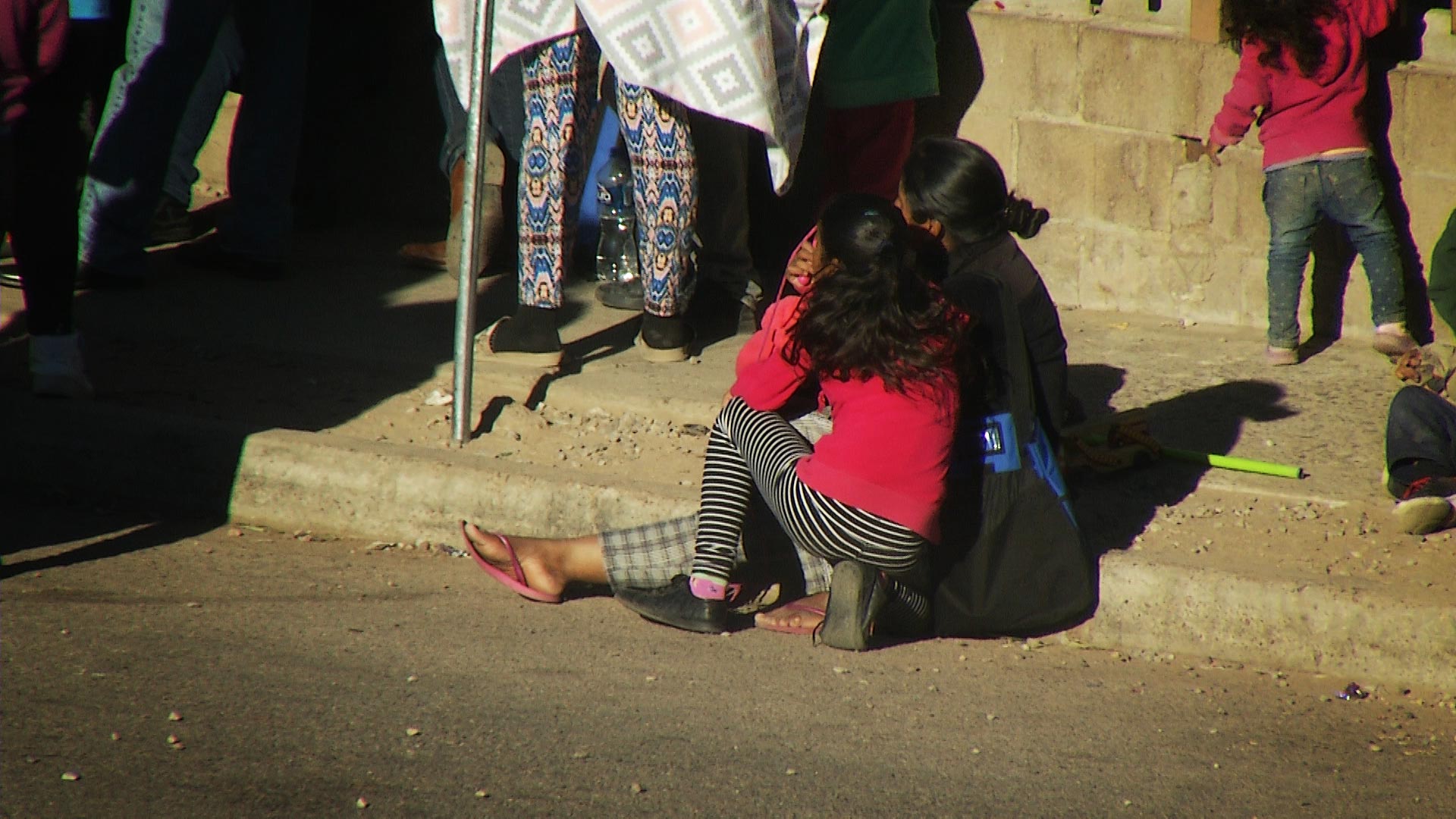 A woman and girl sit on the sidewalk with a group of migrants as they wait to enter the Kino Border Initiative's cafeteria. The nonprofit provides humanitarian aid to migrants and deportees in Nogales, Sonora. February 2020.
AZPM Staff
This week the federal government is expected to begin processing asylum seekers who were part of the Migrant Protection Protocols, or MPP. Enacted in 2019, the Trump administration policy forced more than 70,000 people to wait in Mexico for immigration hearings in the U.S., according to Syracuse University's Transactional Records Access Clearinghouse (TRAC).
On the campaign trail, Biden pledged to end the program on day one. Rights advocates say it's an important step, but more questions remain.
Under President Joe Biden's new order, asylum seekers waiting in some border cities will start getting processed as early as this Friday.
But Tracy Horan with the aid group Kino Border Initiative said that won't be the case for migrants waiting where she's based in Nogales. The city didn't start hosting MPP participants until a year into the program. Under the new rule, migrants who have been waiting longer in Tijuana, Juarez and Matamoros will take priority.
'We're not as certain what that will mean for folks in Nogales, once it is their turn to be processed, if they will need to make the dangerous journey to a different port of entry to be processed or if they plan to expand that processing to other ports at some point," she said.
Horan said other questions remain for migrants who arrived in border cities during the COVID-19 pandemic because so far, only those with active MPP cases are being processed. Since the Trump administration stopped opening new cases last March, people who arrived after that date were left stranded without impending court dates. Meanwhile, another 400,000 more people who were expelled under pandemic-era protocols last year are also not currently eligible for processing.
Horan said around 200 people come to the Kino center regularly, and more are arriving every week after being expelled.
"So what we've seen is a mix of folks saying, 'what about the rest of us,' and frustrated that there's not more transparency about the rest of the plan," she said, "And other folks who are breathing a sigh of relief knowing that, sometime soon, they might get processed."
In a statement Tuesday, White House officials said a virtual registration process will be made available in the coming days, but advised migrants not to approach the border unless told to do so. It said those who tried to enter the U.S. without active cases would be expelled.