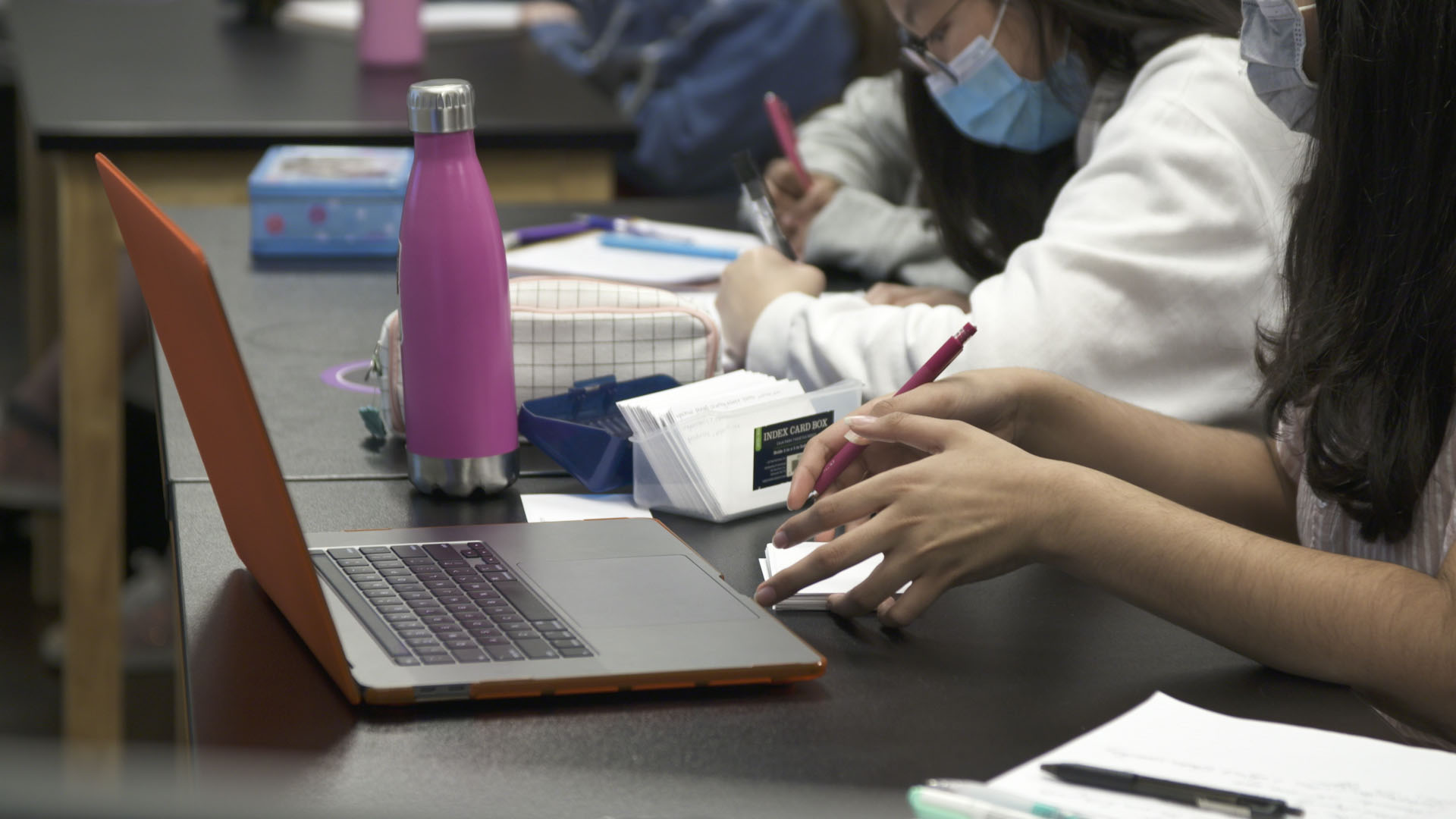 Children at school during the COVID-19 pandemic.
AZPM
Southern Arizona's largest school district, Tucson Unified, is approaching its March reopening. Unlike many other districts in the area, TUSD has remained in remote learning for nearly a year. The reopening process comes with some hurdles.
The district is still waiting on many families to indicate which learning model they want their kids in. So far, families have been split about 50/50 between enrolling students in remote learning versus hybrid or in-person options.
TUSD superintendent Gabriel Trujillo said that the district cannot get a good estimate of class sizes until parent responses are in. Parents can make their decisions online until March 7.
Other local districts, like Amphitheater and Sunnyside, entered a phase of fully remote learning around the holidays during Arizona's COVID-19 spike, but have since resumed in-person learning or plan to do so very soon.
At the University of Arizona, a student was murdered in an on-campus parking garage Feb. 20. Forrest Keyes was a sophomore communications student and member of the Zeta Beta Tau fraternity. UA president Robert Robbins described him as "a gifted young man."
Three arrests have been made in the case so far, according to the Associated Press.
---
TUSD prepares to reopen, but number of students remaining online is unclear
AZPM
The Tucson Unified School District is preparing to reopen the week of March 22. But it's not yet certain how many students will be attending school online versus in-person.
Superintendent Gabriel Trujillo said as of Wednesday afternoon, 41% of parents still have not chosen which learning method they want their students in.
So far, Trujillo says, 30% of parents have chosen to keep their kids in remote learning, while 29% enrolled their students in either fulltime in-person classes or a hybrid model, depending on the child's grade level.
---
Learning in person during the pandemic
Arizona 360
For close to a year, the pandemic has dramatically altered education in Arizona and in classrooms across the country. Today schools continue to grapple with balancing safety and students' needs by opting for either all virtual learning or a hybrid approach. This week Tony Paniagua visited the International School of Tucson where most students have continued to attend classes in person throughout the pandemic.
Paniagua also heard from 14-year-old Nanan Dramé. The teen has attended the International School of Tucson since preschool. She shared her experiences attending school during the coronavirus crisis.
Watch the full segment here.
---
Two-thirds of Tucson educators receive vaccine
Arizona Daily Star
Nearly 70% of employees of K-12 schools in Tucson have received the first shot of the COVID-19 vaccine already, the Arizona Daily Star reports. But reservations about going back to campus remain among staff members.
Among educators, concerns persist over vaccination access, class sizes, social distancing, poor ventilation and a lack of substitutes.
---
TUSD keeps police officers in schools
Arizona Daily Star
The Tucson Unified School District governing board voted to keep school resource officers on campuses, with some new recommendations, the Arizona Daily Star reports.
The board chose to re-evaluate the school resource officer program in August, after nationwide outrage over the role of law enforcement in the deaths of unarmed, mostly Black individuals.
Currently TUSD has six officers, which the district does not have to pay for itself.
---
Some Arizona school districts planning to return to class
AP
PHOENIX — With COVID-19 cases dipping and teachers getting vaccinated, some Arizona school districts are looking to return to in-person learning as early as next month.
The Osborn School District in Phoenix, which has been doing virtual learning full-time since the start of the school year, will welcome students back into classrooms March 30. A survey conducted by the district found that 90% of their staff have already been vaccinated.
State Superintendent of Public Instruction Kathy Hoffman promised Wednesday to help school districts across the state safely transition back to in-person learning.
---
University of Arizona IDs student killed over the weekend
AZPM
Forrest Keys, a sophomore member of the Zeta Beta Tau fraternity was shot and killed Saturday night on the campus of the University of Arizona, according to UA officials.
The shooting took place at the Cherry Avenue Garage next to the McKale Center.
Keys was walking with a group of friends near the garage when there was "a verbal altercation" between the victim and a group of individuals in a red Cadillac, according to UA Police Chief Brian Seastone.
---
Tucson police make an arrest in the murder of UA student Forrest Becker Keys
AZPM
Tucson Police Homicide Detectives have arrested a suspect in the murder of 20-year-old University of Arizona sophomore Forrest Beckett Keys, who was shot on campus last weekend near the Cherry Ave. Garage.
The 17-year-old suspect has been booked into Pima County Jail and has been charged with 1st Degree Murder and Drive-by Shooting. AZPM generally does not identify juvenile criminal suspects.
Detectives are continuing the investigation and are currently seeking additional witnesses and suspects. Anyone with information is urged to call 911 or 88-CRIME. You can remain anonymous.
---
2 more teens arrested in fatal shooting of UArizona student
AP
Tucson police say two additional teenagers have been arrested in the Feb. 20 shooting death of a University of Arizona student in a campus parking garage.
Police said the two youths arrested Friday and one arrested Thursday are all 17 years old. The three were jailed on suspicion of first-degree murder and drive-by shooting in the killing of Forrest Keys.
Online court records didn't indicate whether the three had defense lawyers who could comment on their behalf. The Associated Press generally does not identify juvenile criminal suspects.
The 20-year-old Keys was a sophomore from Philadelphia majoring in communications.
---
UA gives Pima County COVID-19 vaccines
AZPM
The University of Arizona is sending 1,000 doses of the Moderna COVID-19 vaccine to Pima County so the county can continue its mobile vaccine program.
The county was forced to curtail the mobile program, which goes into underserved communities, when weather delayed the delivery of the county's full Moderna allotment.
State officials said Arizona's shipment of last week's Moderna vaccines should be in the state in the coming days.
Health officials also said, the forthcoming Johnson and Johnson vaccine could be in Arizona as soon as next week. A lag in manufacturing will keep it out of wide circulation for a bit longer, according to state officials.
---
Enrollment at US community colleges plummets amid pandemic
AP
PHOENIX — Enrollment at U.S. community colleges has plunged 10% from fall 2019 to fall 2020 amid the coronavirus pandemic.
That's according to The National Student Clearinghouse, which says community colleges were hit the hardest for enrollment among all types of colleges. Four-year universities fared better than many had expected, with only a slight enrollment decrease.
There are myriad reasons for the community college downturn. Fewer freshmen are enrolling and some are delaying college until campuses fully reopen. But the pandemic has also taken a heavy toll on older adult students. Many lost jobs or have no time for their own schooling as they supervise their children's online classes.