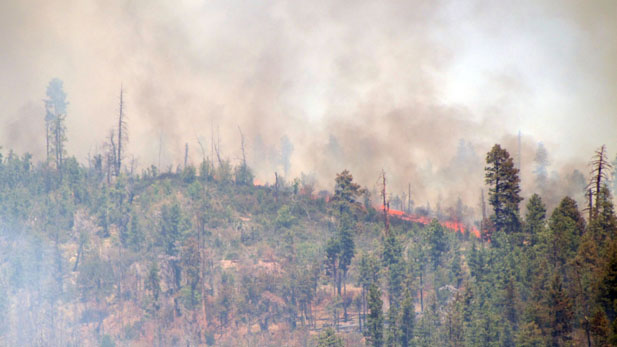 The Bull Flat Fire on Fort Apache Indian Agency land in eastern Arizona.

www.inciweb.org
Four fast-moving wildfires have consumed more than 22,000 acres in Arizona's rugged central and eastern mountain ranges. More than 1,200 firefighters, supported by aircraft, were working to contain the flames.
Extremely dry and hot conditions and the threat of more fires led the Arizona Forestry Division on Wednesday to expand fire restrictions on state lands to all 15 counties. Earlier in May, it had imposed restrictions in six southeastern Arizona counties.
The historic town of Crown King remained evacuated as a fire burning all week filled the region with smoke and ash. The Gladiator Fire was reported at 6,400 acres and growing, with firefighters worried about the effects of expected 40 mph winds Thursday afternoon.
The Gladiator Fire had destroyed three homes, and firefighters were working to protect other structures on the eastern edge of the town. Crown King residents were being housed at Bradshaw Mountain High School East Campus in Prescott Valley in a shelter being run by the Red Cross.
The biggest fire, burning 21 miles south of Payson, more than doubled in size between Tuesday and Wednesday, and it was estimated at 12,500 acres Thursday morning. The Sunflower Fire was moving through extremely dry grasses, pinon pine and cypress trees.
The federal Incident Information System website, which carries wildfire information nationally, reported that the Sunflower Fire was 10 percent contained. A wind shift in the previous 24 hours was sending smoke from the fire to the northwest, with potential impact on Flagstaff, the report said.
A third fire burned 1,900 acres on the Fort Apache Indian Reservation and was predicted to go to 5,000 acres before being controlled. It was 45 percent contained and was burning on the scar of the Chediski Fire, which burned in 2002, the InciWeb website reported.
The Elwood Fire burning on the San Carlos Indian Reservation consumed more than 1,500 acres and was 5 percent contained.
In Southern Arizona, Coronado National Forest implemented fire restrictions this week because of increased danger, as did Coconino National Forest Wednesday.
Fires, campfires, charcoal, coal and wood stove fires, except within a developed recreation site, are all prohibited. Smoking is also forbidden, except within an enclosed vehicle or building, a developed recreation site or in an area cleared of all flammable material.
State Forester Scott Hunt announced in a press release that fire restrictions will take effect Friday morning on all unincorporarted state trust lands, Game and Fish wildlife areas and state parks. Campfires, charcoal-burning devices and use of fireworks and acetylene and other torches will be prohibited.
Information on active wildfires in Arizona is available at the federal government's InciWeb website.