Federal and state officials are predicting another bad fire season, with the possibility of fast-moving conflagrations like those that roared through wild lands last year.
Already in Arizona this spring, more than 34,000 acres have burned, including about 25,000 in four fires that began early this week and were still burning Friday, according to the federal Incident Information System website. Officials say the season is off to a fast start.
Ongoing drought and high temperatures are the main culprits, but authorities are quick to point to human carelessness as a key ingredient. Last year's record-setting Wallow Fire, which torched 530,000 acres in the White Mountains of eastern Arizona, was human-caused.
"People need to realize that we're in fire season year-round," Coronado National Forest spokeswoman Heidi Schewel told Arizona Week.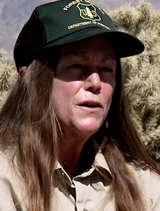 Heidi Schewel, public affairs officer for the Coronado National Forest. (PHOTO: AZPM)
Schewel said an "above average fire season" is expected in Southern Arizona because of hot, dry conditions and an accumulation of ground fuels in many areas.
"We're flammable now, and we're looking at becoming even more so," she said. Coronado has banned open fires except in dedicated and cleared campsites and will look at further restrictions as conditions warrant.
"We are thinking we could see large fires again," Schewel said. "The thing that is working in our favor is we're not anticipating the winds we had last year. ... Wind really complicates things, and this year it's not predicted to be as bad as it was last year."
The Arizona State Forestry Division on Friday imposed fire restrictions at all state parks and on all unincorprorated state trust lands, Game and Fish wildlife areas and Department of Transportation rights-of-way.
Gene Beaudoin, Tucson District forester for the division, said the restrictions were set after field checks around the state showed extreme conditions.
"A lot of it was lack of moisture throughout the winter, as well as the growth we had last year," Beaudoin said. "That combination led to us determining that it is extremely dry out there, and the fuel is extremely brittle. It's like corn flakes out there, the grass is. It wouldn't take very much to spark a fire."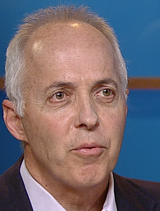 Donald Falk, fire ecologist at the University of Arizona. (PHOTO: AZPM)
Those condition could last for years in the current dry cycle, complicated by climate change, said University of Arizona fire ecologist Donald Falk.
"It is true, we're in an extended dry phase of climate, which is probably going to go on for some decades with some variations," Falk said in an Arizona Week interview.
"We have to remember that on top of that variation that has occurred historically, we are also warming the planet," he said. "And so the variations are revolving around higher mean (temperatures). So that may mean that we have longer fire seasons, even as we come out of the current warm phase."
Falk said better management of public lands is essential, and to that end, he is part of he is part of a project called FireScape, which is a coalition of scientists and federal and state agencies.
FireScape's aim is to use controlled burning to thin fuels in Southern Arizona so that the same benefits that naturally caused fires bring to the landscape are introduced.
Meanwhile, after several delays, a contract has been awarded to begin forest thinning under the Four Forests Initiative, a cooperative venture among federal and state agencies and nonprofit environmental groups, said Shaun McKinnon, environmental reporter for the Arizona Republic, whose blog, Waterblogged, details state environmental issues.
Read the state restrictions notice here

View at Google Docs
|

Download File