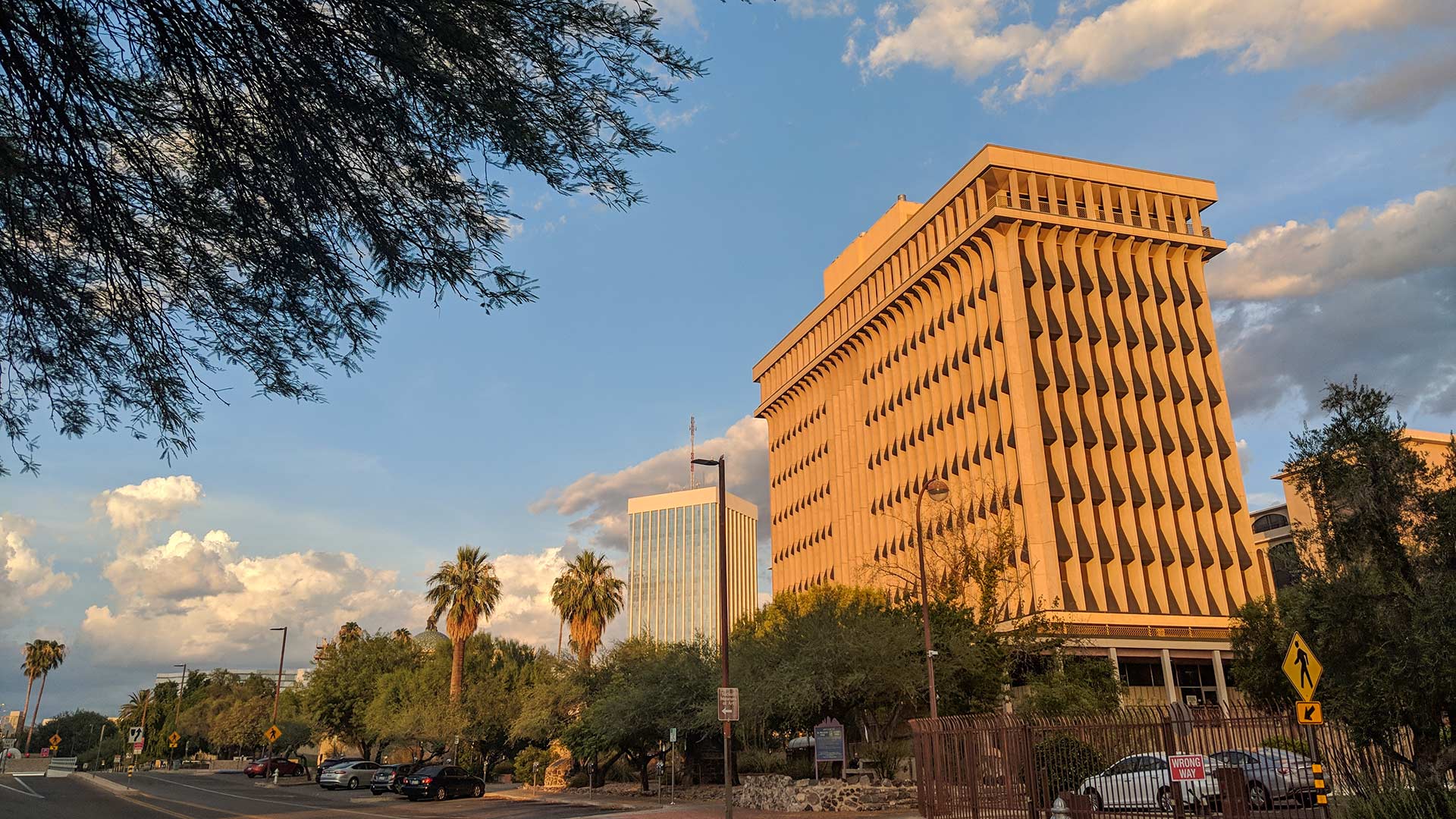 Tucson City Hall
Nick O'Gara/AZPM
Marijuana establishments:
Marijuana dispensaries in Tucson are no longer required to have a dual license to sell both recreational and medical marijuana.
Under a new special exception process, community stakeholders can provide feedback when considering new marijuana establishments in the area. Mayor Regina Romero said that even though the state failed with social equity licenses, this allows for greater participation.
"We have the ability to be able to regulate and give a voice to our neighborhood associations as to what can be developed."
Council Member Kevin Dahl disagreed saying that it was not fair to new businesses when none of the existing ones had to go through the process. He also said that allowing establishments in certain zones the right, instead of special exception, would help mitigate the failure of the social equity licenses and help keep costs low.
The special exception process passed in a 6 to 1 vote. Before the change, shops were prohibited from only selling recreational marijuana.
Fare-free transit:
The Tucson City Council unanimously voted to extend Fare-Free City wide transit for another six months, while they spend more time finding other sources of revenue for the $9.1 million needed annually to keep the system free. Romero has started conversations with stakeholders and says that the University of Arizona, whose students use the free transit system, "does not see the benefit of being a large investor in public transit."
"I've invited President Robbins to look at it as it's not just students, right it's faculty and staff that uses not just our sunlink system but our bus system."
But, in the event the city cannot find buy-in from local partners, they will look at other options, such as a designated parking fee for fare-free transit.
The money that is needed is the estimated revenue that would have been earned if fares were charged, which is about 10 percent of operating costs. The city will now have to find funding elsewhere or re-instate fares in July.
Childcare for public safety employees:
The City of Tucson is considering a plan to provide childcare for public safety employees as a new tool for recruitment. The city council asked City Manager Michael Ortega to study if it could partner with the non-profit Erik Hite Foundation to develop a childcare facility for first responders. ​​Sharon McDonough, Tucson's Public Safety Communications director, says that this will help in diversifying recruitment and retention.
"For me, I grew up in the fire service and as a single mom, this would have been a game changer for me," she said. "I know many female firefighters who had to make a choice between a career and a family. And this gives us a great opportunity."
The plan is to utilize vacant city-owned property to provide services. Tucson has about 2,000 public safety employees, but still has another 200 positions empty. Romero hopes that this will be the start in providing childcare for all city employees.
Redistricting:
In a 5-2 vote, the Tucson City Council has approved new Ward boundaries. But, council members say that current guidelines on how to examine redistricting cannot continue.
Members expressed concern over population differences between wards and packing Latino voters into two wards, when 44 percent of Tucson's population is Latino.
The city attorney will now have to create recommendations on how to update the timeline, policy objectives and community engagement. The new ward boundaries will be in effect for the 2023 city election.