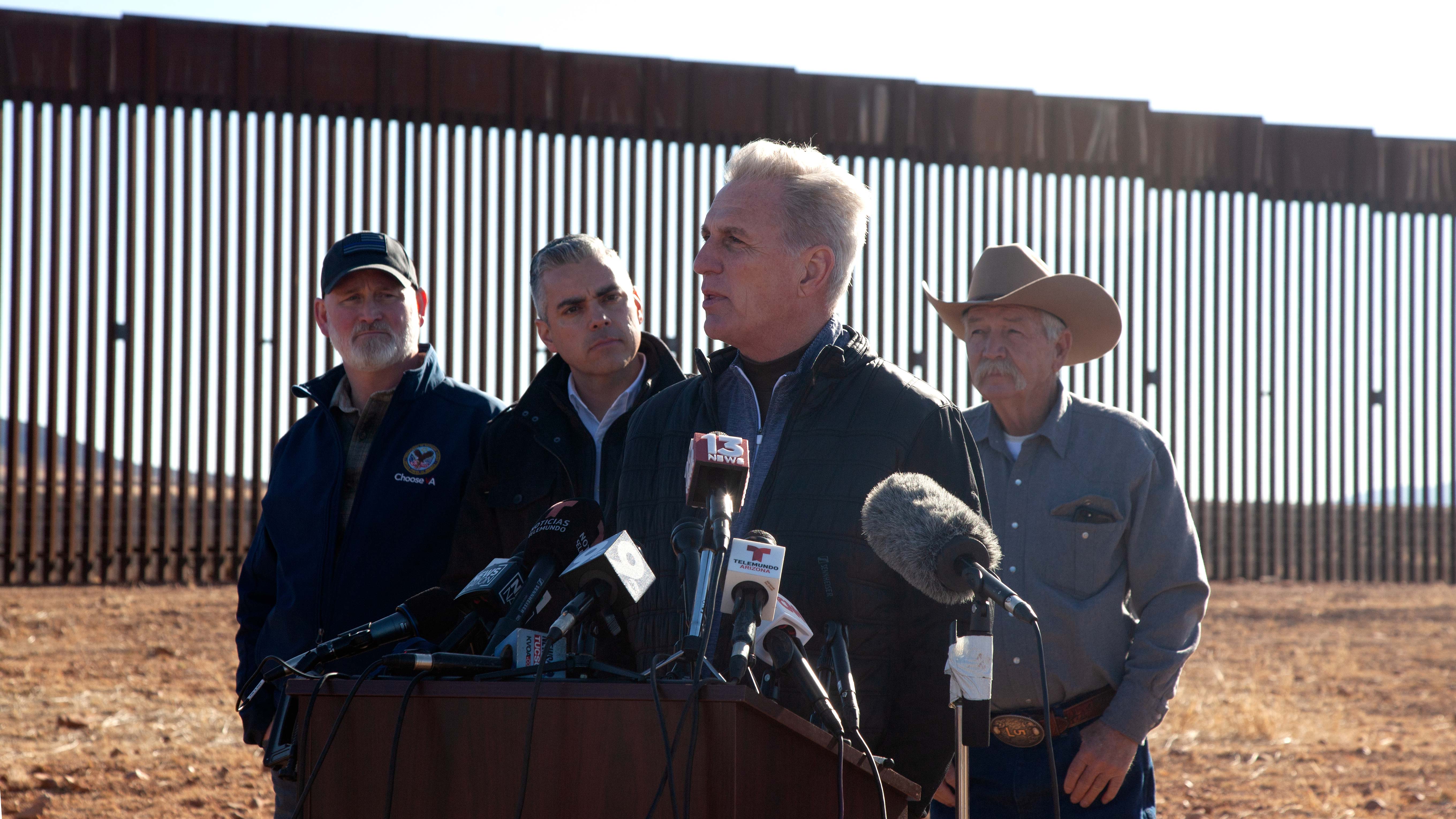 Republican U.S. House Speaker Kevin McCarthy visited Southern Arizona on Thursday, Feb. 16, 2023. McCarthy was joined along with four freshmen representatives, including Arizona's Juan Ciscomani. The trip gained pushback from Democrats who called it a "photo opportunity."
Paola Rodriguez/Arizona Public Media
Border crossings have surged since 2020.
That year, the number of encounters reported by Border Patrol agents in Arizona was 90,754.
In 2021, that number rose to 406,011. It went up again in 2022 to 595,020.
Those numbers are perhaps a sign of why Arizona's stretch of the border has been visited by congressional delegations three times so far this year.
It started with a bipartisan Senate delegation, led by Arizona's Kirsten Sinema and Mark Kelly, that visited Yuma in mid-January.
Next came delegations made up by Republicans members of the House of Representatives in February, one traveling to Cochise County and another to Yuma again.
That second event in Yuma included Republican members of the House Judiciary Committee, and focused on topics we've heard mentioned by elected officials before, such as the smuggling of illicit drugs.
"I'm going to try to first undercut a narrative that our colleagues across the aisle raise," said Phoenix-area Congressman Andy Biggs at the event. "They'll tell you that 90% of fentanyl is seized at the border [is seized] at the port of entry right. As if there is not a massive amount of fentanyl and other drugs coming between the ports of entry."
But they also heard from community members who provide vital services that are impacted, such as Yuma Regional Medical Center President and CEO Dr. Robert Trenschell.
"We've delivered $26 million in uncompensated care to migrants that have crossed the border," he said. "We're required by law to see everybody that comes to our door and we have to do that. And there's been 300,000 people that lined up at the border, and they've come in over the past year. and we have to see them. Any one of those that needs hospital visits, and we've done that and we do it with pride and everybody gets the same level of care."
As Republicans held their event in Yuma, Democratic Congressman Raul Grijalva, whose district stretches from west Tucson to the south side of Yuma, held his own event.
"Never once did [the Republican delegation] speak to the people on the ground," Grijalva told NPR-member station KAWC during the visit. "Never once did they go and talk to Amanda Aguirre at the Regional Health Center. Nor did they speak to the mayor and elected officials of the communities that are right on the border. Nor did they go and see how nonprofits, faith organizations, the Salvation Army are dealing with the humanitarian crisis that they're confronting.
The Yuma events were covered by KAWC's Lisa Sturgis, who said the Republican event had a noted bias.
"They talked to [Yuma County] Sheriff Leon Wilmot, Vice Chairman of the Yuma County Board of Supervisors Johnathan Lines, and Dr. Robert Trenschell of Yuma Regional Medical Center. All three of which have made appearances on Fox News in recent months in stories that came up with headlines stating that the area was under imminent collapse."
Sturgis said many in the area called the event a dog and pony show, such as the mayor of nearby San Luis. She also said there was one group that was notably absent.
"The agricultural interests were not heard from during the [House] Judiciary Committee hearing," she said. "During the wintertime, Yuma is providing 70-80% of the vegetables for the United States of America. And while we have immigration hiccups, we're having a really hard time getting the farm workers, that seasonal influx of migrant farm workers, that are very critical to the area."
While many in Congress are concerned about immigrants and refugees flowing into the country at a high rate, there are a number of people who are concerned about the immigrants and refugees themselves.
That includes members of the Kino Border Initiative, a Catholic immigrant ministry based in Nogales, Ariz. but serving Ambos Nogales.
"I think a big shift for us has been the uncertainty of policies, how they would affect people arriving here and also people being expelled," said Sister Travey Horan, KBI's associate director of education and advocacy. "For example, in the fall when the Biden administration started extending Title 42 expulsions to Venezuelans. Now we're seeing more folks from Venezuela, Haiti, Cuba who previously would have been able to be channeled into the U.S. and start the process and go be with their family who was waiting for them."
She said the changes in policy and long waits are leading to an increase in people who decide to enter the country illegally.
"These families who are waiting if they get to a point where they are in immediate danger or they just can't hold anymore in these conditions a lot of them are making the choice to pay a smuggler to cross into the U.S."
Those taking that step, she said, are no longer just those who do not have documents to enter legally, telling the story of one family.
"They were in this town where they really didn't feel safe at the border and they just couldn't handle it anymore," said Horan. "So they decided to cross between ports of entry with the goal of turning themselves in to U.S. officials, to start their asylum process so that someone would hear their case."