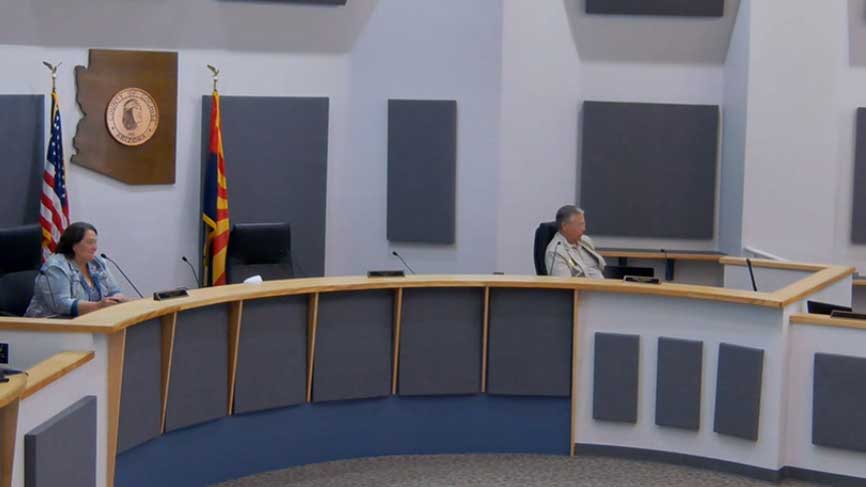 Cochise County Board of Supervisors -- who appeared via Microsoft Teams -- voted to approve a $2.5 million payment to the Public Safety Personnel Retirement System (PSPRS) from the general fund contingency. June 21, 2022
Summer Hom/AZPM
Arizona Attorney General Kris Mayes has filed a lawsuit that seeks to stop the Cochise County Board of Supervisors from handing over management of its elections to County Recorder David Stevens.
In a media release, Mayes said county supervisors working with their county's recorder to manage elections has been done legally before, but "Cochise County's agreement steps far over the legal line. In addition to this broad transfer of power, I am deeply concerned this move might shield or obscure actions and deliberations the Board would typically conduct publicly under open meeting law."
Mayes' mention of open meeting law harkens back to two letters she sent to the board that allege its Republican members, Tom Crosby and Peggy Judd, broke these laws multiple times when discussing matters around last year's election and replacing recently-resigned Elections Director Lisa Marra.
Supervisors voted 2-1 to give Stevens, an election skeptic, control over elections last week, despite being sent another letter by Mayes questioning the legality of the move.
Supervisor Judd, who voted in favor of handing elections control over to Recorder Stevens, called Mayes' letter "not accusatory enough."